Bangkok -Seeing Is Believing
 Bangkok is an assault on all of your senses, period! From the moment you  land to departure time, it is an unforgetable  experience!  The noise, the traffic, the crowd, the smell, I mean everything just hits you. And not to mention the heat! I had no guide or city tour to rely on so I had to fend for myself. I was fortunate that my friend's son lives in Bangkok.  He came to my rescue.  It was worth having someone who knows their way around.  No one speaks English. Thailand is one of the few countries that was not colonised by anyone and so they don't really need to or care much that they don't speak your language. Some would say that is a good thing!
On a 3-day stop over in Bangkok, I was keen to see the city and the most famous tourist attractions. At the top of my list  was a visit to the  Grand Palace, which is one of Bangkok's most well known sights. It is a complex of magnificent buildings, all set within a small area.  
It was very busy; locals and tourist from all corners of the world queued to see the main sights. Everyone jostled to move and to take photos.   It was a rainy day but not cold. 
There was so much to see. I hired an audio guide to help me navigate and understand the history and significance of each building and architecture. It was somewhat overwhelming I must say, lots of information. I couldn't take it all in and in the end, I just went with the flow.  Here are some photos that I took but I have not done them justice. Also, it was not easy to avoid the crowd when taking photos.   Opportunities to take good shots were somewhat limited.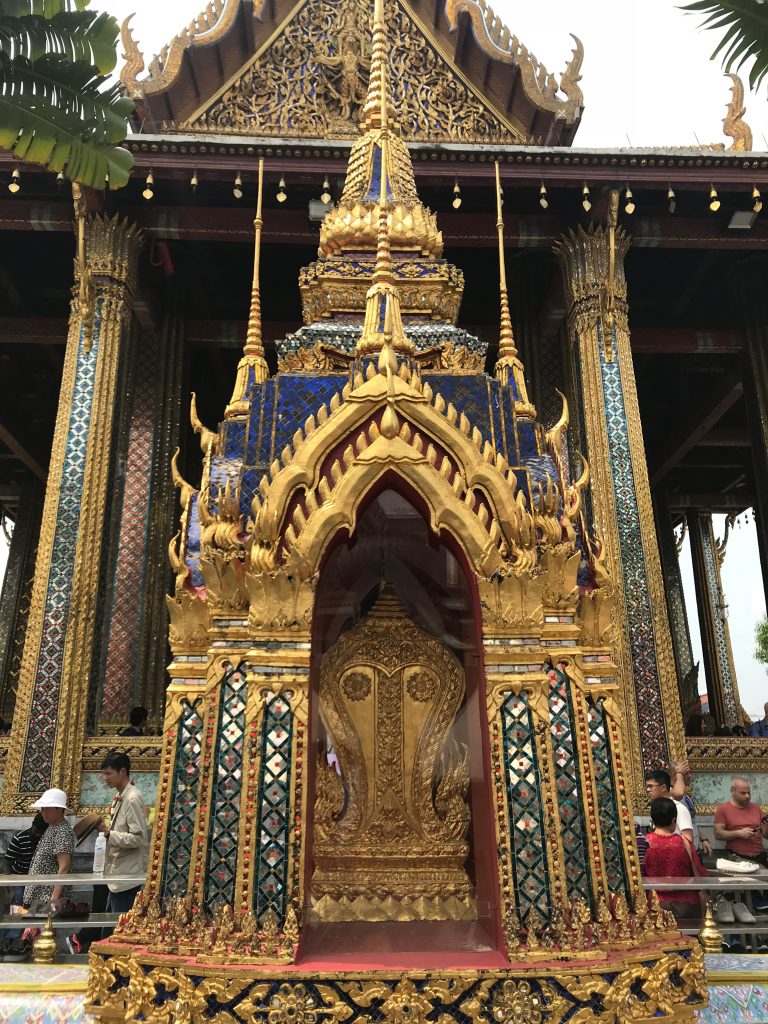 The highlight for me was entering and seeing the Temple of the Emerald Buddha, which is greatly revered by the Thai. Before entering the building, you had to take off your shoes and cover up properly. There was a strict dress code that I was already aware of and I had dressed appropriately. There were, however, several international tourists who had arrived wearing shorts and/or T-shirts and they were quickly turned away.  
This lack of respect for the culture created a thriving market just outside the palace to cater for such circumstances.  And of course you can spot these people a mile off as they would be the ones wearing the same trousers or tops; all looked like they had just been let out of a prison still wearing their prison uniform!!!. I bought one of these trousers for a £1, just for the fun of it!!.  No photographs were allowed to be taken inside the temple. 
 I was fascinated by these wall murals on one of the buildings. They were hand painted. One of them ran the whole length of a corridor. They were stunning. I didn't understand what they meant but it did not matter, I admired them for what they were – beautiful work of art.
 As time was limited, I was not able to visit the other famous temple called Wat Pho – 'Temple of the Reclining Buddah'. I was, however,  able to visit the floating market. Getting there was an adventure in itself! It was great fun. I bought my ticket at my hotel from one of the tour companies that usually have a stand in the hotel lobby. Yeah, one of them. But I did my research on the internet about the cost so as to be sure that I was not being ripped off. And I wasn't. That was very cool.   
I was picked up at my hotel and we set off very early for the coach journey to one of the floating markets just outside Bangkok. The journey took about two hours and we were entertained by our guide. She was very engaging, informative and entertaining. She knew when to shut up though so that those who wanted to sleep could do so.  There was the usual stop  along the way to provide "opportunity" to buy souvenirs.
The floating markets used to be boats piled high with fresh fruits, vegetables and juices but these are proving non-profitable. So they are being replaced with floating kitchens for tourists to buy snacks and food.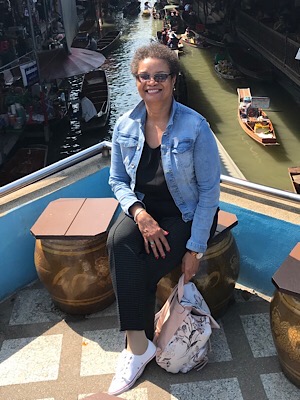 I enjoyed the street food but not the souvenirs or the shopping experience. The boat trip was included in the cost of the tour to the floating market.
While the boat trip was fun, it was also scary at times as the river or canal was very narrow and crowded. It seemed like the boat man was "speed dating" or on a bonus on who can get to the other side quickest! He seemed to be having fun , and it was just another run for him.  I did not like the boat trip very much. It was a little scary; more so that I can't swim and the water did not look inviting either. You don't want to fall in! The Thames River in U.K was cleaner that this river! And that  is saying something!
I love food generally and street food in particular. I enjoy trying local dishes of places I visit. And this Food Garden in the city centre was great. You are able to feed your eyes as well as your stomach to your hearts content.  I naturally tried as many food as I could possible stomach. Some I enjoyed and some I did not and spat them out! 
As well as having a passion for travel and food, I also enjoy going to see a local show. So wherever I go, I like to experience the culture and feel the vibe of the place.
In Bangkok, I went to see a cultural show called Siam Niramij. It was set on a gigantic stage said to be listed in the Guiness World Record.  The whole event show cased Thai arts and cultural heritage.  There were:-
 Traditional Thai Village
Outdoor dance performances
Elephant feeding & rides
Traditional Thai Massage
Souvenir shops 
It was a great evening out, fun, colourful and fantastic music and performances. I enjoyed the stroll around the various villages created to bring back to life the past. It was calming, inspiring and pleasant. It was a bit of a treat, away form the chaos of the city centre.  
If you are in Bangkok and are interested in such events, then you will love this, and it is worth a visit. 
One of the things that fascinated me in Bangkok was their installation, and management of their electricity cables. This reminded me so much of Lagos. It knew no boundaries – the cables wound round trees and walkways – unbelievable! I could not stop taking photos so much so that my fellow travellers got worried and joked about coming to see my slide shows on the electric cables of Bangkok!!!  
Have you ever seen such a thing? Unbelievable!! Seeing is believing. 
Now if you want an experience and something completely different to what you are used to, go to Bangkok. A three day stop over is all you need to get a massive dose of unforgettable experience.  But go with an open mind. Embrace the place, the people and their way of life.