Leshan Giant Buddha, China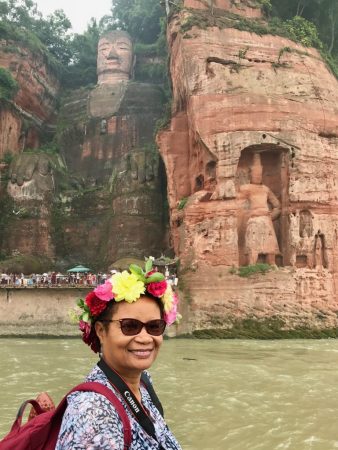 Seeing the Giant Buddha of Leshan was awesome. The Buddha is enormous on an unimaginable scale. It ranks as the world's largest sitting stone Buddha. It is naturally a UNESCO World Heritage site about 3 hours drive from  Chengdu.  This 71m (233ft) tall Buddha, carved out of the cliff face of  the mountain took almost 100 years to finish about 1,300 years ago!  Wow! Wow!!
The Buddhist Monk, Hai Tong,  built the Buddha in the hope that it would protect the fishermen who perished in the river that run at the foot of the statue.   It is believed that it worked. This is not surprising as the amount of stone that would have been removed during the build and deposited in the river would have strangely made the river safer!
Our tour guide had warned us about the crowd and gave us two options – to see the Buddha from a boat or use the stairs to climb to the top. We all chose the boat. None of us fancied the climb! In any event  there is a better view from the boat from where the whole and full frontal view of the Giant Buddha can be seen. 
You cannot help but be in awe of this statue. Despite its name, nothing quite prepares you for the size of it. The head, hands and even the toes are  enormous. There has already been quite a lot of restoration work done over the years, and this is ongoing.
The Giant Buddha remains a religious place of Chinese Buddhism and many monks still live and pray in the area. 
For me, seeing the Giant Buddha is another 'must see'  tourist attraction in China, and one that I will not forget easily. It was truly amazing.