Star gazing in Callosa, Spain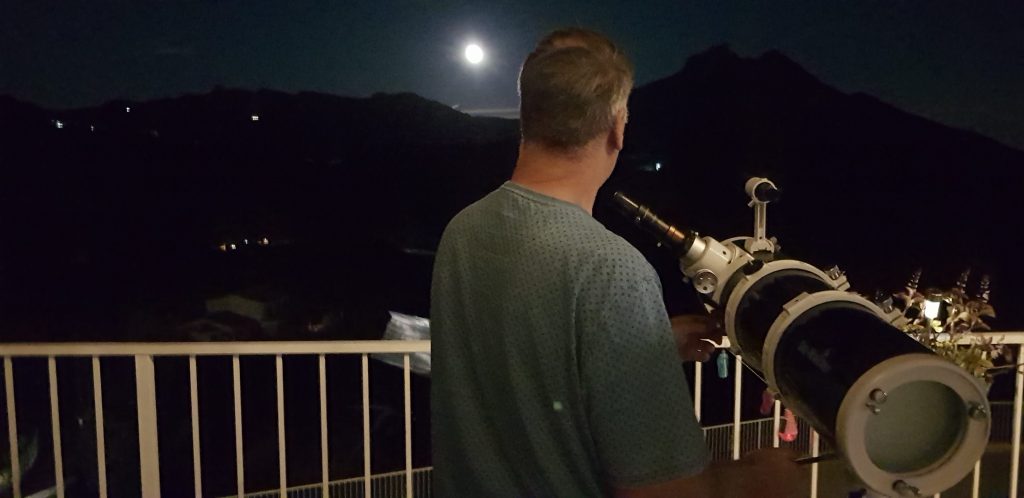 Callosa is in the region of Valencia on the west coast of Spain in the Province of Alicante. It is famous for Nespero or Japanese Loquart, which is a kind of seasonal fruit- a cross between a peach and an apricot. This particular fruit originated from Japan and it thrives well in Spain. In fact, Spain is the main producer of this fruit in Europe. I went to Callosa on a short break,  and I left totally blown away, not by the fruit which is nice of course, but by my experience of stargazing. 
So I just want to share my experience with you. My host was an enthusiast, perhaps even an expert of astronomy.  I mean he knows all you need to know about the stars. I must confess that I find it hard to comprehend the concept of light years, or the speed of light or the planets, let alone the  universe. I am one of those people who did not believe that man travelled to  space  or walked on the moon!  Oh yes,  you are looking at someone who does not understand how the oceans are controlled by the moon or that the moon is the reason we have high and low tides!!!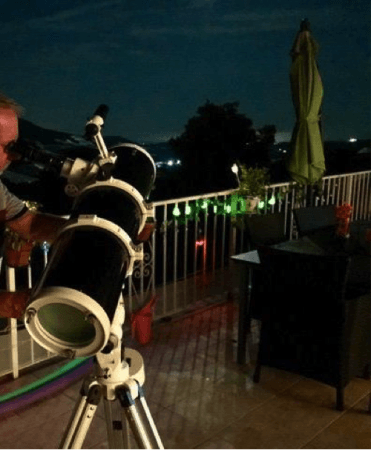 I must admit that I was somewhat sceptical when my host said I could see the moon from his telescope, and offered to show me the stars.   I agreed. It would have been impolite to decline. He set up and fiddled with his very large Skywatcher Newtonian telescope (intermediate level). Yes he told me the name of his gigantic telescope. I have never seen such a large telescope. He was very proud of it and showed it up. He answered my questions enthusiastically; not that I knew what questions to ask, mind you.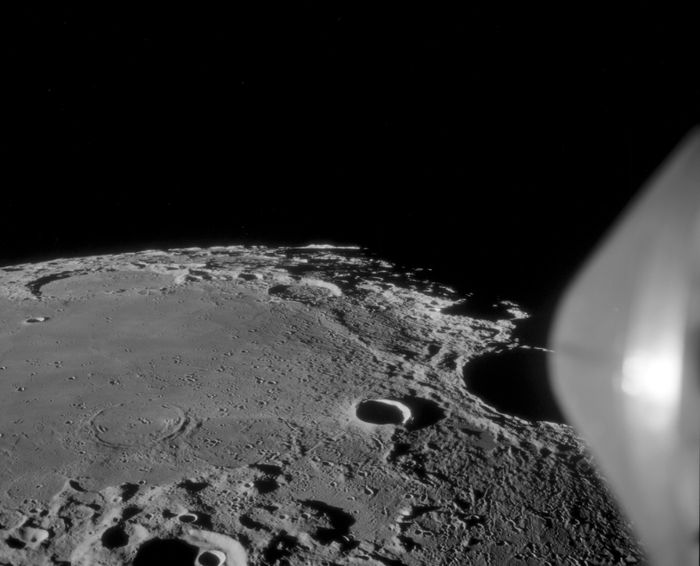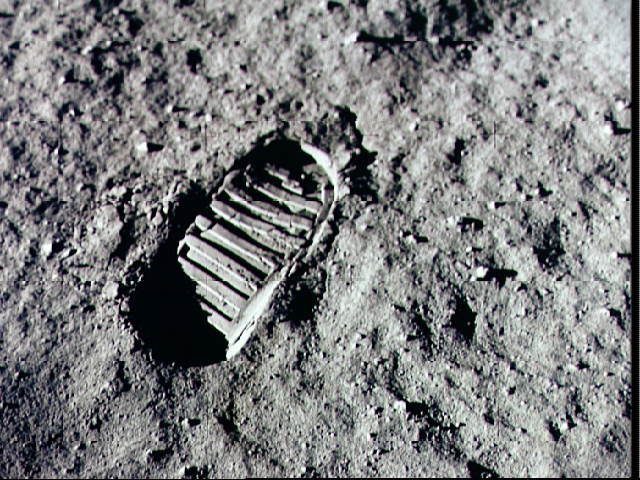 And there it was! I actually saw the moon through the telescope. (not the one in this photo, mind you) And not only did I see it and it seemed like it was right in front of my eyes, I actually saw the 'sea of tranquility' . This is where Apollo 11 mission landed!! OMG! I could not contain myself in excitement. I became so loud that his partner came out to find out what was going on and wondered if  she had missed something unusual. To her, it was nothing, she sees it regularly and she was used to it.  But for me, it was a big deal.  You know the old adage that seeing is believing. Now, I believe that man did actually land on the moon!!!  I could see it! Not many people can say that! though they may not be non-believers like me.  Whilst I did not see the actual footprint, I understand that as there is no wind on the moon, the footprint remains for ever!
Throughout my visit, I was outside on their balcony, either gazing into the stars with my naked eyes or through his telescope. I saw plenty of stars. There is even an App that tells you when, what and where!
To be honest with you, I had not seen or shall I say noticed the stars in London before, or indeed anywhere else. Now I have discovered the stars, I am forever staring into the night sky looking for the stars. Usually I get people tell me it is Venus. Hmmm I dont believe them as I am convinced they are just guessing. 
If you have not already done so, I would urge you to look up into the night sky and see if you can see the stars. Soon, I will be able to spot and name all the stars in the night sky or perhaps in the milky way! Ahha.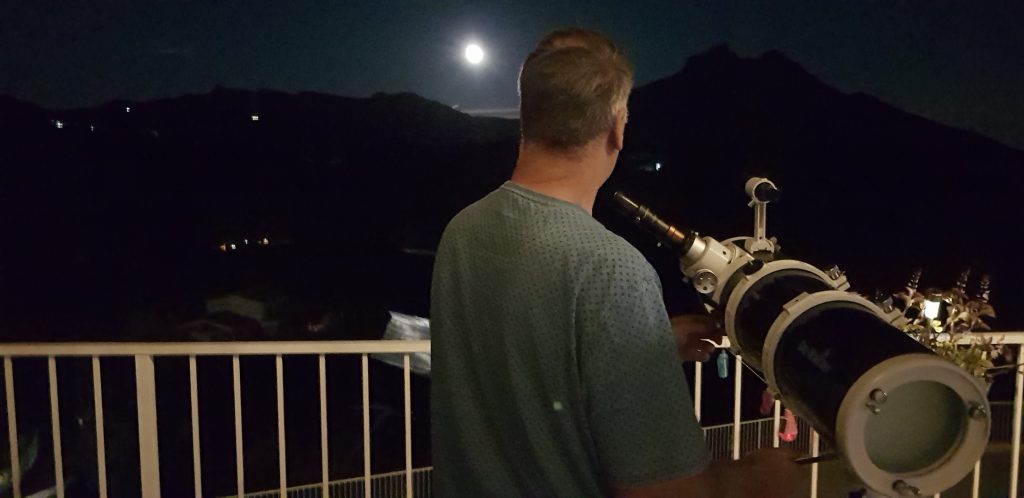 It gets better. The following night, my host showed me Saturn and I could see it with its rings around it. Wow, wow and wow!
And it doesn't end there.  I also saw Mars – referred to as the 'orange star' because of the orange glow around it. And one occasion, it was overshadowed by the moon. And I saw Jupiter and five of its moons. This was now too much for me. Unbelievable. 
Of course, there is no way of capturing these moments well in photography so you are going to have to take my word for it. 
This red moon was photographed by my host on the 28th July 2018 over the Mediterranean Sea Costa Blanca,  Spain. He had captured this red moon using his Nikon camera attached to his Skywatcher  Newtonian Telescope.