My Italian Adventures – unforgettable experience
It is hard to imagine right now what places like Venice, Florence or Pisa in Italy would look like under the "new normal" after Covid19 or the Corona virus disease has been beaten worldwide.  
I visited Italy in February 2020, and left just a few days before the first confirmed case in Italy was announced on the the 23rd February 2020. 
I'd planned the trip long before the pandemic and I had subscribed to the U.K's Government website to get updates while in Italy as the news about the virus had just emerged from Wuhan in China.  The U.K's government advice at the time of my travel remained good to go so I continued with my travel plans. 
My trip to Italy was unforgettable for three reasons.
Firstly, I made the trip to Italy by train.  This was something I had not done before and so I was very excited about the planning and research of travelling by train.  I bought all the train tickets and connections, hotels and transfers from the U.K before leaving. Travelling from London Euston to Paris, from there to St Moritz in Switzerland and then through various cities to Venice, Florence and Pisa was a breeze. Everything went well and without a single problem. I was very proud of myself`! 
Secondly, I had planned the trip to coincide with my birthday, not a significant one I might add.  I wanted to be in a romantic city like Venice on my birthday, and to be with someone special. My dream came true!
Thirdly, I wanted to fulfil my ambition of visiting famous sights that Italy has to offer.    Italy is rich  in Culture, history, Cuisine and Art, and contains more World Heritage sights than any other country in the world. Venice consistently rank as one of the most beautiful cities in the world. And having visited it, I can honestly see why.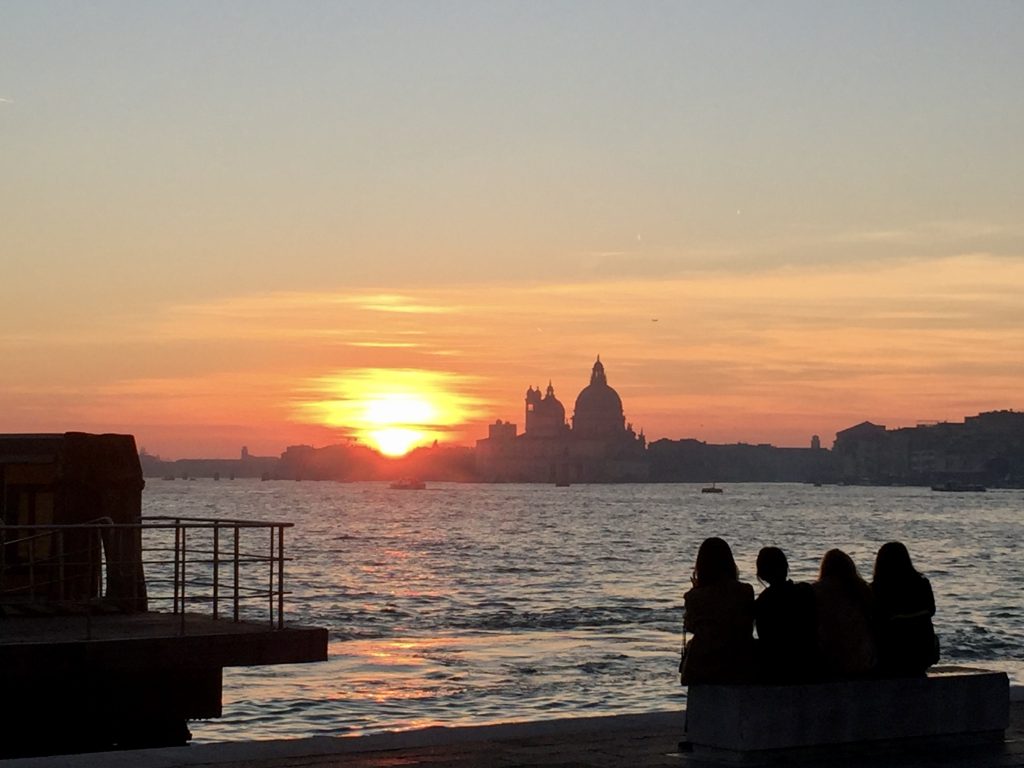 Piazza San Marco or St Mark's Square

I have never seen anywhere like Venice – the canals, car free cobbled streets and hidden passageways – all serve to increase the charm that is so captivating. The month of February is considered off season so the crowds, prices and weather were good.
Basilica di San Marco, Venice
St Mark's Basilica, located on Pizza San Marco is the most famous church in the city.  It is the cathedral church of the Roman Catholic Archdiocese in Venice.
St Mark's Basilica is undoubtedly one of the most visited sights in Venice, and is one of the finest examples of Italo-Byzantine architecture. The Basilica is huge and magnificent both inside and out. There are more than 500 columns and the use of mosaics is extensive.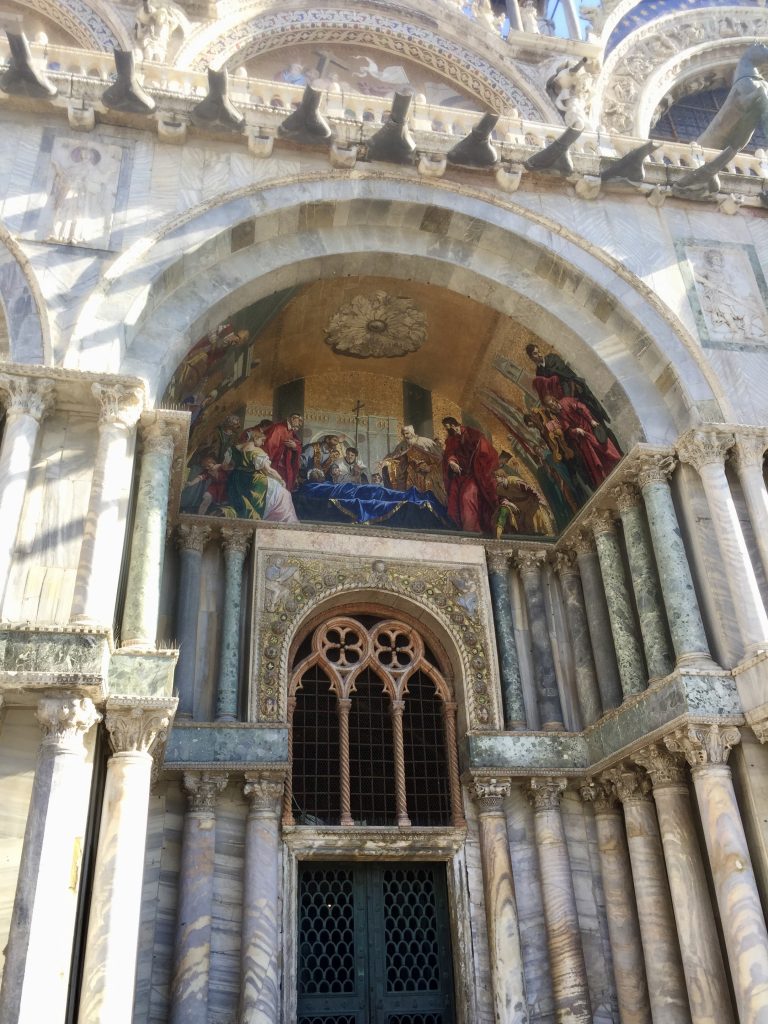 There are 390 bridges in Venice crossing 150 canals though no-one seems to agree the number of canals that the city is built on. There is none more famous than the Rialto Bridge. It is  a stone arch over the Grand Canal, and it is said to be the oldest bridge in Venice and it is still in use.  It is a significant tourist attraction. I must admit that I could not quite understand what was so special about it, though it is beautiful and serves its purpose of connecting two neighbourhoods either side of the canal.
The Bridge of Sighs, Venice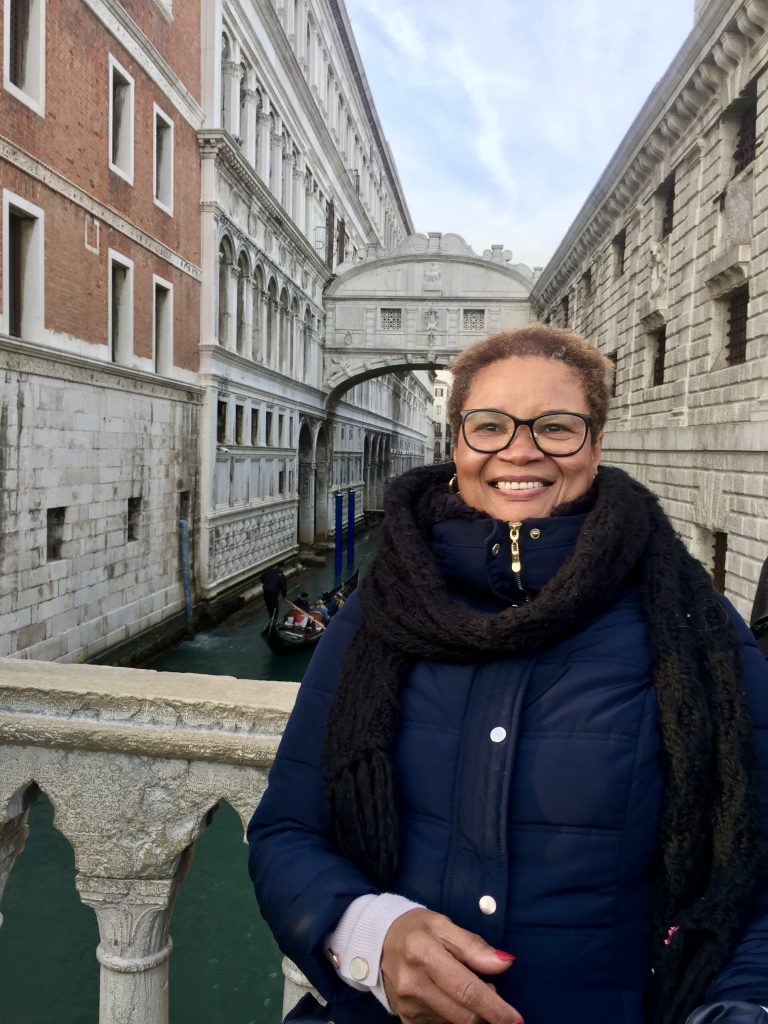 The Pala d'Oro, St Mark's Basilica, Venice
The Pala d'Oro inside St Mark's Basilica, Venice is a Byzantine altar of screen of gold studded with literally hundreds of gems – pearls, emeralds, sapphires, amethysts, rubies and topazes. It is simply stunning. Photos don't do it justice. you have to see it in person!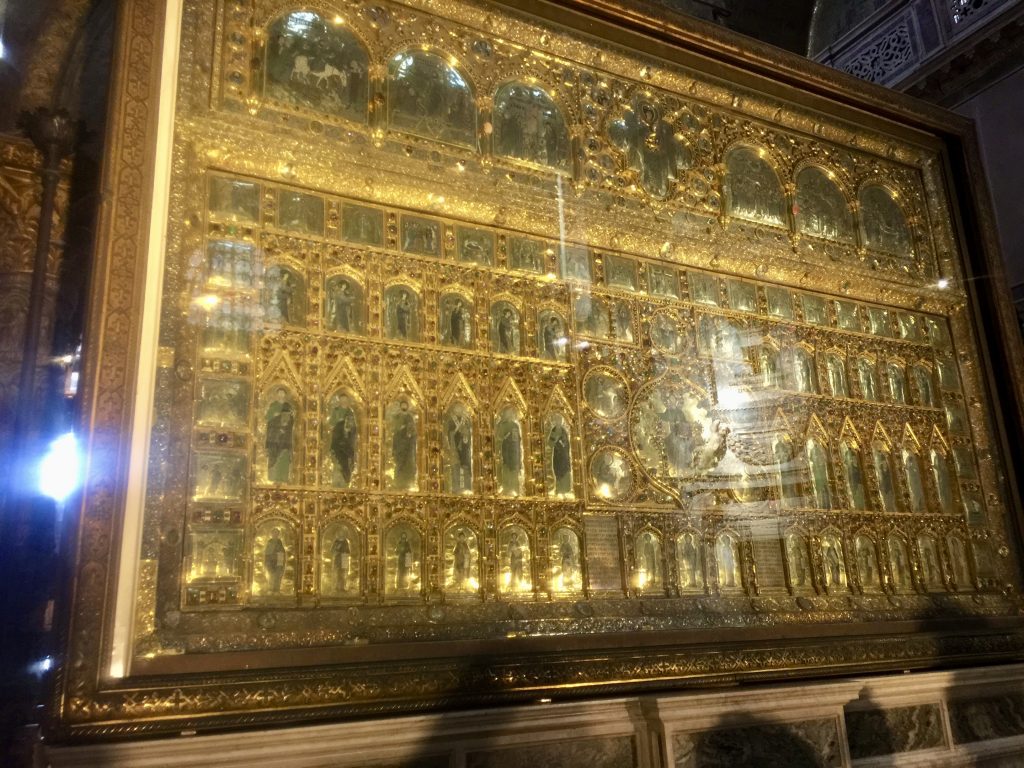 The Duomo Cathedral of Florence
The Cathedral of Santa Maria del Fiore is also known as the Duomo Cathedral of Florence or Cathedral of Florence, situated in the Piazza Duomo. It is a magnificent building and a landmark in Florence. As you would expect, there is bell tower and baptistery.  The exterior is covered in a mix of pink, while and green marble. 
When I read that the only to see the inside of the dome up close and enjoy the view of Florence was to climb the 463 steps – no lift, I decided to admire from the ground level!
It was sad to see a recent image of the front and surrounding areas of this Cathedral deserted due to the lockdown as a result of the Covid19 pandemic. Seeing the famous Opera singer, Andrea Bocelli perform "Nessun Dorma" live from the doorstep of the Duomo Cathedral was most moving! It helped to lift all of our spirits during this difficult time all over the world.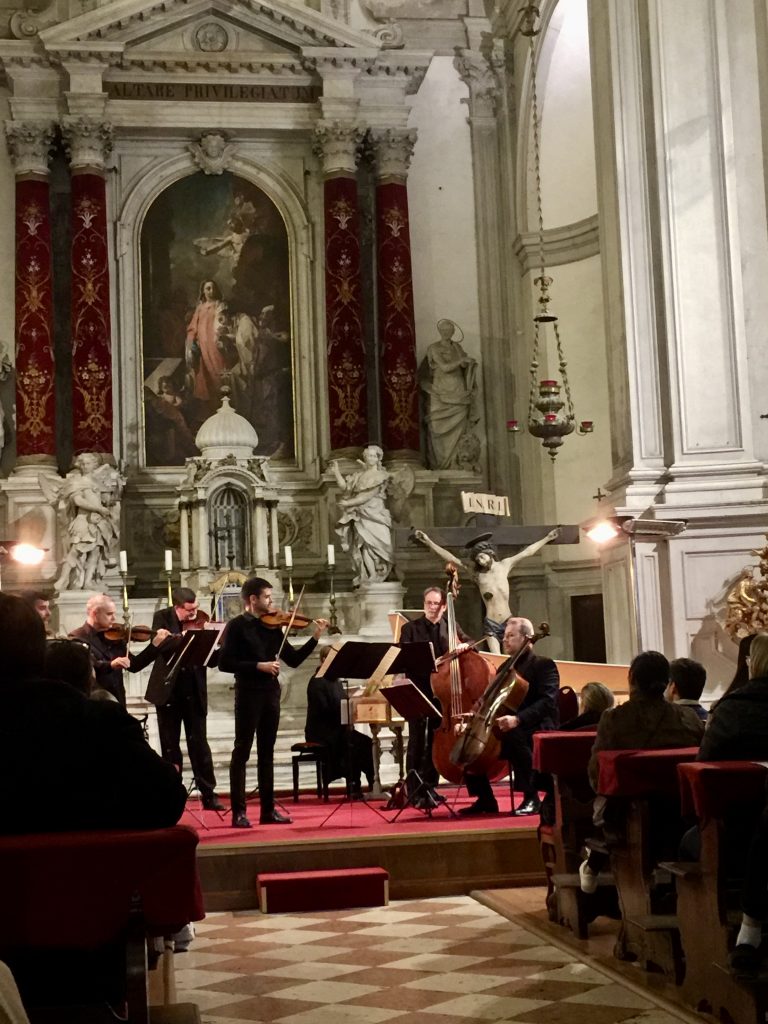 I had to include this piece because I was very pleased to have had the pleasure of attending this concert on my birthday in Venice, organised as part of the Venice Carnival.
It is said that in this church, Antonio Vivaldi spent forty years of his life  and composed his magnificent works such as the collection of 12 violin concertos II Cimento dell'Armonia e dell'Invenzione, which includes his masterpiece Le Quattro Stagioni.  Vilvaldi also worked in the church teaching violin to  girls who had been abandoned by their mothers as babies. 
We were able to buy tickets for the performance of the Le Quattro Stagioni (The Four Seasons) by Vilvaldi which was performed inside the church.
The performance was by I Virtuosi Italiani who were considered the most distinguished ensemble in Italy for their excellent artistic standards,  led by Antonio Aiello, maestro di concerto al violino. I was thrilled to be able to listen to the music where it was written.
Spectacular view of Florence from Piazzale Michelangelo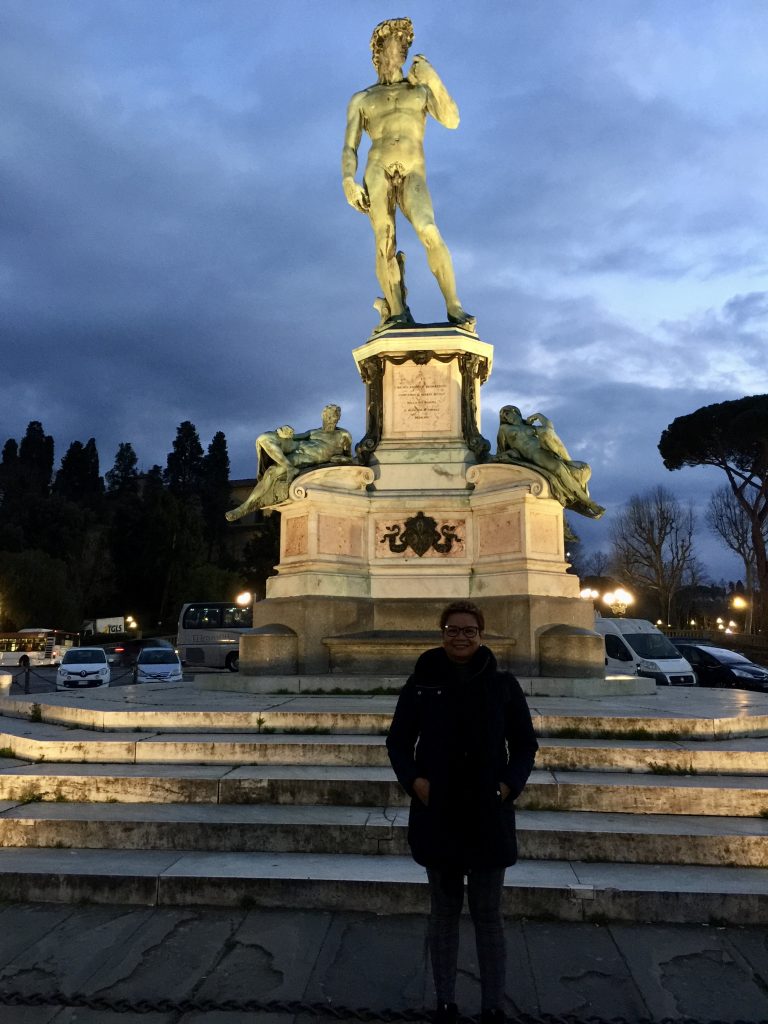 The view from the Piazzale Michelangelo is spectacular and well worth it if you can climb the stairs to get to it. We  didn't know that there were that many steps or how long it would take us. But once we started our climb, we decided not to stop and hoped the end result justified it. We were not disappointed. There is really nothing to do there except to admire the view.
A replica of Michelangelo's "David" in bronze is also erected on the site. The original is in the Galleria dell'Accademia. It took us about twenty minutes to get to the top; probably a lot less for the young ones! We decided to take bus 13 back to our hotel rather than walk back or take a taxi. It was relatively easy to do once you have mastered where  and how much the bus tickets are. 
My love for Italy has deepen after this trip so I will be returning to explore this beautiful country further in the not so distant future when the world is safe  and free of Covid19.