On the move again …… at last!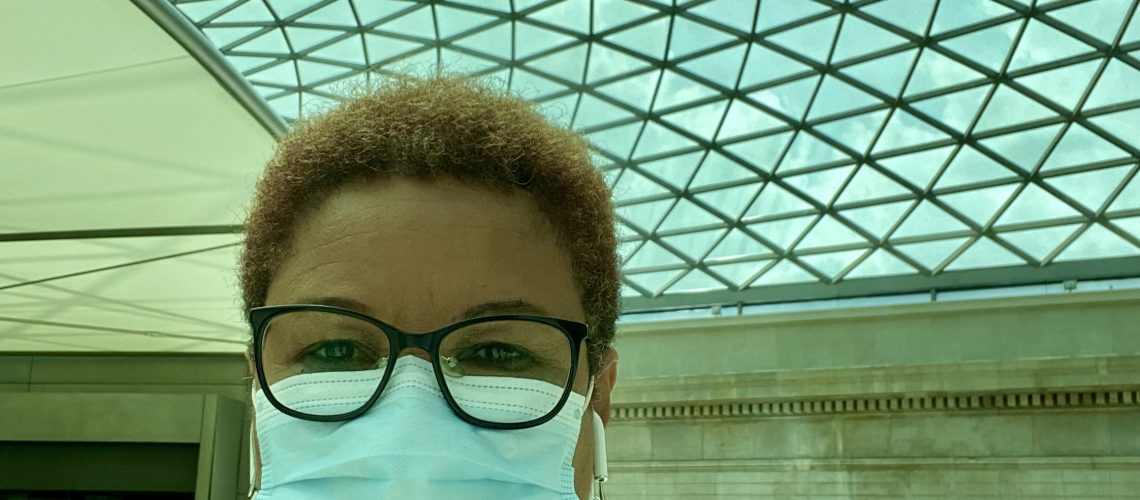 Staycation- the new normal!
Like everyone, after many challenging months of being in lockdown and  anxious to know  how and when life would eventually return to normal,  it is wonderful to be able to go out again, hug my children and grandchildren and begin to plan and visit people and places.
Many of you have asked me about my plans for travel – when and where. Well, like everyone, I have not been able to travel abroad.  But I discovered "staycation".  I must admit that until this pandemic that sent shock waves around the world, I had not heard of or know what staycation meant.  It has  become very trendy and  the new 'normal'. 
So what is "staycation" ? According to the English dictionary – staycation means:
"a holiday spent in one's home country rather than abroad, or one spent at home and involving day trips to local attractions."
Staycation does not mean taking a walk in the local park, cleaning and decluttering, or sorting out those old photo albums in boxes in the artic or rearranging your books in alphabetical order on the bookshelf!! No, no, no! Don't get me wrong, I too did all of those things that  I just mentioned. But  I was bored after a while and I wanted some adventure.  I wanted to feel alive again, and have new experiences.
Allow me to start by sharing some of the things I indulged in to kick start my experiences.
Afternoon tea is quintessentially  a British tradition. It consists of a selection of teas, finger sandwiches with various fillings, pastries, scones and cakes presented on a classic 3 tier china or silver stand.
Afternoon tea vary in price, quality,  and selection on offer.  I particularly enjoy drinking my teas in fine china and enjoying the different selection of teas from around the world. You will only get this type of service in the best hotels in London. I have a favourite hotel where I have had the best afternoon tea so far. I judged it not only by the quality of the food on offer but also by the ambience, service and the overall experience. But alas it was not cheap. I don't want to name the hotel here. But if you drop me a line, I will be happy to share the details with you privately. 
If you are in the UK on holiday and looking for a British thing to do- try afternoon tea.
 I am continuing my experience of looking for my ultimate afternoon tea experience  that would beat  my existing best experience so far. I missed having afternoon tea in the famous Raffles Hotel in Singapore during my visit. The hotel was under restoration at the time of my visit.
Have you had afternoon tea  in the UK? I would love to hear all about it so please feel free to share your experiences.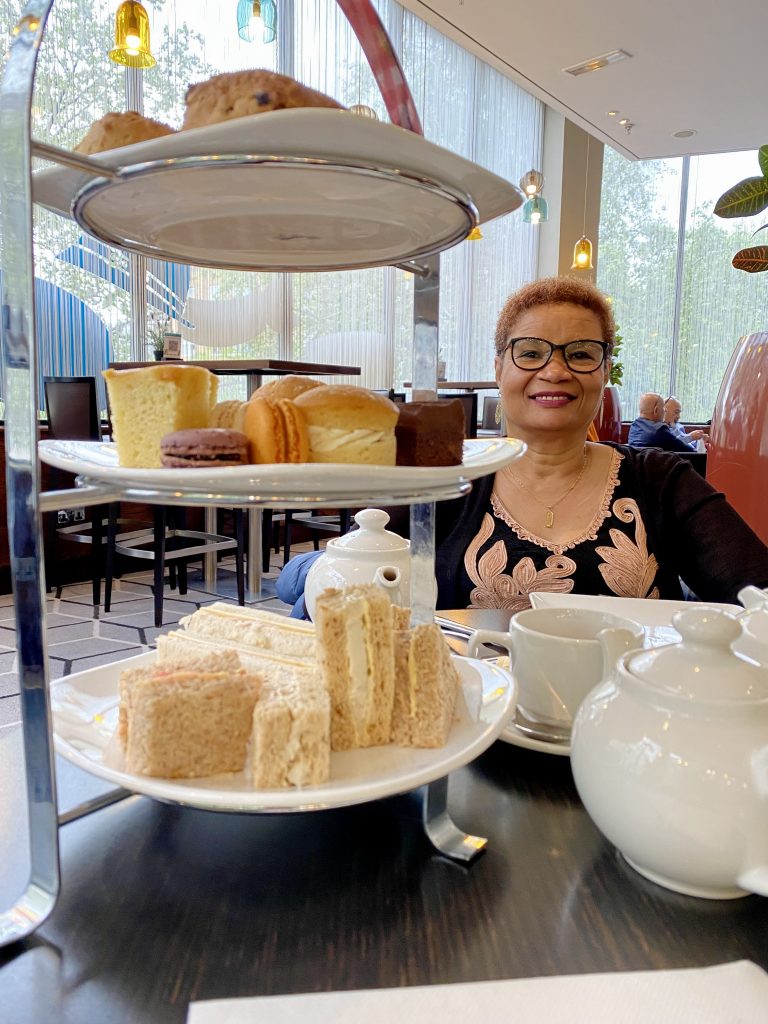 There is so much to do and so many places to see in the UK and even in London that it is almost impossible to see and do them all in one's lifetime. I decided to take the opportunity afforded by our inability to travel abroad to begin enjoying all the many sights that many people come from elsewhere to see and do.
The London Eye attracts over 3 million visitors a year and it has become the most paid tourist attraction in London. You have to book well in advance as the queues can be quite long even on a grey and wet day. The views of London from the top are amazing!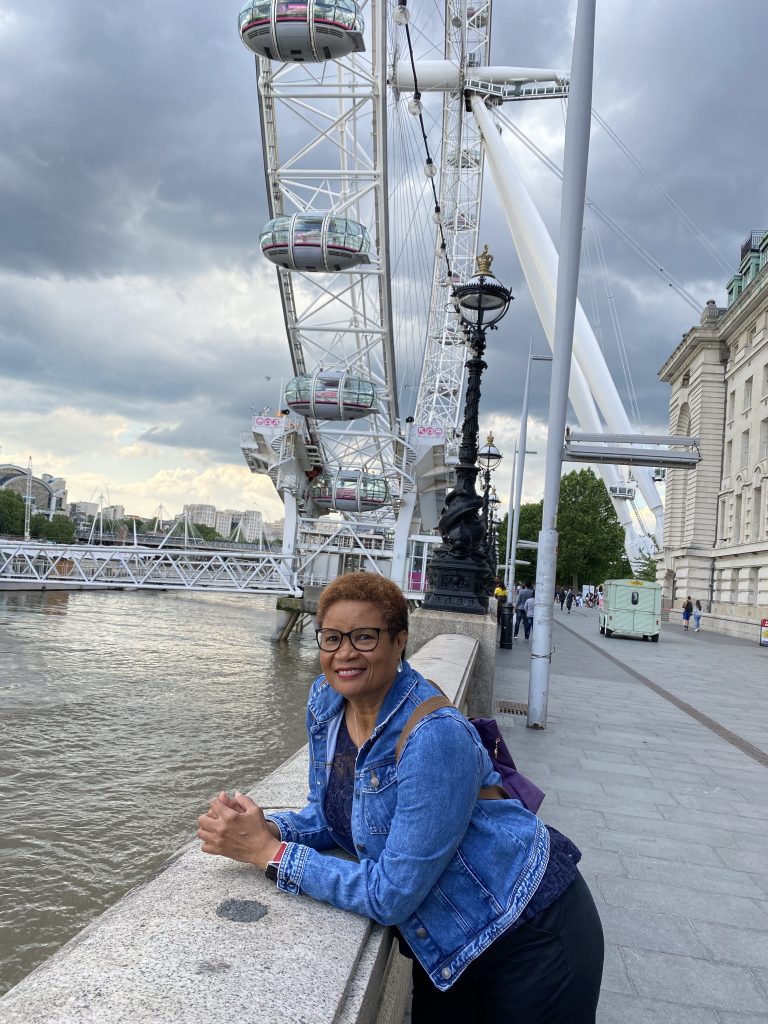 The Shard, also known as the Shard Glass, is a relatively new addition to the London skyline. It is unusual building because of its design but offers a fantastic view of London, better value from one of its restaurants. .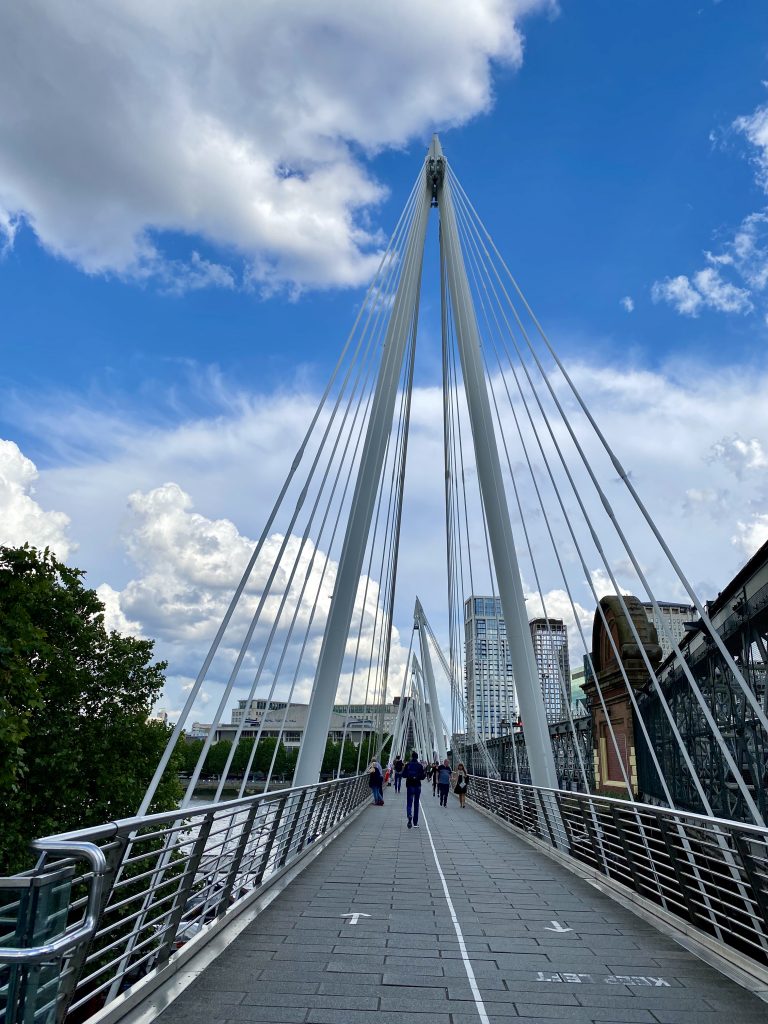 The Millennium Bridge is pedestrian foot bridge on the River Thames that links St Pauls to Southbank and Tate Modern. It a busy bridge mainly for commuters. It is however good for the views of the River Thames. Nice and pleasant walk on a sunny day!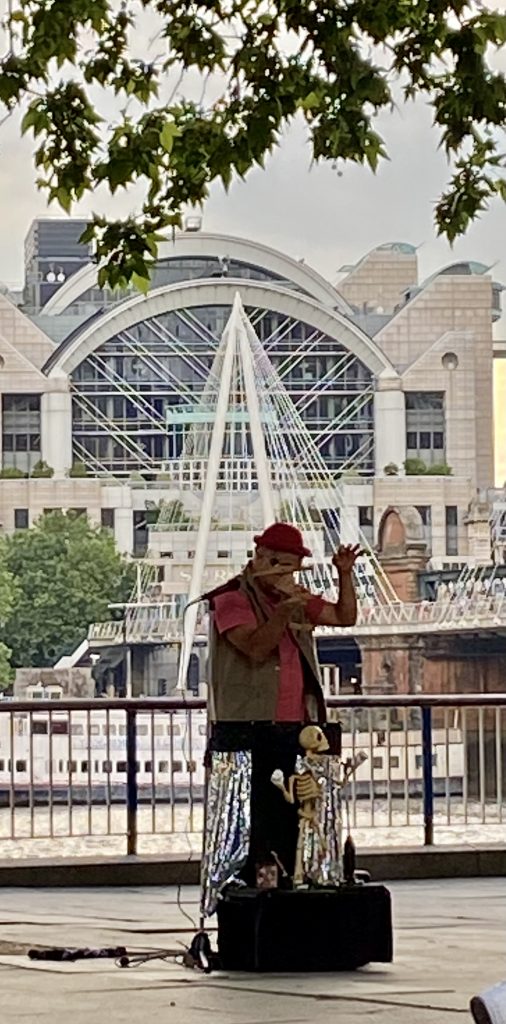 One of my favourite places to visit in London is the South Bank. It is the heartbeat of the cultural scene in London. There is always something happening there – events, fairs, music festival.
 I love walking down the riverside, admiring London landmarks like Big Ben, London Eye, Houses of Parliament in Westminster, or just the skyline.
I enjoy people watching or simply taking in the atmosphere.  The Street Entertainers are great fun to watch and listen to.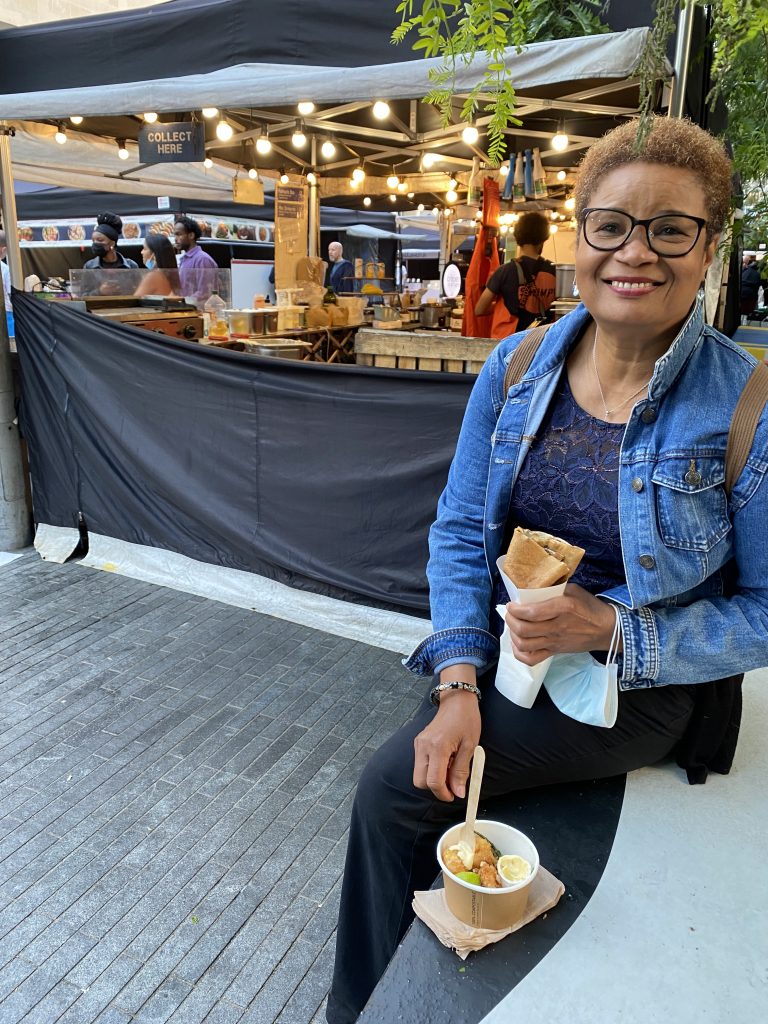 There is also of course the food scene in the South Bank. You will be spoilt for choice – different independent food stalls  will tempt you with their amazing creations.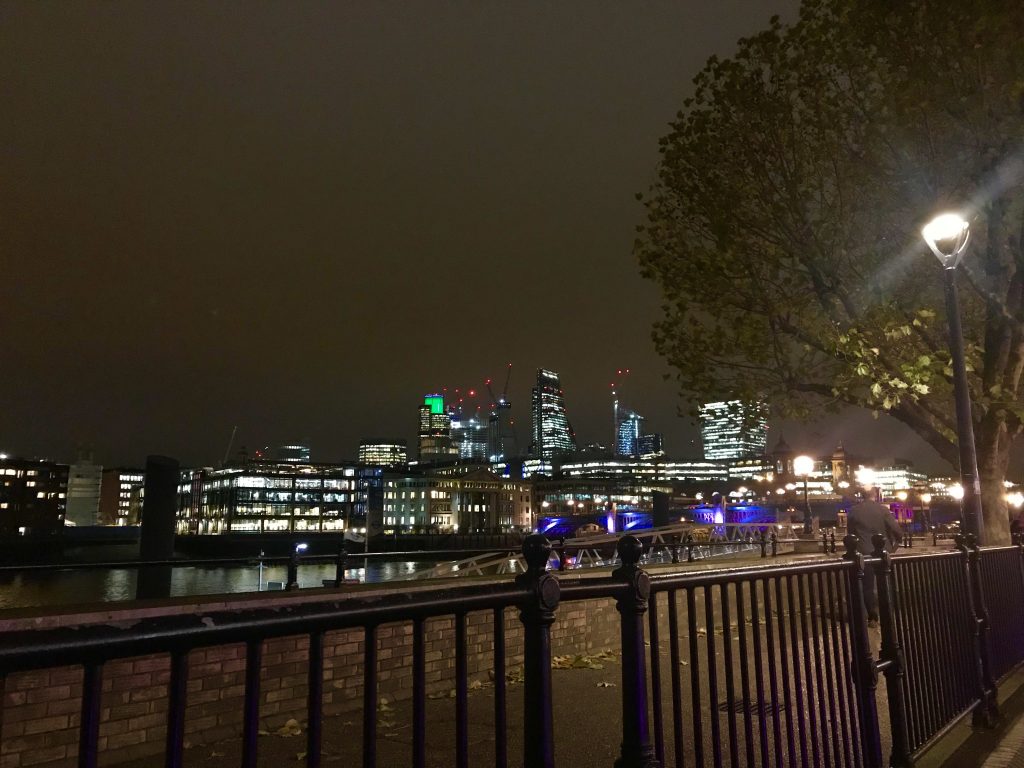 As London Theatres are opening up, one of the first shows that I wanted to see was The Tina Turner the Musical.  It had a great finish despite its sad story of the life of Tina. It was great fun to be able to feel the buzz of music and the theatre again after so long in lockdown. 
Another lively and interesting place to visit is Chinatown, in London. It is a short stroll from Leicester Square, and Covent Garden where there are more lively scenes.  There are street entertainers and music. And of course lots of food – Chinese food naturally! 
I tried the indulgent bubblewrap ice cream in Chinatown. It is the latest craze in street deserts.  It is very popular amongst the young and trendy locals and tourist alike. I didn't mind the long queues just to try and experience what it was all about. It was great fun!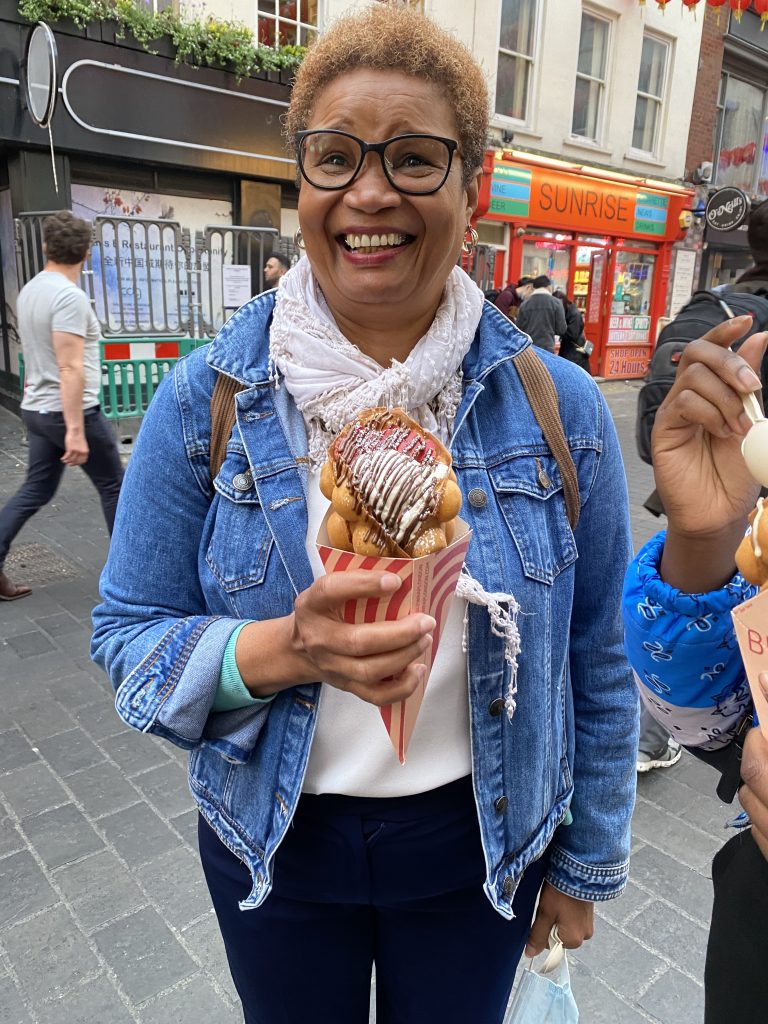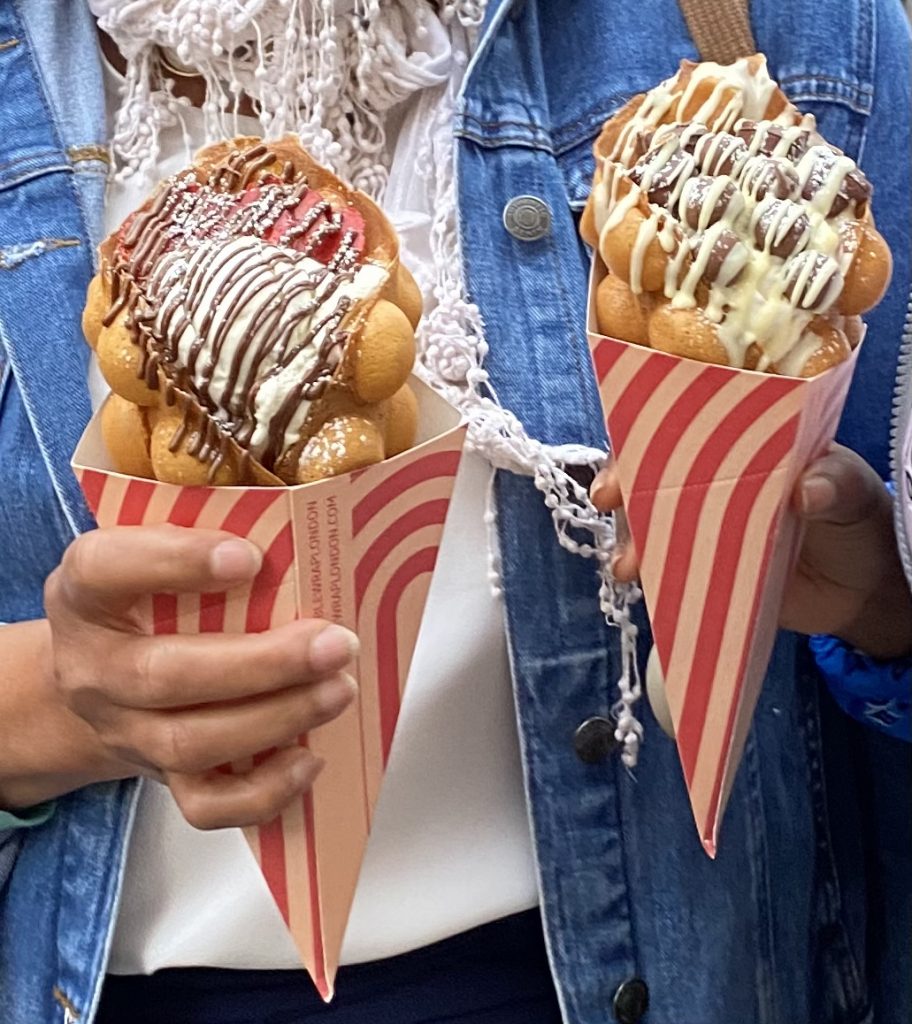 Romney, Hythe and Dymchurch Railway, Kent, England
Taking the Romney, Hythe and Dymchurch miniature railway was one of the fun staycation activities that I did and loved.  I absolutely loved this miniature railway. It was such fun. It was indeed an experience!
Whitstable, Kent, England
Whitstable is an English seaside town in Kent. It is not far from London, about an hour's drive. It is great for a day trip. Find out more. 
Herne Bay is a quintessential British seaside town in Kent , close to Canterbury and Whitstable so you can visit all on a day's trip if time is a factor. 
Dover is a coastal town and a major port for ferries to Calais in France. It is famous for its white chalk cliffs. 
Canterbury, Kent, England
Visiting Canterbury Cathedral is undoubtedly the main attraction in Canterbury and it is a "must see". The Cathedral is now one of the most important pilgrimage centres in Europe.
Coming soon ..
The British Museum is the most popular visited attraction in the UK and it is free entry! It was a good staycation, and well worth the visit.
Check out my separate post on my visit to the British Museum as it deserves its very own story!
Coming soon…..
Hastings, East Sussex, England
My favourite staycation was Hastings. It is an English seaside town in East Sussex. It is known for the battle of Hastings of 1066 and its connections to William the Conqueror  who came from Normandy  and defeated the English. 
Rye and Camber Sands
East Sussex, England
Rye is a charming English town, full of character and lots of interesting things to do and see. Neighbouring Camber Sands has a nice sandy beach, perfect for a family trip.