My adventures in Northern India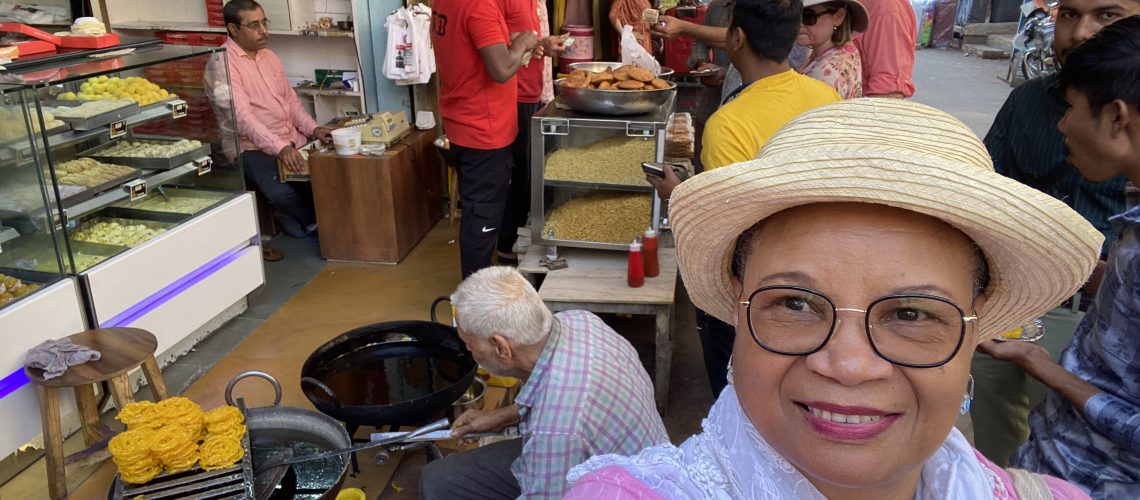 I had the most thrilling time in India and an unforgettable experience that I would like to share with you.
India is in South Asia, and it is the second most populous country in the world after China. It is the largest democracy in the world! And it is famous for its food, culture, Bollywood and of course it has one of the 7 Wonders of the World – The Taj Mahal, which is what drew me to India in the first place. 
Religion is the most important part of Indian culture and it shapes every part of life – political , economic and cultural. There are lots of temples, in fact around 1.2 million of Hindu temples across the country. There is a temple in every neighbourhood.
 India's culture is based on respect for elders (similar to African culture) family unity, honesty and hard work. There is a lot of emphasis on education both formal and informal and Indians are known for their entrepeneural spirit all over the world. 
The first thing I must tell you is that India will overwhelm you! The sight, the sound, the smell and the sensation are like no other. But I was prepared for this trip and I was ready for  an adventure and experience of a lifetime!
I did not go to India on my own. I joined a group tour of five couples and an adult disabled girl; I was the twelfth person! The trip's itinerary was to visit seven cities – starting in Delhi, Mandawa, Bikarner, Jaisalmer, Jodhpur, Jaipur, Agra and back to Delhi. I wanted to see and experience as much as possible, and to immerse myself in the culture.  I did my research about do's and dont's and packed the essential and basic medication for the treatment of unforeseen minor ailments and for  the famous "Delhi belly" which is basically diarrhoea . The tour company took care of the flights, hotel accommodation, transfers and sightseeing tours. We had a guide who stayed with the group for the duration of the 12 days trip and he spoke English very well. It was a packed and busy schedule which I rather liked.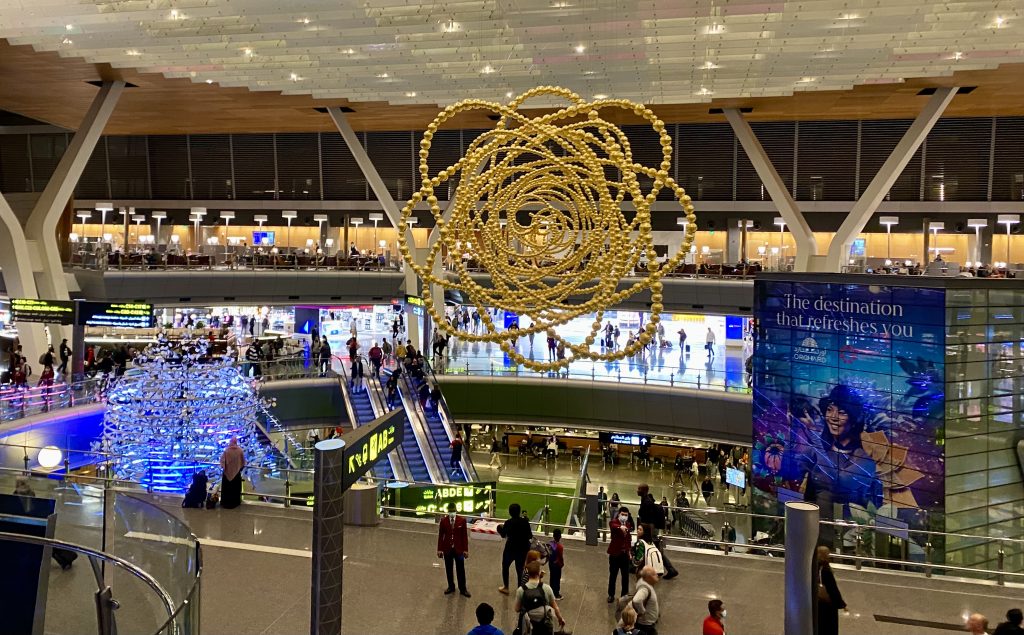 My flight from London to Delhi was via Doha. Initially, the layover of an hour and twenty minutes seemed a reasonable time to transfer but it turned out to be very tight. Now, if you have been through Doha Airport, you will know that it is a huge airport, in a massive shopping complex, which was like a small town, designed to tempt you to part with your money,  and to have a pleasant experience! I had a better experience on my return leg of my trip with a layover of four hours so I had plenty of time to shop!
The first thing that struck me immediately on arrival at Delhi Airport is the large number of motorcycles parked at the airport. Normally you see cars parked in large numbers at airport parking lots but not here, it was motorbikes and lots of them!!
I did not waste any time on arrival at my hotel to venture out to see what was going on around and to begin my adventure. And what an adventure it was! I teamed up with an English couple who stayed in the same hotel as I did, and who I discovered subsequently were members of my tour group.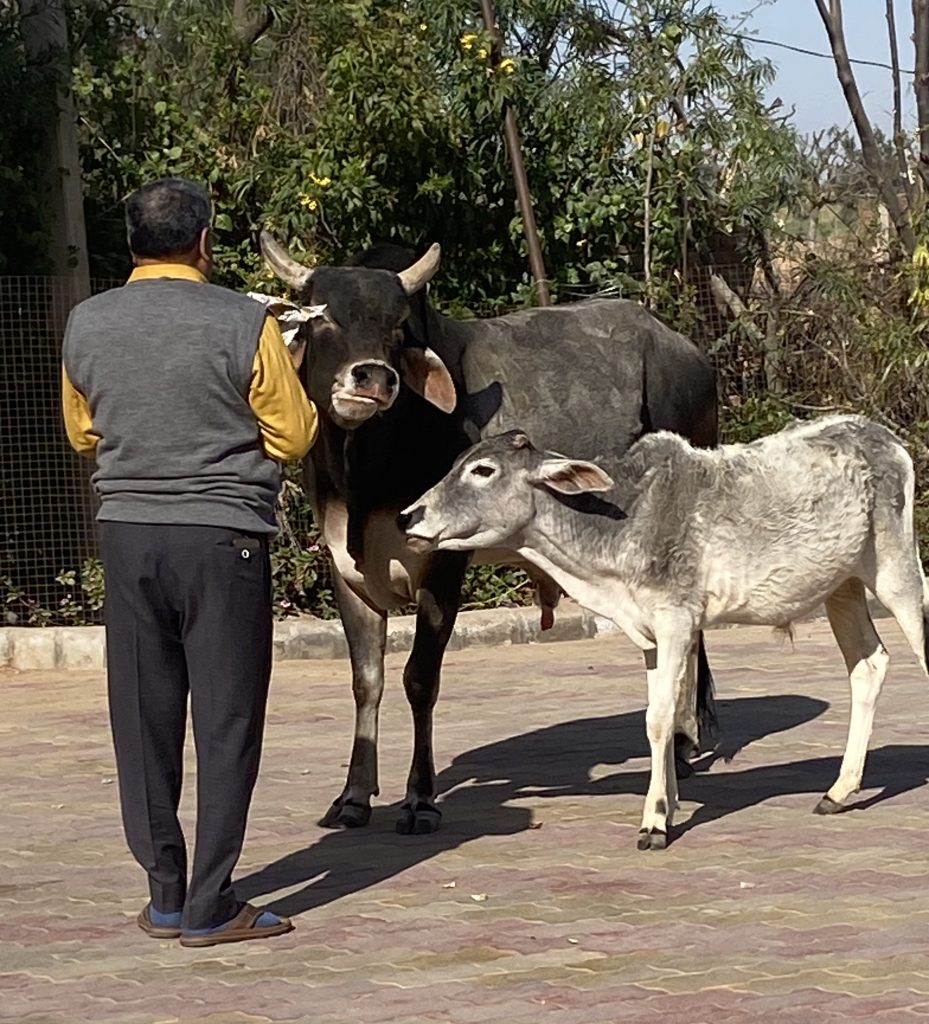 One of the many things you cannot help but notice is the number of cows on the streets  that are allowed to roam freely. I noticed small shaped balls of cow dung that were on display for sale and found out that they were for use as fuel or to cement huts. Cows are considered a sacred animal in Hinduism in India, and they are king on the road. It is against the law to harm or slaughter a cow. . The milk cows provide is a staple diet called paneer.  In many households, the first chapati or roti made in the kitchen is given to the cows as an offering. 
Indian traditional wedding
Just round the corner from our hotel was the main street where all the big wedding venues were located. There must have been over a dozen weddings happening at the same time. The whole area was buzzing and there were naturally,  lots of vehicles and motorbikes, and cows of course, all jostling to move along with pedestrians!  It was difficult to manoeuvre my way around. That was my first experience of India's traffic  and lack of patience or road etiquette. Everyone hooted and squeezed in wherever there was the smallest gap. I was worried that someone would run over my feet!
India weddings are lavish events and an opportunity for parent to display their wealth. The music, the dancing, the colourful wedding outfits were awesome. We were invited to join in the celebrations but we declined, though very tempted to join in!
Here is a video clip of one of the wedding processions that I was able to capture amidst the hustle and bustle and celebrations.
We got carried away with the festivities around us that we lost track of time.  A police vehicle pulled up beside me and asked what we were doing out late at that hour;  in that vicinity and that we should head straight back to our hotel. The Policewoman said It was not safe and we were at risk of being mugged in such a crowded place. She was right of course. They offered to give us a ride back to our hotel. We gladly accepted their offer and we were surprised when they switched on their Police siren! We felt like  celebrities or criminals which ever way one choses to see it. I thought it was great fun arriving at our hotel in a police car!
My first adventure on my first day and night in India – awesome!
My adventure continued the following day. I opted out of the group tour of temples as I figured we will be visiting many temples during the tour. So I  organised a full day guided city tour myself.   It was easy to book online and I chose the tour recommended by the India tourist office. It was very reasonably priced at 299 rupees and it covered a lot of landmarks and sites – great value for money!
One of the things I had not clocked when booking the city tour was that it was mainly for domestic tourists. In a coach of almost 40 people (couples and families as well as single people), I was the only international tourist! The guide on the coach realised this and tried his best to translate his commentary into English for me, whenever he remembered!!
My next experience, though I had had  similar experience in China,  but not at the same scale, was that being a tourist in India means you are likely to be treated as a kind of celebrity!
And more so on this coach where families from surrounding towns, villages and regions were out on holiday and to see their country's famous sights.   I became the "celebrity" on the coach! People wanted to touch me, take photographs with me or to take their photos, and asked  me lots of questions in their very limited English; the younger generation tried to practice their English with me. I felt very humbled meeting them all.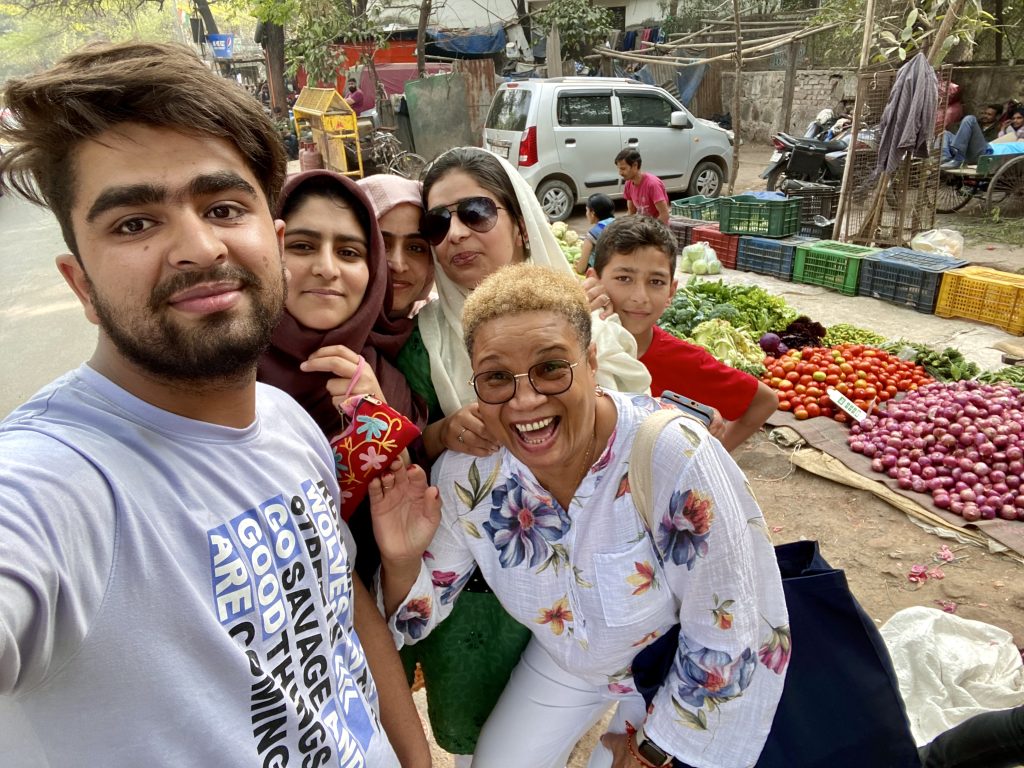 The coach stopped at a local cafe/bistro for lunch.   We were asked if we wanted vegetarian or non- vegetarian.  I opted for the vegetarian option downstairs where the majority of the people on the coach ate. You will find that majority of Indians, being Hindus,  are vegetarian.   I followed their lead and ordered the same meal they ordered called "Thali'.  Thali is made up of small dishes of curry on a platter and included rice and roti. It was very reasonably priced at 150 rupees! About £1.50 or $2. One of the  families insisted on paying  for my meal despite my protestation!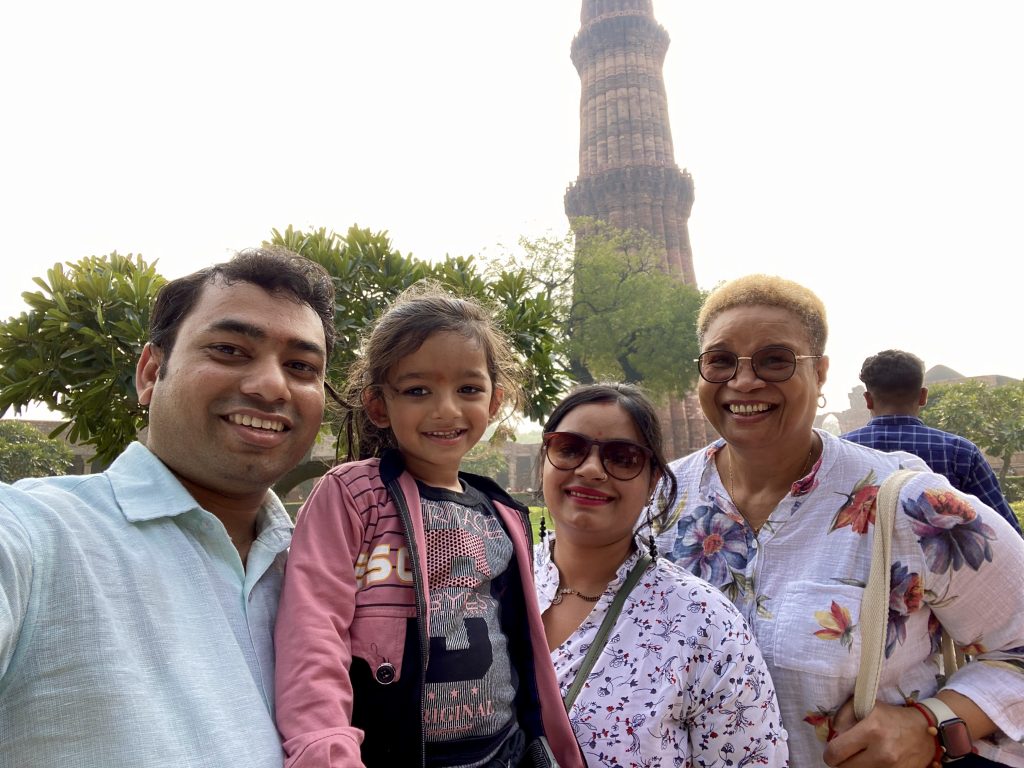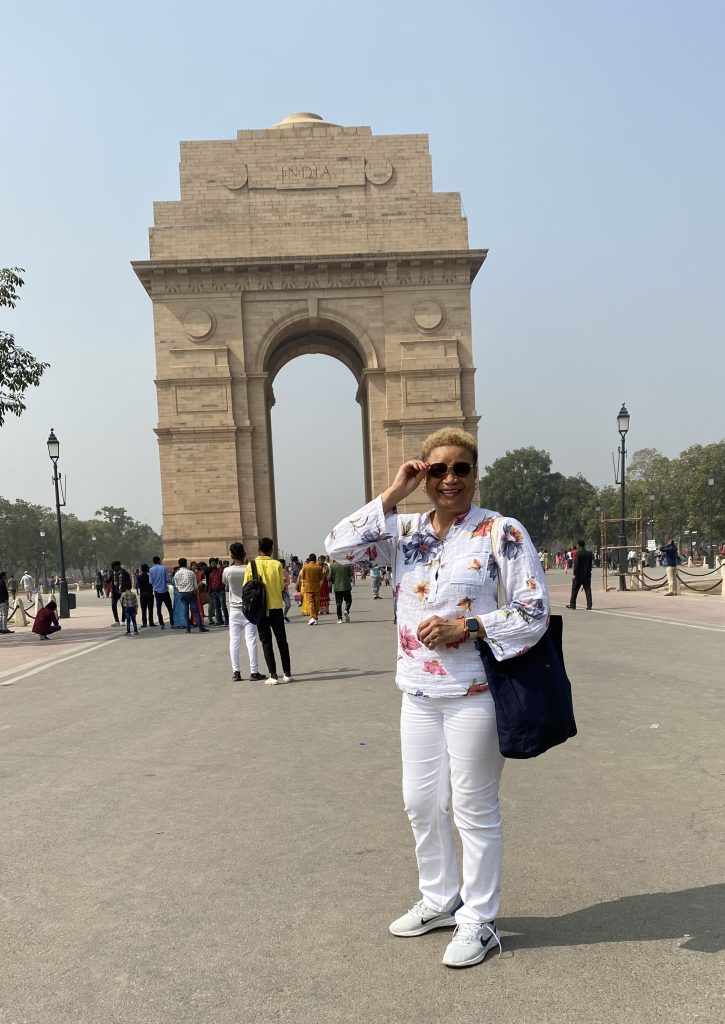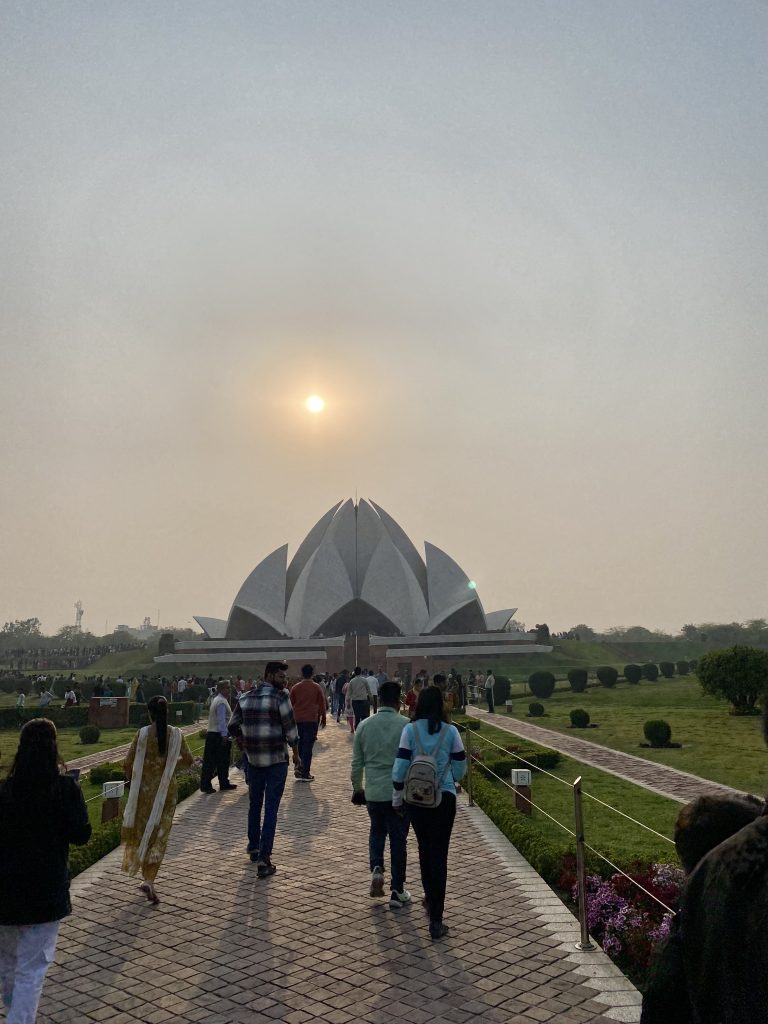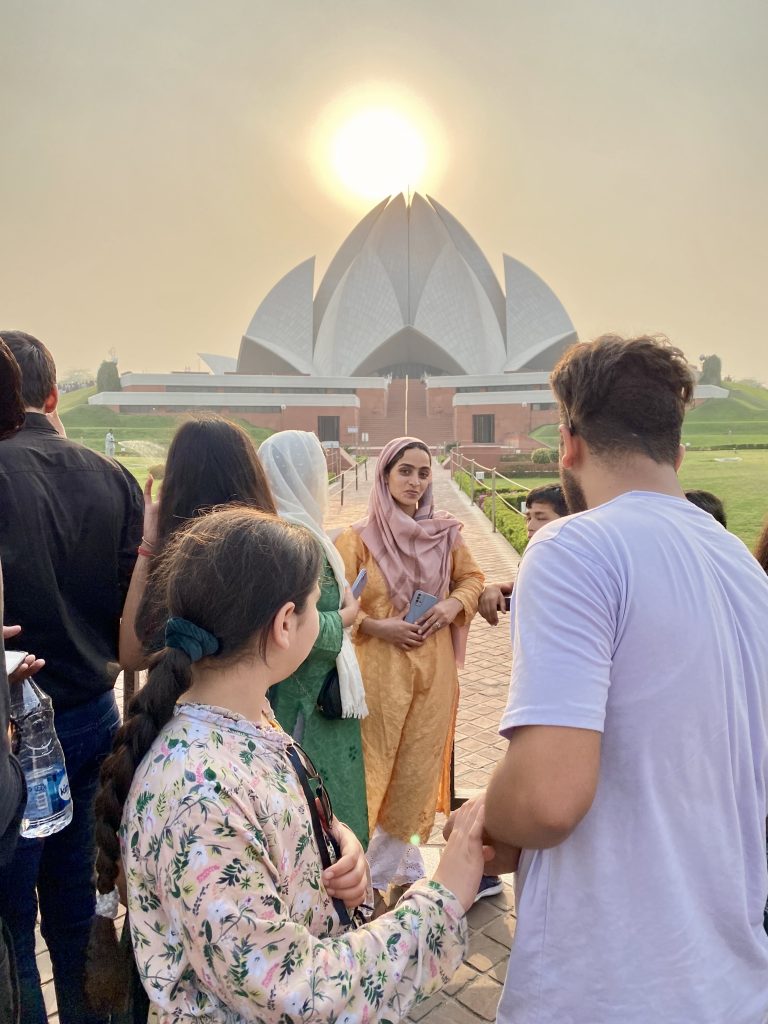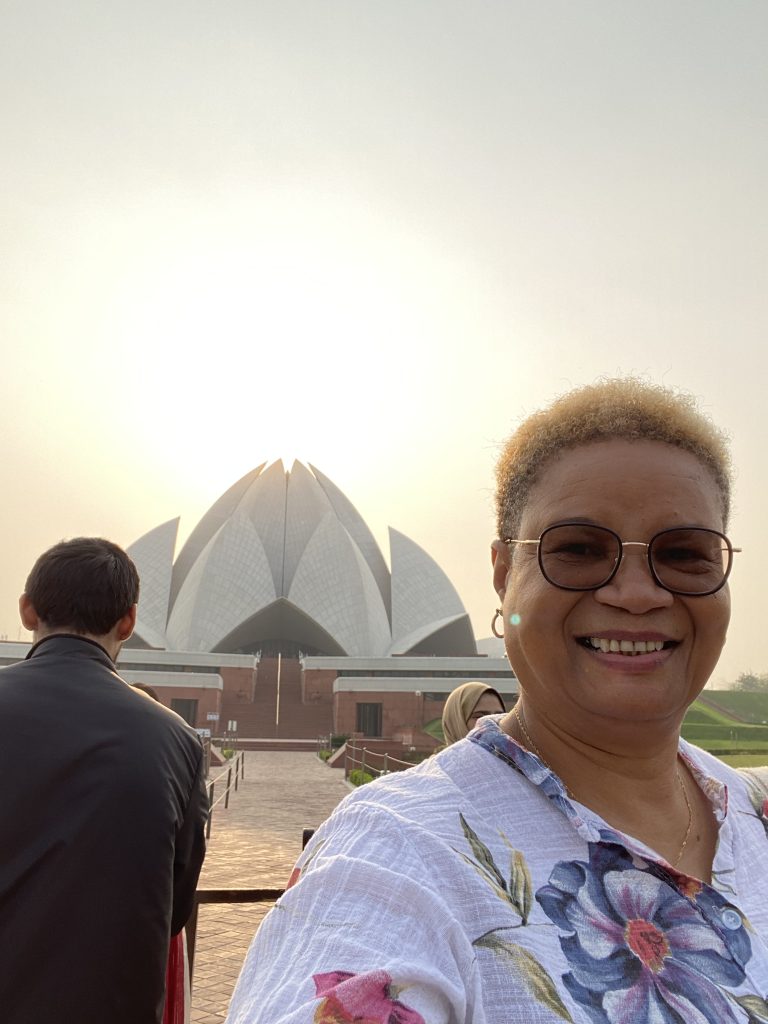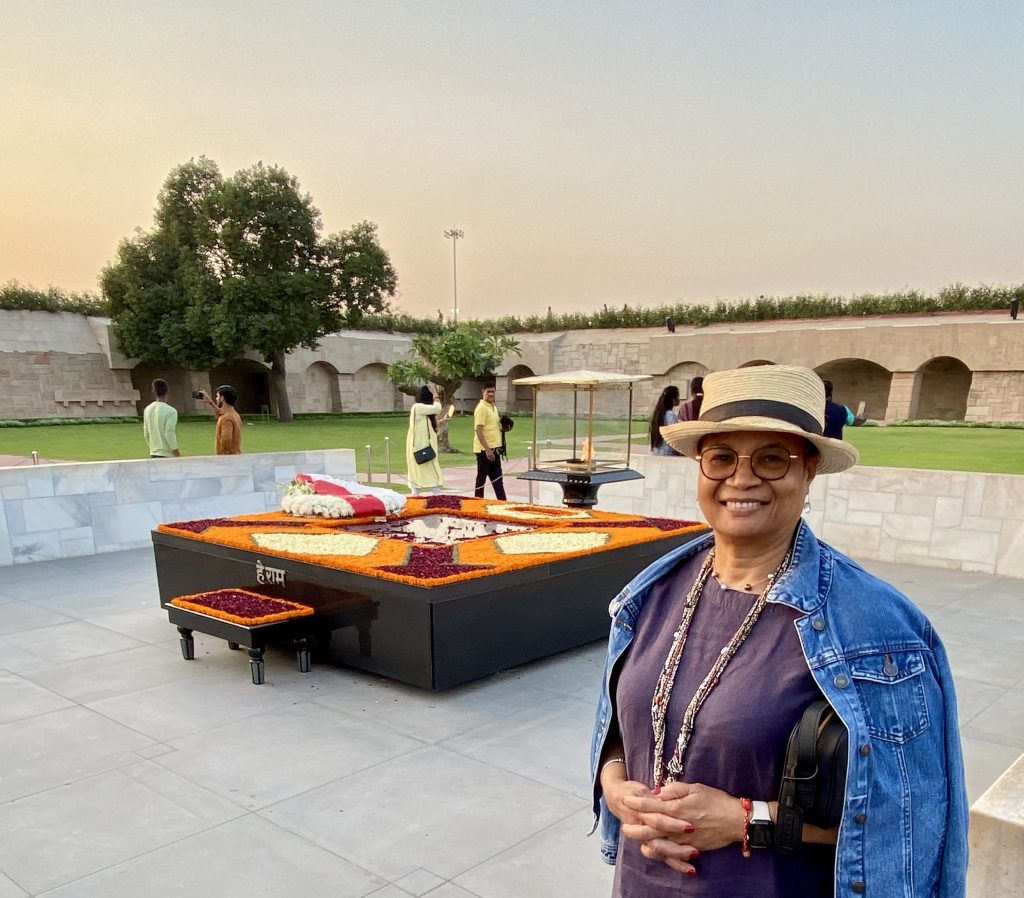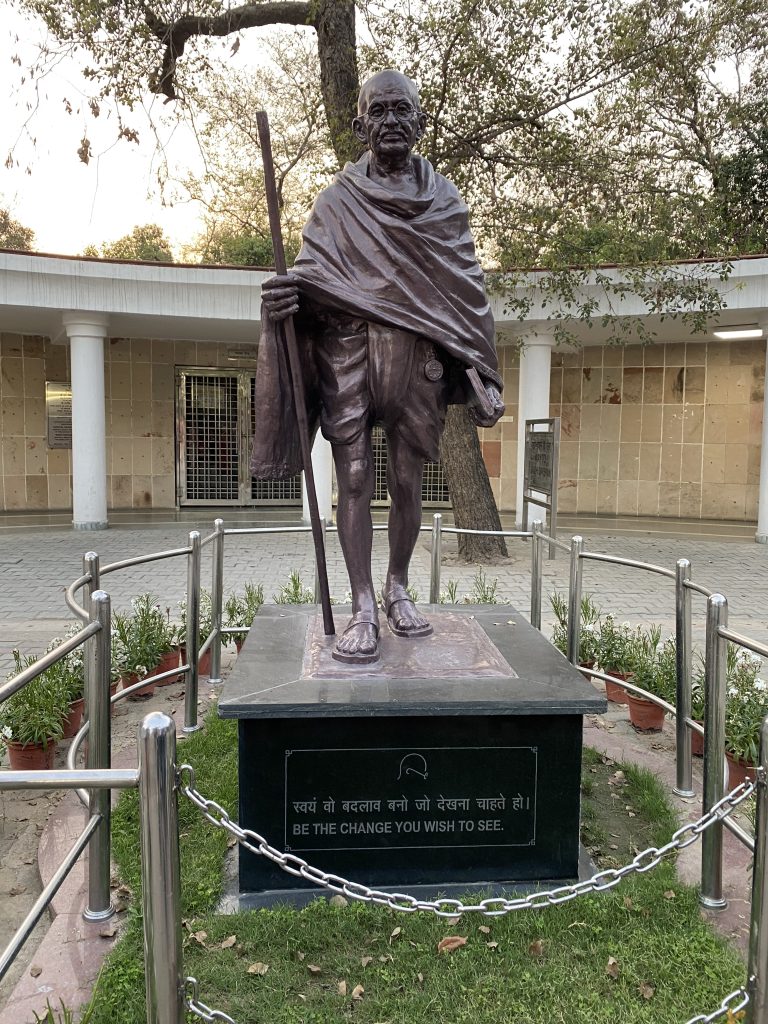 The Red Fort was our last stop on the Delhi City Tour. I have included only the highlights in this blog.
The Red Fort is famous for its massive enclosing walls. It was built entirely out off red sandstone hence the name. It is a World Heritage site, and a location of celebration of Independence Day in India every year on the 15th August.
We arrived at a time when some kind of event was happening. I just loved the visual effects, sounds and people watching; again, mostly domestic tourists.
I really enjoyed watching this show and stayed for quite a while, just people watching.  I had not considered exactly how I would find my way back to my hotel. And when I felt ready to go, I realised that  there was no way I could book a Uber and find a safe place to board. The whole area was teeming  with people, and lots of them. So I headed to the Metro, not knowing where or how to navigate my way around.
The Metro system is excellent, modern, efficient and the best way to get around in a city like Delhi.   I did not have a local sim or wifi to use. So  I resorted to seeking the help of fellow passengers.  
People were willing to help and gave me directions that I found confusing because I was not familiar with the way the transport system worked. I must say I couldn't help falling in love with the friendly locals and I wanted to just continue talking to everyone!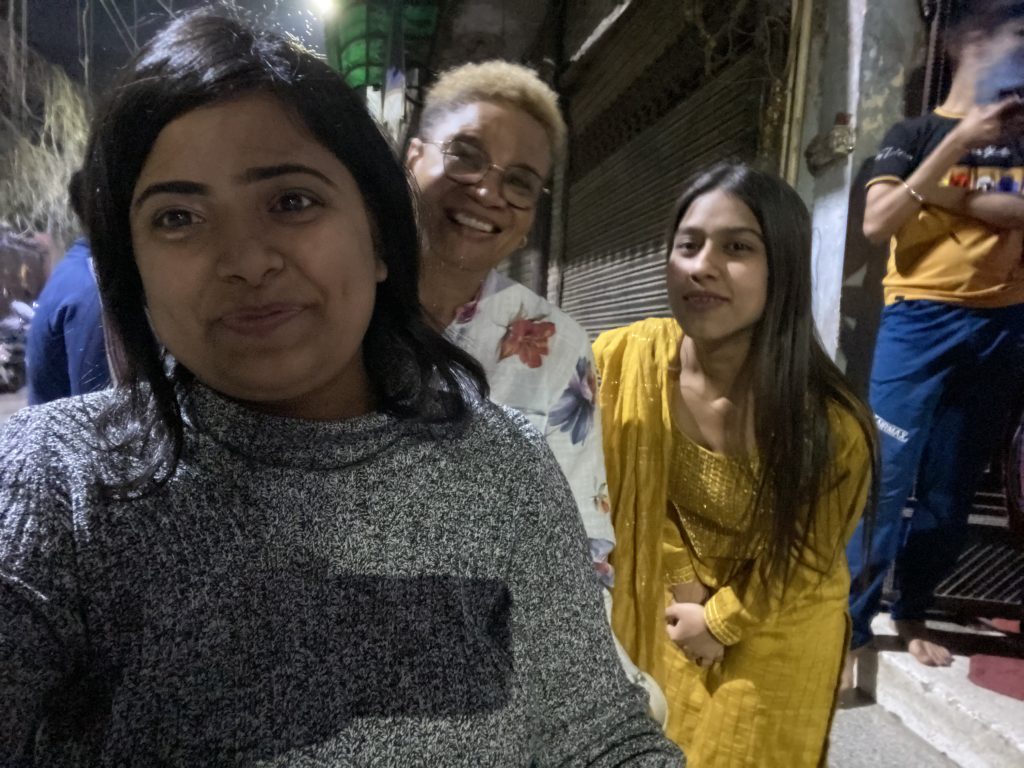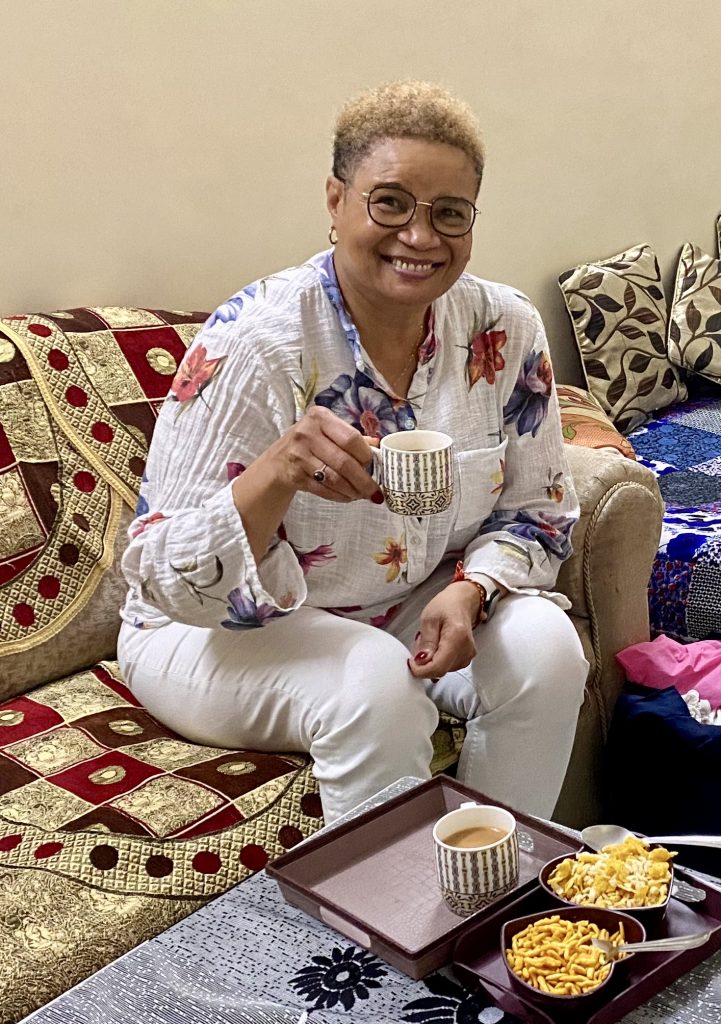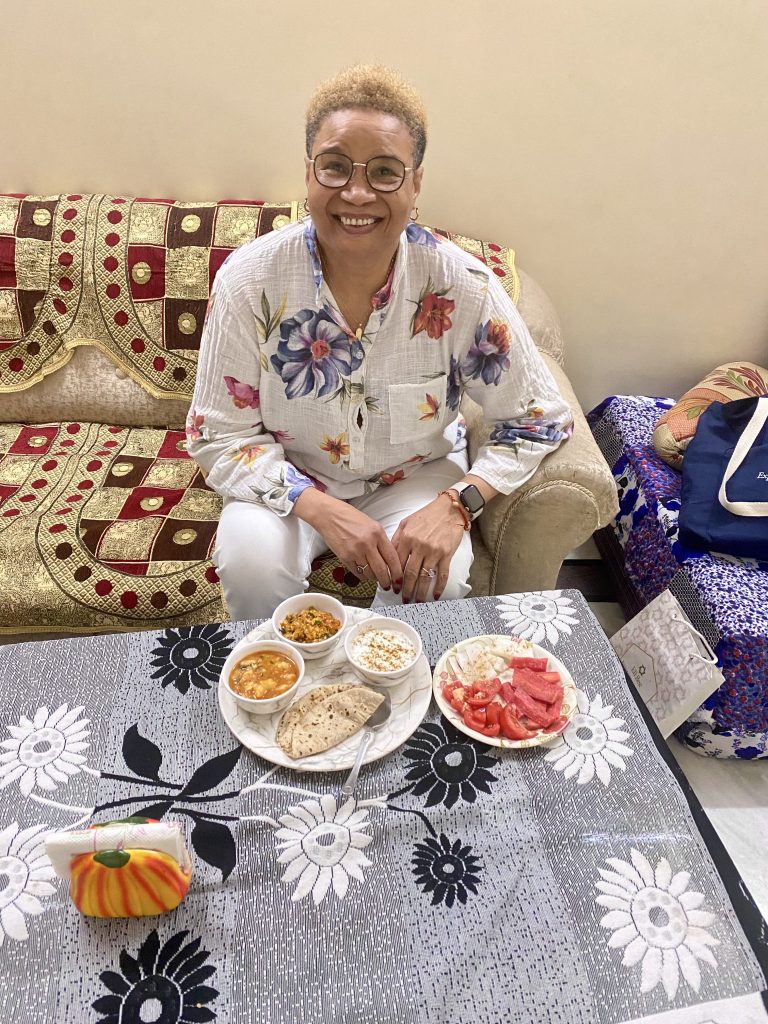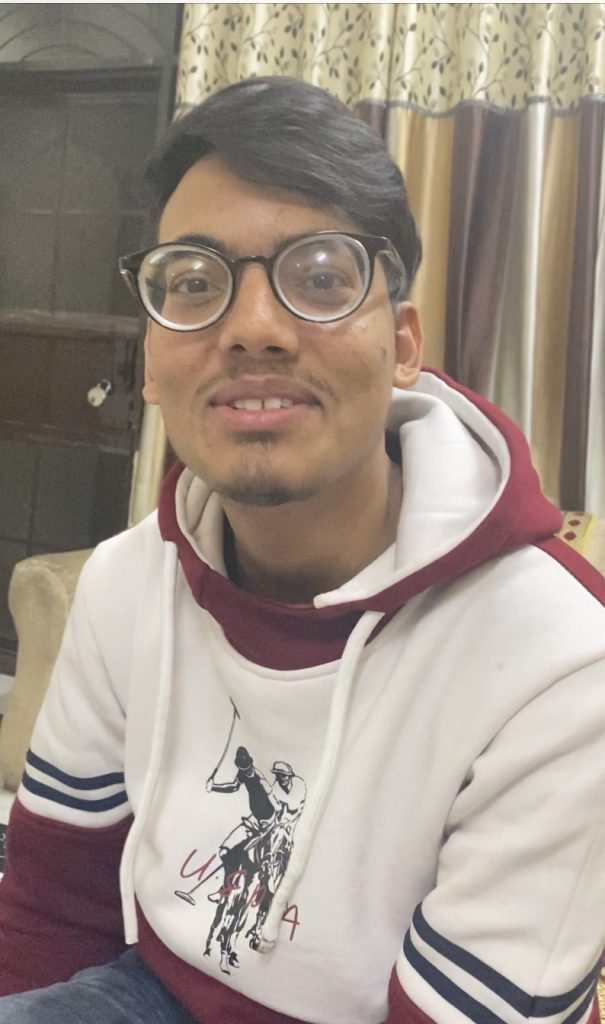 Within minutes of my arrival, several people came in to join us – neighbours, friends and family members. I was again, the "celebrity"!  I was the only person who ate. Everyone stood or sat around me and watched me with interest, chatting and laughing, unsure whether they understood me or not!   What an experience!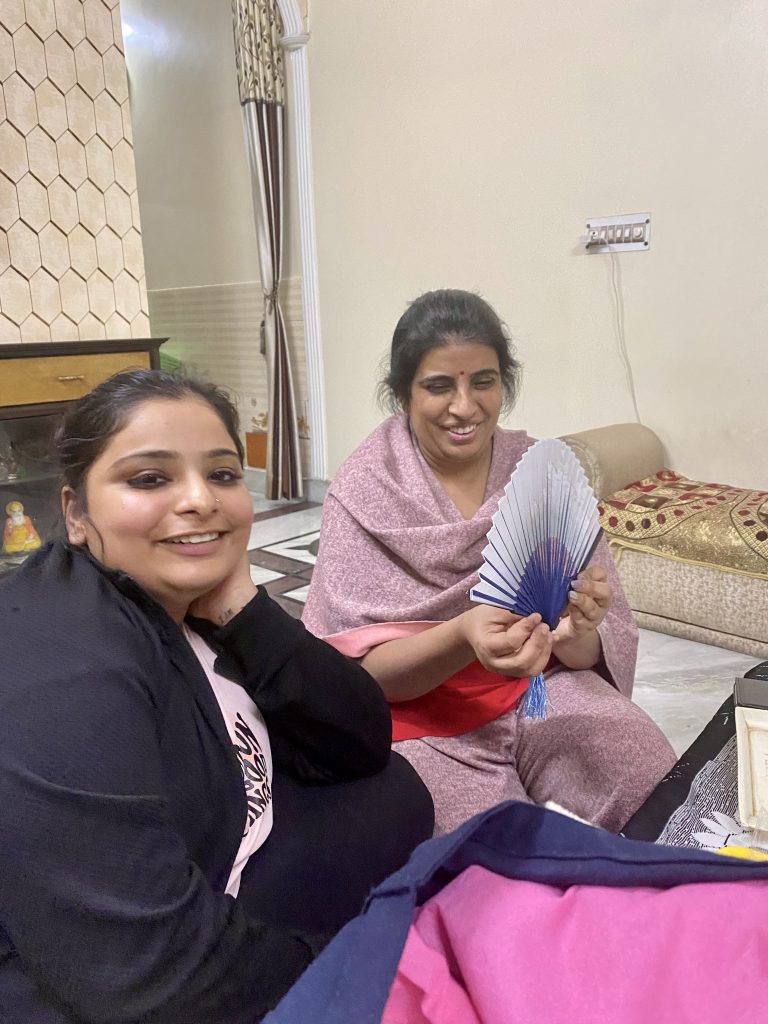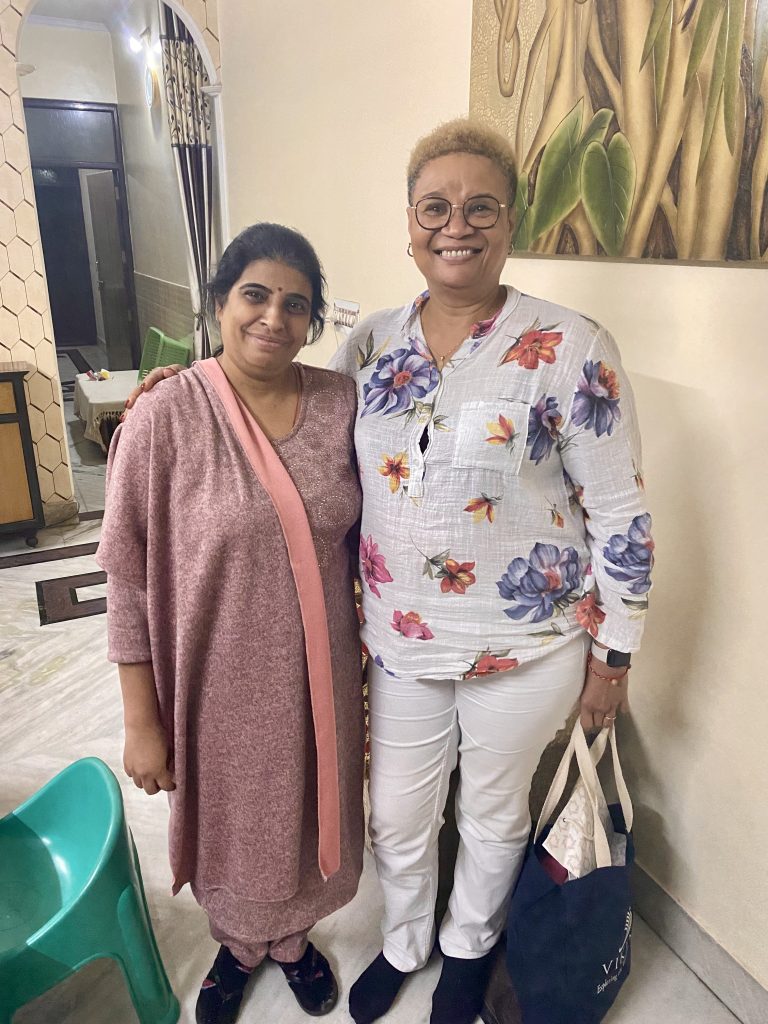 How time flies when you are enjoying yourself! By the time I realised it, it was nearly midnight! Riding a scooter is the norm in Delhi and mostly without a helmet! The mum quickly changed her outfit from 'chilling at home attire' to 'popping out with a friend' attire! And they all convinced me that the quickest way to get back to my hotel at that time of the night was on a scooter. I held by breadth and thought – yeap go for it girl, it will be an experience! And it was indeed an experience!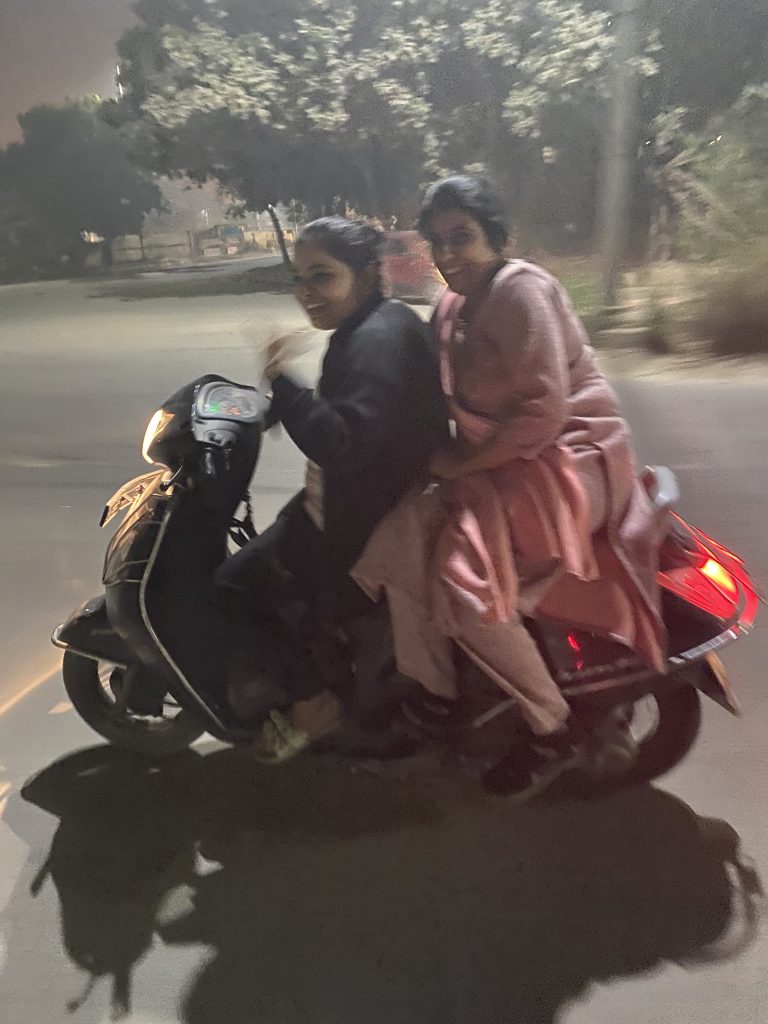 I was escorted back to my hotel- this is my new friend's mum on the scooter in front of me and she didn't bat eyelid! I rode in the scooter behind them trying to video the ride- impossible task, I quickly realised. 
As we approached a big junction with the traffic lights on red, and noticed that they didn't have any intention to stop, I asked them to stop. But they said, "oh no Molly, you go on red light, no stop", "that is the safest way, because once the lights change, all vehicles would converge and difficult to cross to the other side".  At first, I closed my eyes but then thought, I needed to see the incident about to happen. And held my breath and prayed! But I was wrong. They knew how to manoeuvre their way round. It was indeed the safest way to cross on a scooter! Another hair raising experience! But I loved it! You only live once!
 I had never ridden a scooter or motorbike before. It was somewhat exhilarating! I threw caution to the wind and rode like the locals! What an adventure and experience!
Travelling through Rajasthan
We travelled by road through villages and rural parts of India to Mandawa. We enjoyed a walking tour through the streets of Mandawa, and saw the amazing Havelis – mansions noted for their frescoes depicting images of British colonial rule. My memorable experience was coming face to face with a bull on the street in Mandawa. It was kind of tricky but we all made it through safely. The animal was king on the road!
 I must say I was more adventurous than my fellow travellers. I enjoy trying new foods and didn't hesitate to tuck in. I tried everything, even if  I can't remember what they were all called. 
We travelled through the Thar desert to Bikaner, which used to be a major centre of trade during the 16th century. The main attraction here was Junagarh Fort with its impressively decorated interiors.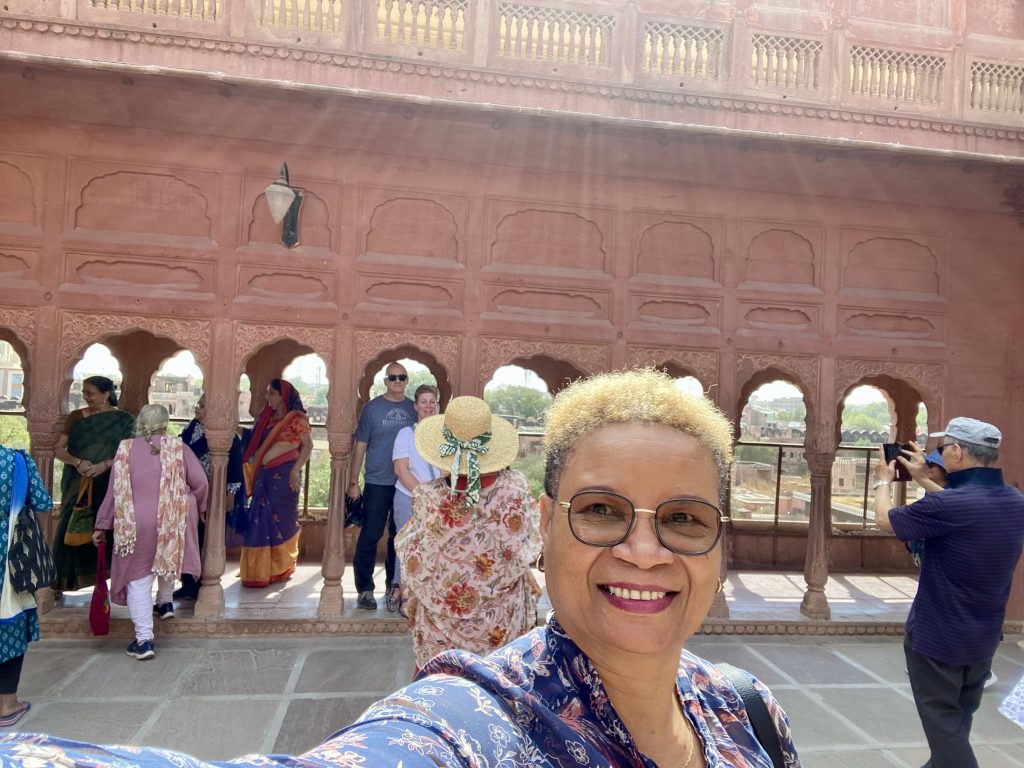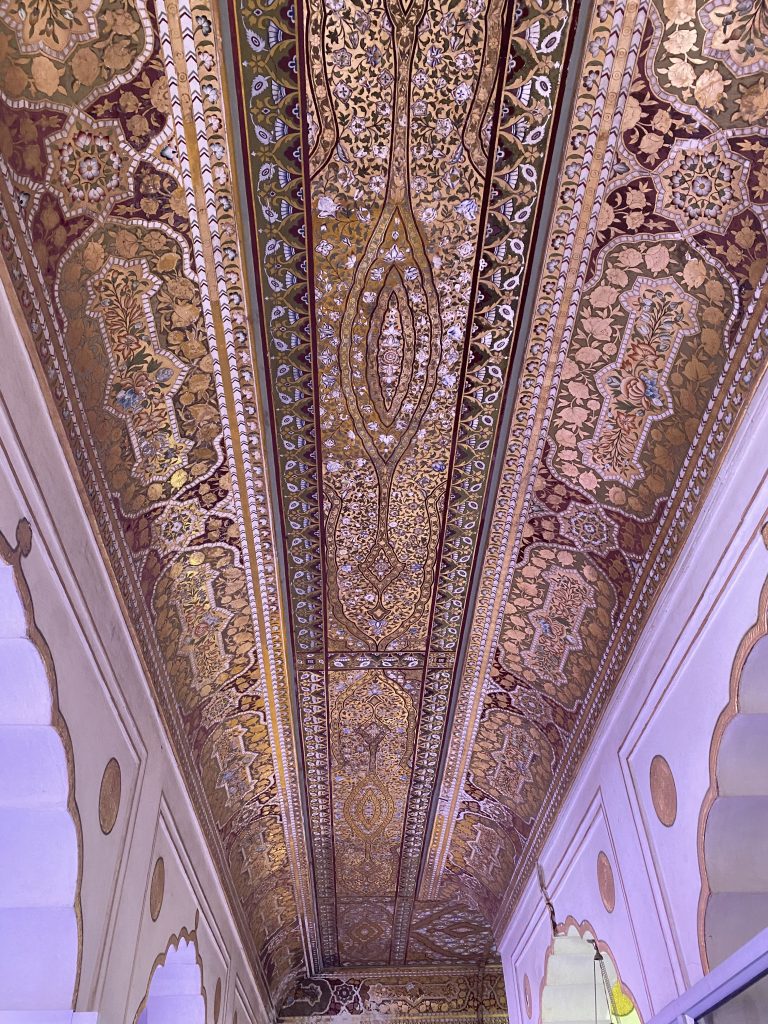 It is not surprising that there are lots of temples in India. In fact, around 2 million temples and the numbers increase substantially each year! We visited several on our trip. People came from all over  India to visit this temple (cant remember the name); very long queues but well managed.  You are guided through this caged path  inside the temple, just wide enough for one person. Our guide bought the necessary offering on our behalf and arranged for our shoes to be guarded (for a small fee, of course) whilst we were inside the temple. It all happened so quickly through this one way system to the end that some of us missed the main attraction – the gods that were being worshipped!.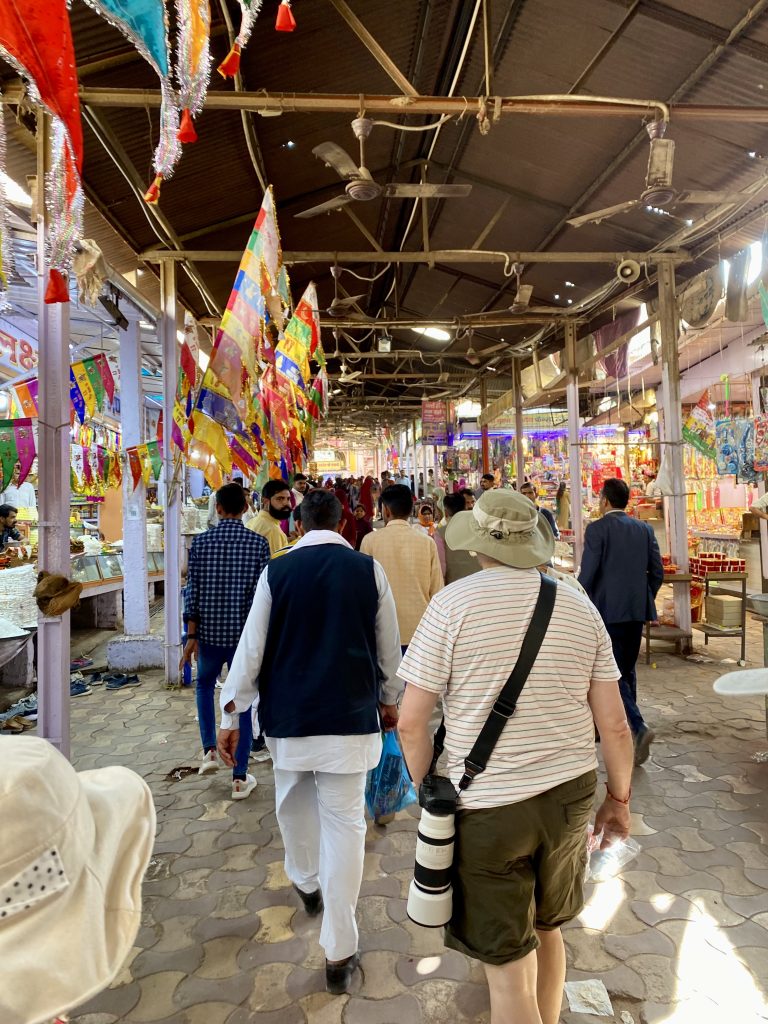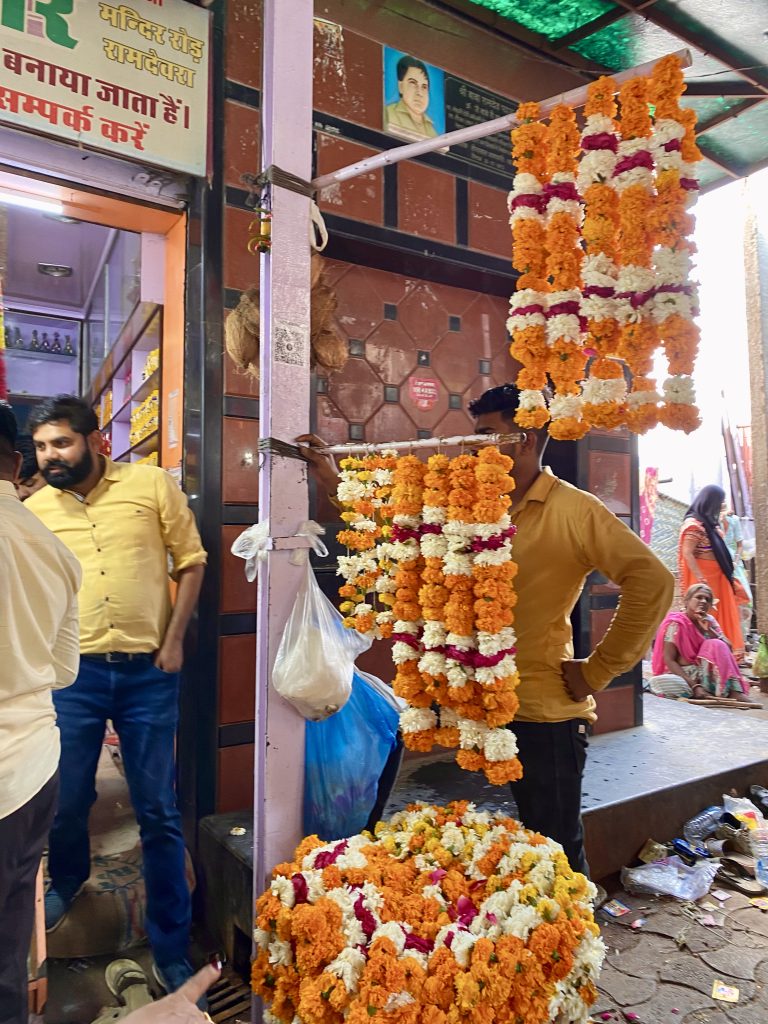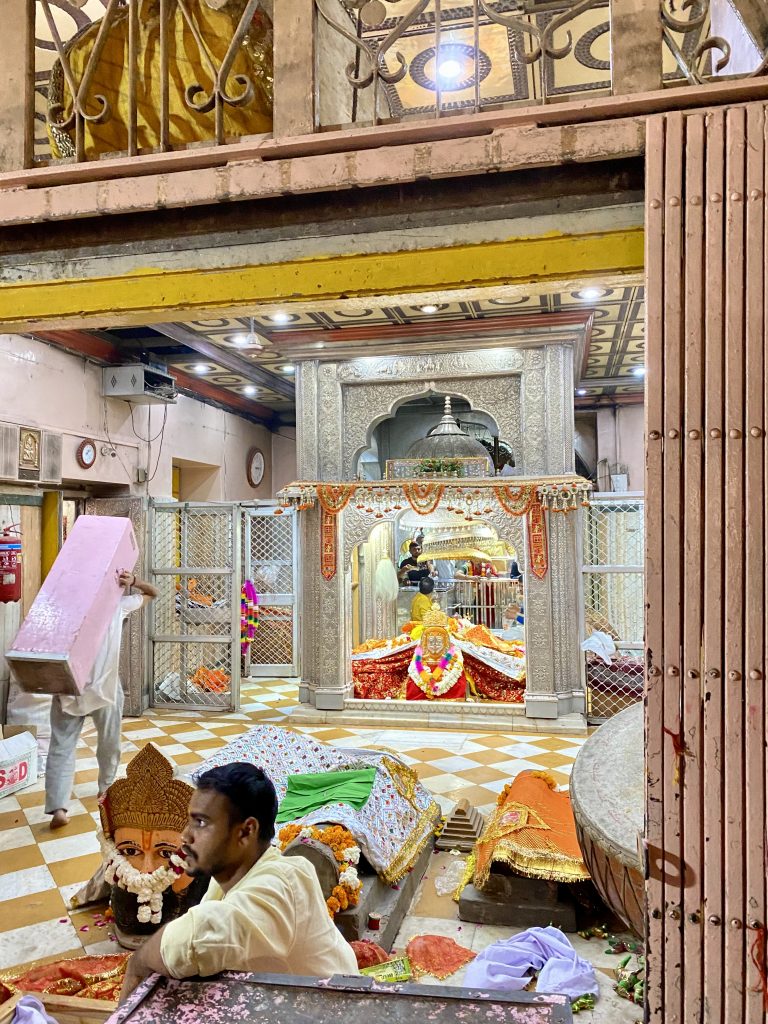 The highlight of our visit was Jaisalmer Fort, which is still inhabited today as it was in the 12th century. The Fort is constructed in yellow stones, locally produced, and built without using cement or plaster to hold the stones together, clever architecture!
We walked slowly through the narrow streets (we had plenty of time!) and peered through people's homes whilst our Guide gave us a running commentary.
We were rewarded at the end  with a magnificent view of the city from the roof top.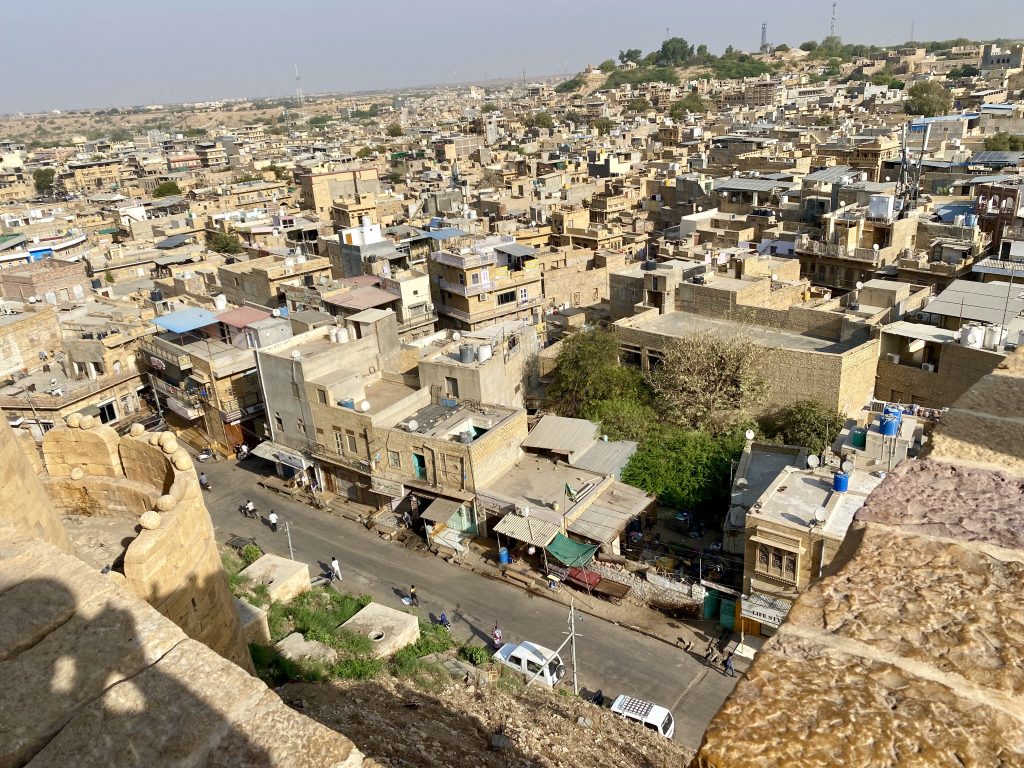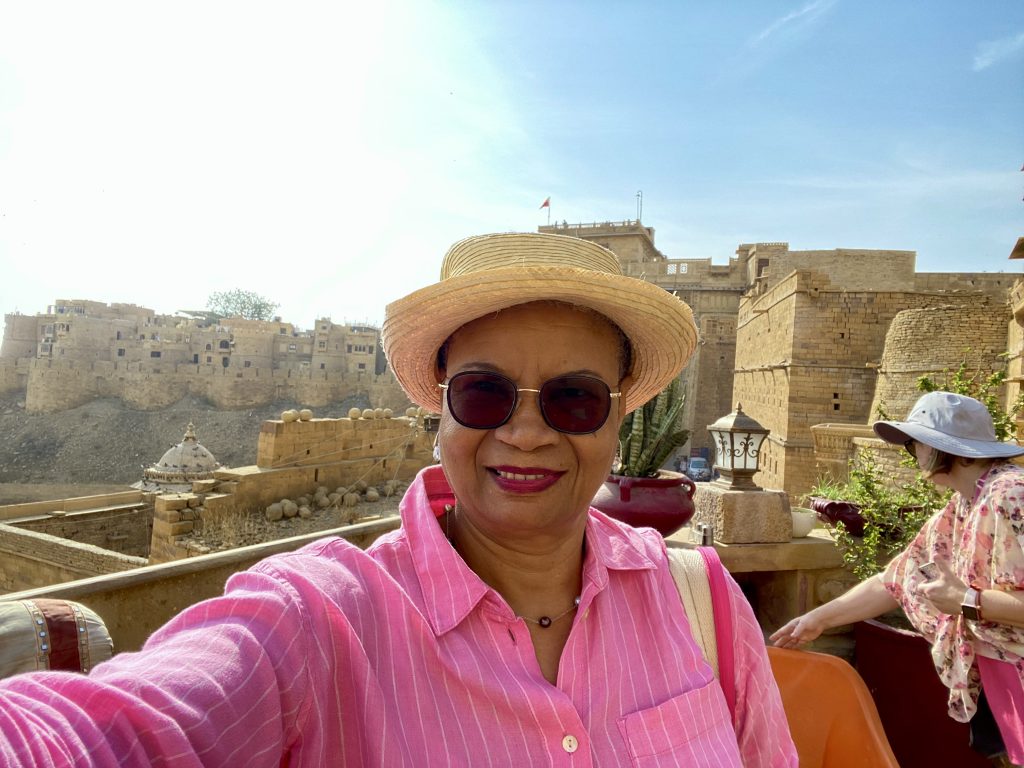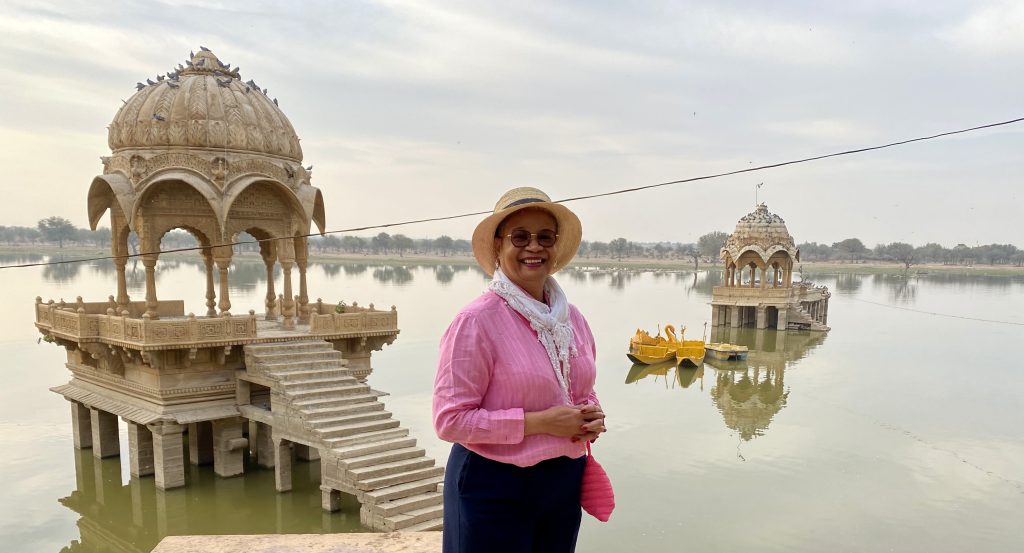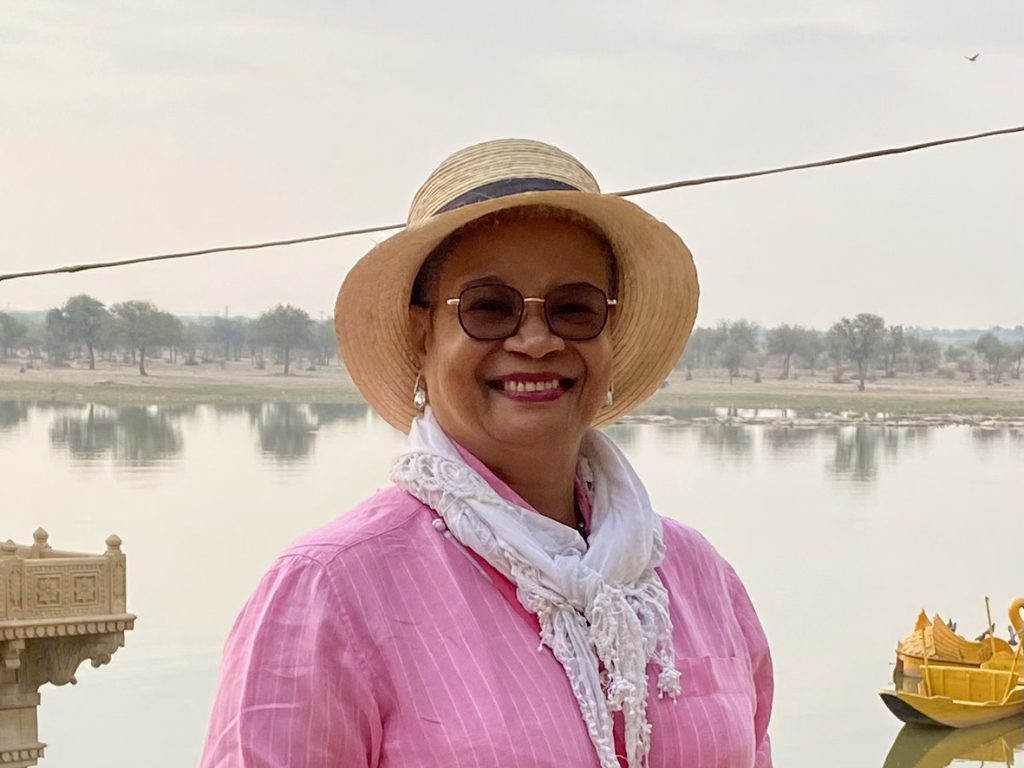 Our next stop was Jodhpur, known as 'The Blue City' because the houses are painted an assortment of shades of blue which made them look very striking!
We visited the impressive 15th century Mehrangarh Fort, which is now a museum, and saw various paintings and weapons as well impressive royal sedan chairs called Palanquins. I must say that I had had enough of climbing stairs by the time we reached the top and did not feel like seeing another display of anything particularly weapons, which were of no interest to me but I soldiered on!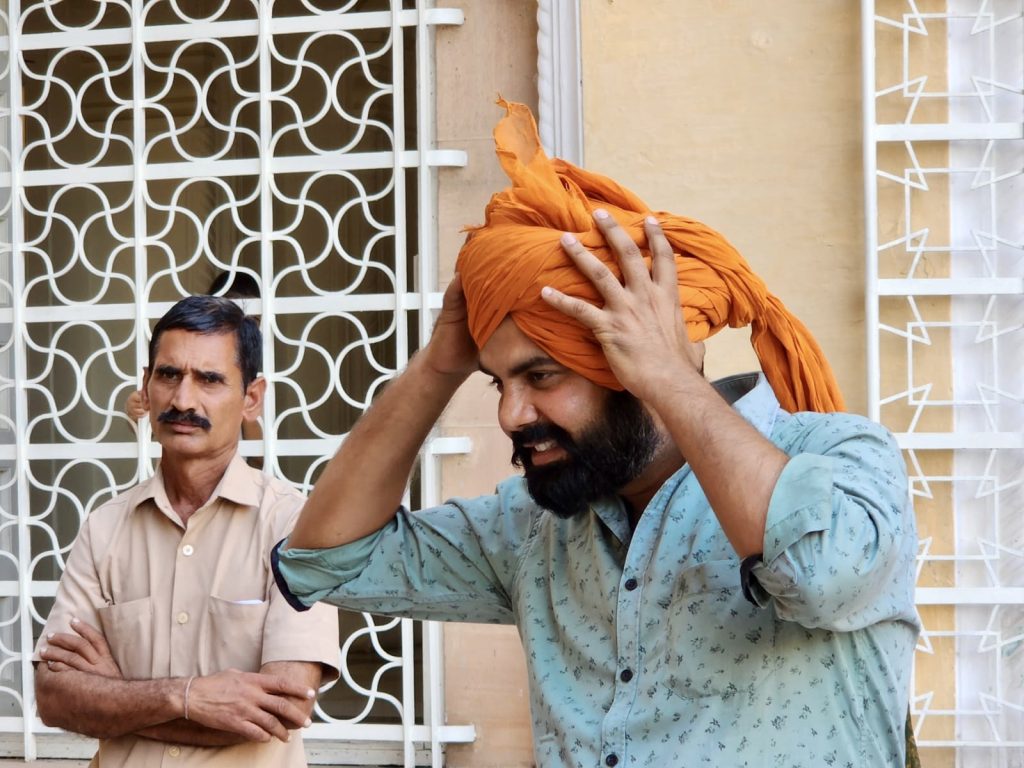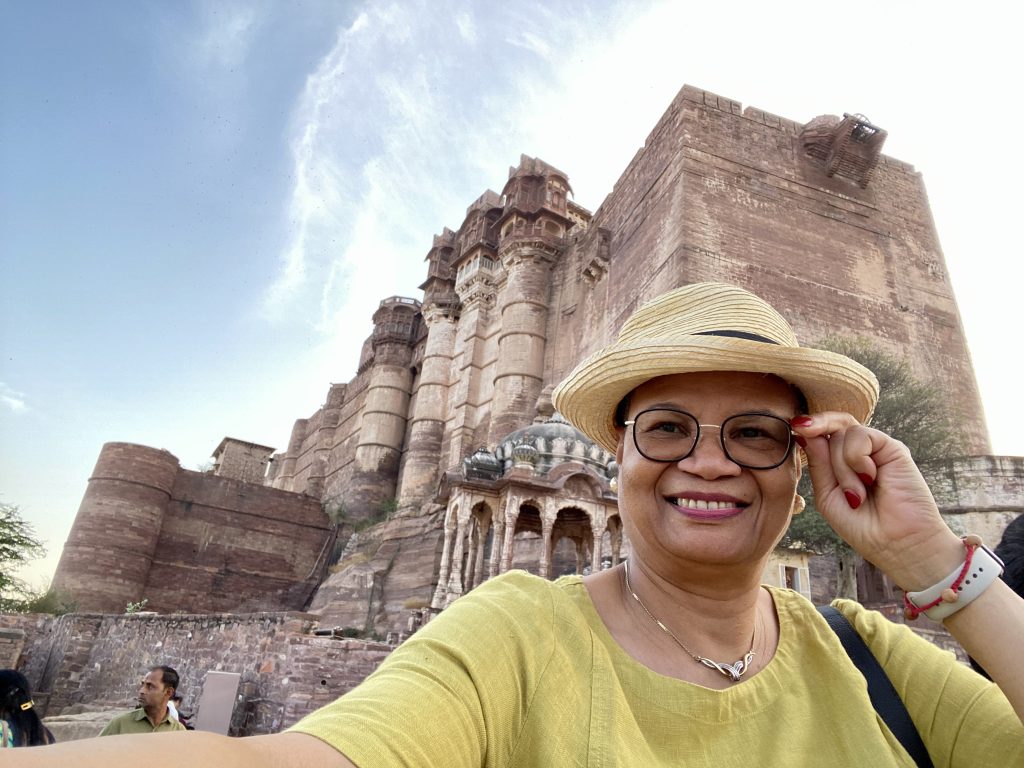 I was very excited to visit Jaipur, the 'Pink City'  of India and the capital Rajasthan.  This was partly due to the fact that our guide came from Jaipur and he had talked a lot about it with such enthusiasm that I too was excited and wanted to find out what the fuss was all about! The city got its nickname "Pink City"  in 1876 when the then Maharaja had all the buildings painted pink (colour of hospitality) for the British reigning monarch's visit. And since then, every building inside this historic walled city is painted in this terracotta pink. Striking!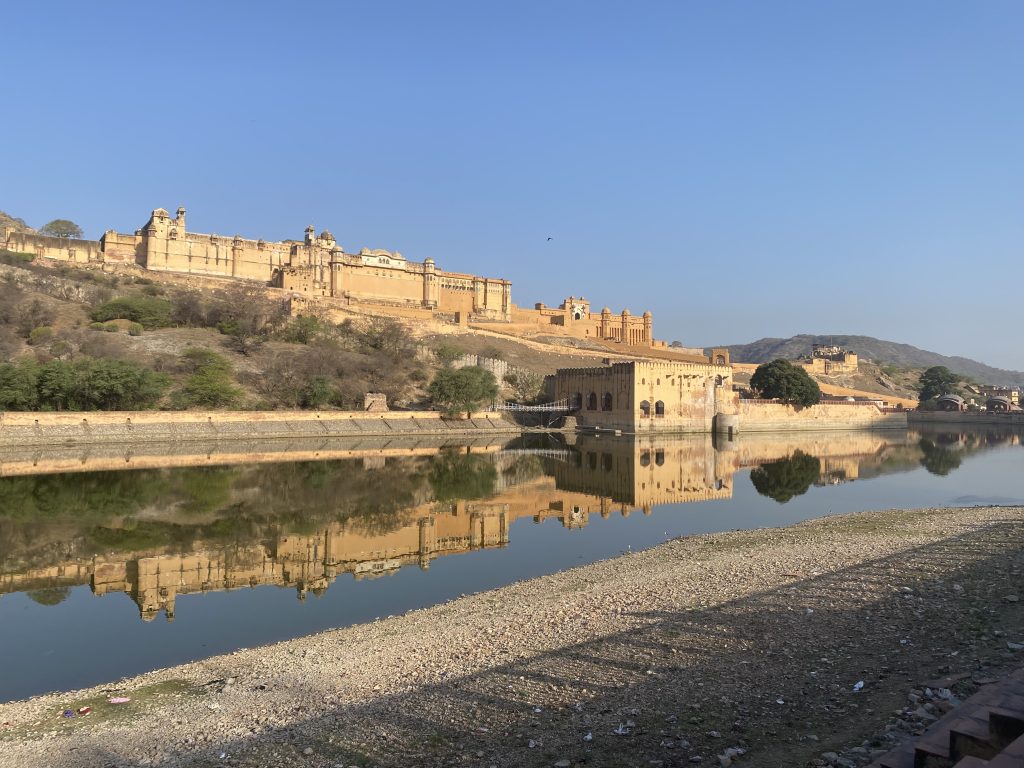 Visiting the famous Amber Fort, a UNESCO World Heritage site, was quite exciting. We took a convoy of jeeps to the Fort which was built at the top of a hill. The old city wall was still visible and it is believed to be the 2nd longest wall built after the Great Wall of China. Travelling by this old jeep was kind of nostalgic for me. I grew up riding on jeeps with my father during the colonial rule in my home country.
There was so much to see and admire inside this famous historic fortress – Amber Fort which is also referred to as Amber Palace, declared a  UNESCO  World Heritage site in 2013. The architecture was incredible from the  Hall of Victory, which is famous for the mirrored ceilings, the queens' apartments with brilliant use of mirrors  and amazing temple of Silavedi.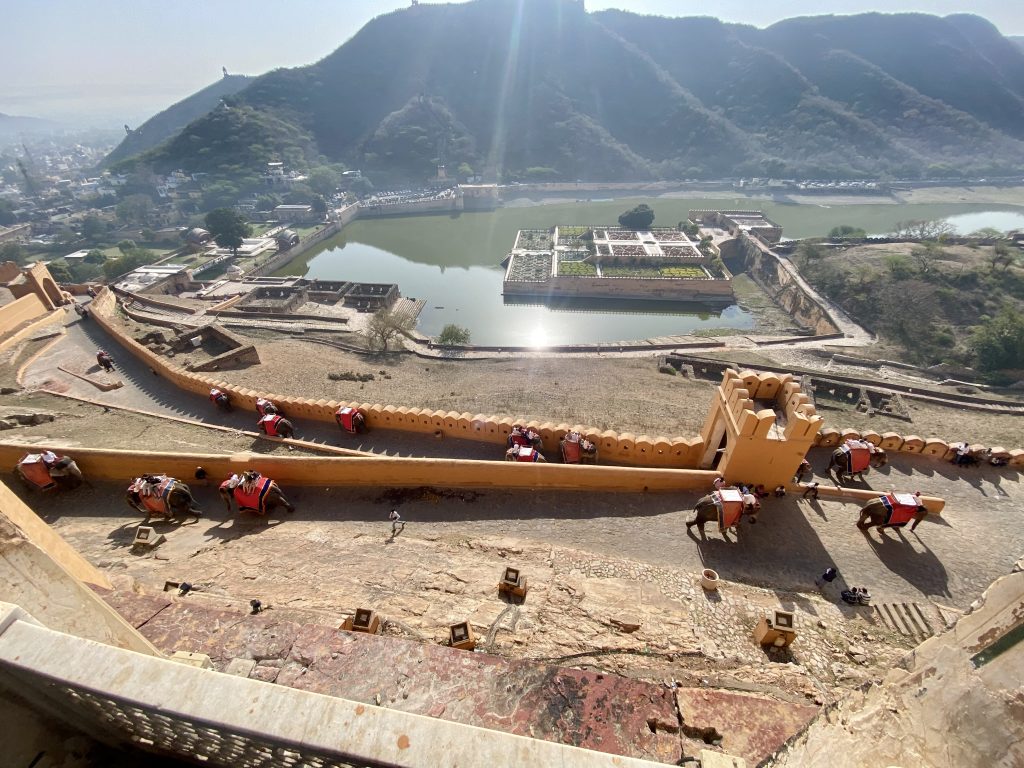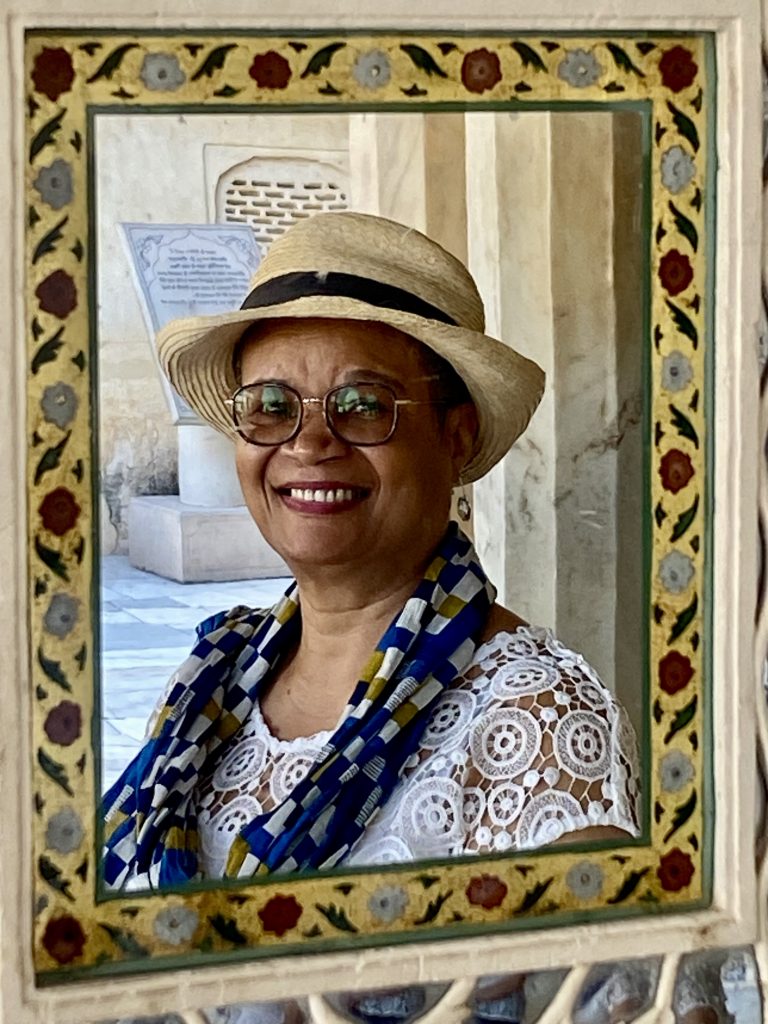 Our full and busy day of sightseeing ended with a visit to Jantar Mantar observatory, the largest stone and marble crafted observatory in the world. What fascinated me most was how all the structures had been created to track the movement of the sun, planet and moon to tell the time as far back as 1734 when it was built. Our guide told us that the sundial can tell the time with an accuracy of two seconds! We saw the shadow visibly move while watching it! Amazing.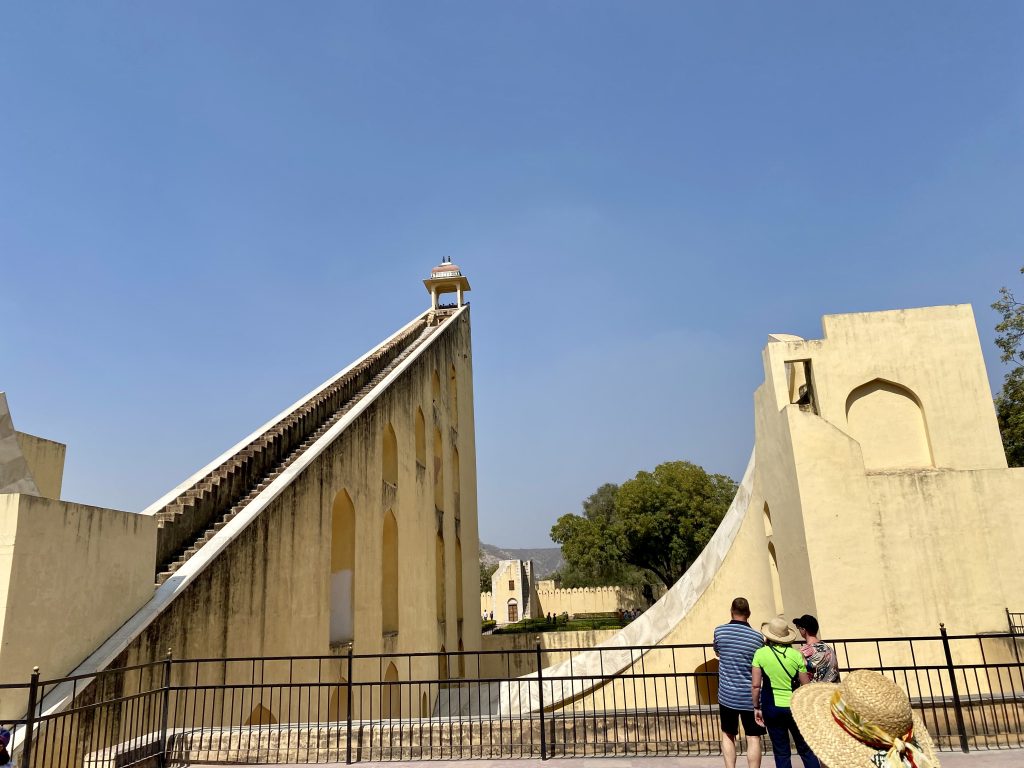 Food in India is excellent -it will taste nothing like the curry sold in restaurants in your home country. And if you are a vegetarian, you are in for a real treat. I was pleasantly surprised about the variety and quality of the vegetarian cuisine that I became a vegetarian for the best part of the trip. Well I tried the chicken and goat meat as curries of course;  a couple of times!
 Can you drink alcohol in India? Yes, you can. Our guide took us to a fancy restaurant that had its own brewery on site. I sampled their home brew – 4 different types of brew in the tiniest jugs I had ever seen – well they were  tasters! I liked only one of them. My thing was the local rum called Old Monk – cheap but good. It was lovely. I enjoyed it very much. Our guide suggested mixing it with slightly warm water, just as nice. It is a cure for everything, apparently! I brought my unfinished bottle back with me to the U.K.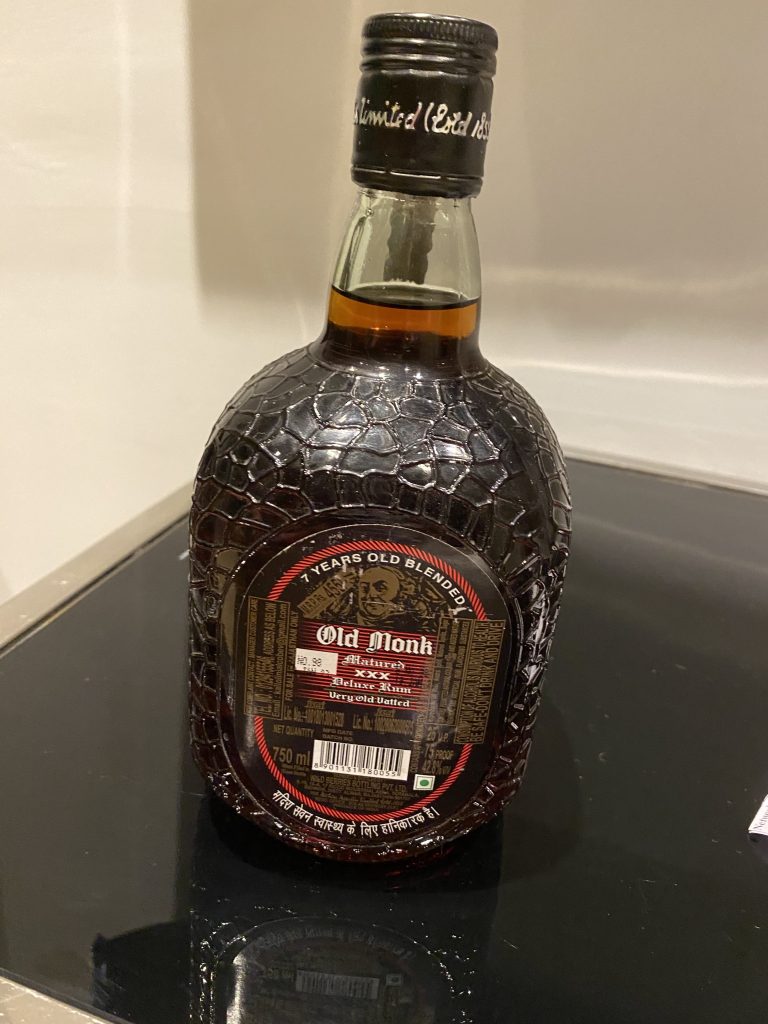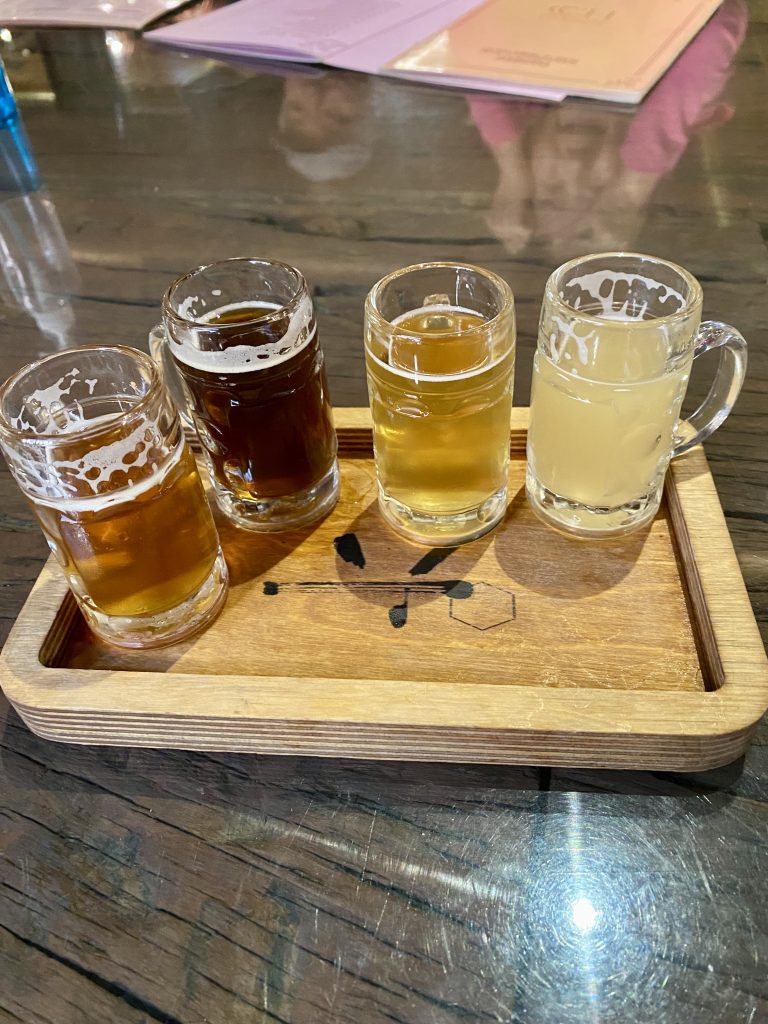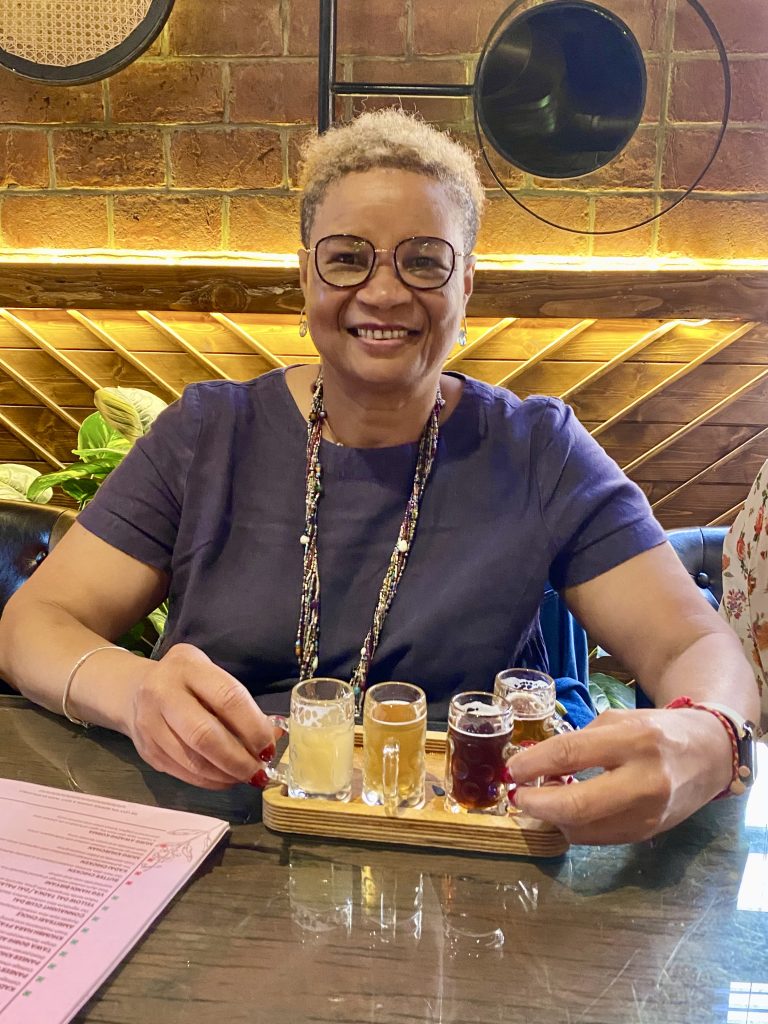 My amazing street food adventure in India
One of the  highlights of my trip to  India was spending my last evening with my new friends to sample the local street foods. What an adventure! I couldn't avoid  going on their favourite mode of transportation – the scooter!. We wheezed through to their local street food joint in no time at all. I was completely open minded about the food they presented to me. I am adventurous with food and so they were free to choose. I don't quite remember the names of the different foods but it didn't matter to me. It was the experience and their wonderful company that mattered. They were great fun. And I loved all food. We finished the evening with their favourite desert, chocolate waffle which we had to travel, by scooter of course, to that hangout! Memorable evening all round. 
I have created a separate post for the grand finale, the main purpose of my trip to India, that is, to see the Taj Mahal, which is the 7th Wonder of the world. So check out my separate post on it. 
I know you have a burning question to ask me which is did I suffer from 'Delhi belly'?
Yes I did, But I nipped it in the bud very quickly before it had a chance to take hold so it did not spoil my enjoyment. I was well prepared for it.
I was very careful with what I ate, when and how.  I drank only bottled water, and we were supplied with bottled water on the air-conditioned coach daily so no shortage.  Yes I ate street food, and lots of it but I made sure they were freshly cooked in hot fat or steamed. And I did not eat any ready prepared fruit or salad or have ice cubes in my drink.
 So how did I get Delhi belly? Well, my theory is two things. Firstly, the change of diet. I ate spicy food, variety of curry food daily that I was not used to. Secondly, and this is what I think was the culprit. The water from the tap in hotels that I used to brush my teeth! I will be interested to know if anyone else think this is the culprit. Drop me a line in the comments section.
I had the most amazing time in India and I will quite happily return. Despite its massive population, India has very good infrastructure, fantastic, modern and efficient metro system, beautiful architecture, rich history and religion, excellent cuisine particularly vegetarian. Life in India is fast-pace, fun, energetic, vibrant, colourful and the country has one of the most welcoming and friendliest people on earth. 
I visited India in February which was a good time to visit.  A quick search on the internet will provide you with lots of helpful and useful information and advice.
Here are my top tips from personal experience that you will find helpful to have a wonderful time in India. These are::
Be prepared for the culture shock, and adjust your attitude
Don't be too precious about your space- India has over 1.4 billion people
Watch your feet and hands when walking on pavements/sidewalks- you will be competing with vehicles, rickshaws, motorbikes, pedestrians and cows!
Bring diarrhoea tablets so you are not caught unawares!
Inspect bottled water before drinking it – that it is still sealed, and has not previously been opened and refilled with tap water! 
Dress appropriately
Take off your shoes when entering a temple or people's homes
Learn a few words – these were my most useful and helpful words – they became my 'go to' words wherever  I went.

Namaste – hello
Shukkria – thank you
Chalo – let's go
Jai Shree Ram – Glory to Lord Rama
India is not for everyone so give it some thought before deciding to take the plunge. My friends including my partner declined joining me on this trip, which  I understood perfectly!!!
Have a great time if you decide to visit India and embrace all that it has to offer.