Yuan Garden, Shanghai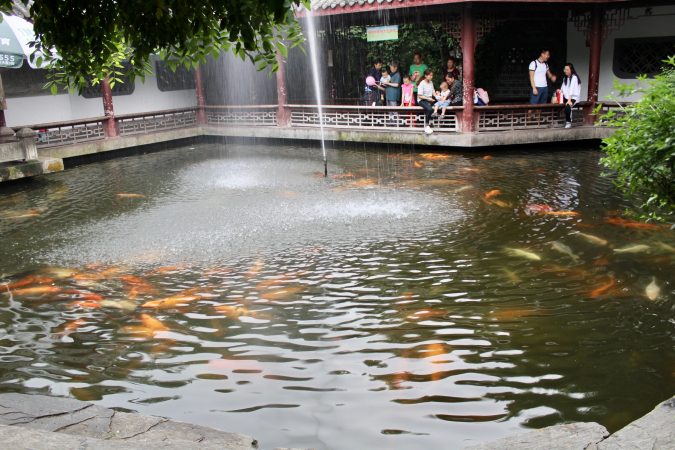 Just a short walk from the incredibly busy, bustling bazaar market is this oasis of tranquility, away from it all.Yu Garden, or Yuan Garden,  is located in old Shanghai next to a bazaar market and Huxinting Tea House which we also visited.  Yu Garden was a pleasant and well contained Chinese classical garden – rock formations, dragons, ancient wooden building and water pools. It was built around 400 years ago, and gifted to the Government by the previous owner. 
A striking feature of the Garden was this dragon that wound round the fence/rooftop. It was very imposing and beautiful in a kind of weird way. It certainly caught the attention of everyone who visited there. Actually, you can't miss it and if you did then you would have been walking with your head down and not taking in the very pleasant and beautiful surrounding. 
I loved the use of this open window to create a picture frame that you see through to the delight of the other side. There were several of these around and they create an interest and character. 
I must say that I could not resist taking photos of these ancient floor tiles. I could not believe we were walking on 400 year old tiles! And they were still as good as new. Of course the symbols and floor tiles patterns had meaning but I don't remember them. I found them fascinating and interesting.
Yu Garden was certainly an oasis of tranquility. I felt I ha escaped the madness of the bazaar next door and transformed into another world but that of calmness and sanity!
With the help of our guide, I was able to buy some very nice Chinese green tea in the bazaar. I bought loads of them, different types,  for friends and family but mostly for me!