Romney, Hythe & Dymchurch Railway, Kent, England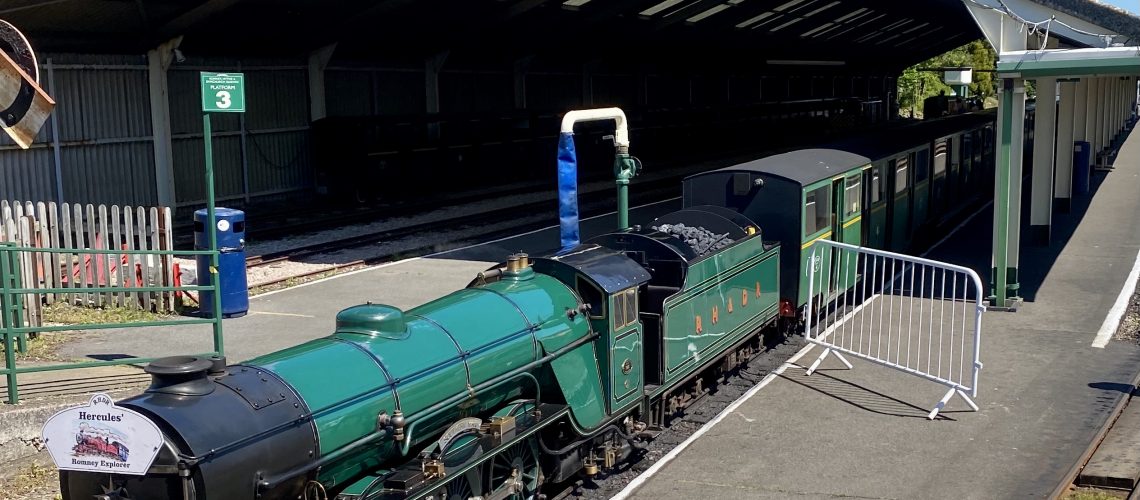 STAYCATION: Romney, Hythe and Dymchurch & Dungeness
On the move again … at last!
Taking the Romney, Hythe and Dymchurch miniature railway was one of the fun things that I did as part of my experience of staycation. Combining it with sightseeing in Dungeness made it even more exciting.
My experiences
Riding in the carriage of RH&D

 

miniature railway 
Seeing desert-like scenery of the seaside town of Dungeness
Being in awe of the imposing Dungeness Nuclear

 

power Station
Marvelling at the historic Old Lighthouse

 
We went as a group of four adults and a dog, and combined this train experience as a day trip from Canterbury where we stayed to explore this part of Kent. Booking the train tickets in advance was easy.  There are very good facilities at each station including free parking. The train travels from Hythe to Dungeness and stops at Dymchurch, St Mary's Bay, Romney Warren, New Romney, and Romney Sands stations. Facilities at each station varied but most offered  free parking, toilet facilities, cafe and naturally a souvenirs shop!
You can get on or off the train at more than one stop. There were, however, restrictions due to Covid 19. Ordinarily, you would have been able  to get off at any of the  stations en route to do some sightseeing before hopping back on the train to the next station, At the time of our visit, the train travelled straight to Dungeness without stopping at the various stations along the route. 
Dungeness was the last stop on the miniature railway route and the journey took about thirty minutes.  
When you first set eyes on this miniature railway, your first thought would be, no way will I fit into that 'Thomas the Tank Engine' carriage! It is for children, surely. But you will fit inside the carriage, admittedly it is a bit of a squeeze with four adults and a dog in one carriage. But that is part of the fun and experience!
The carriages of the miniature railway is one third of the full size steam and diesel locomotives, and they were built between 1925 and 1937.
The trains have names  – Green Goddess, Northern Chief, Southern Maid, The Bug, Samson and Hercules. These trains are lovingly restored and maintained. 
One of the things that amused me most was people, mostly children of course, waving at the passing train from outside their back gardens! And us waving back! Talk about train spotting – they didn't need to travel far to spot one of these small trains slowly winding its way through the back of their houses. 
Time was set aside for the children as well as adults to watch the train as the turntable was used to turn the train round ready for the journey back. It was fascinating to watch and it was made much more fun by the operatives.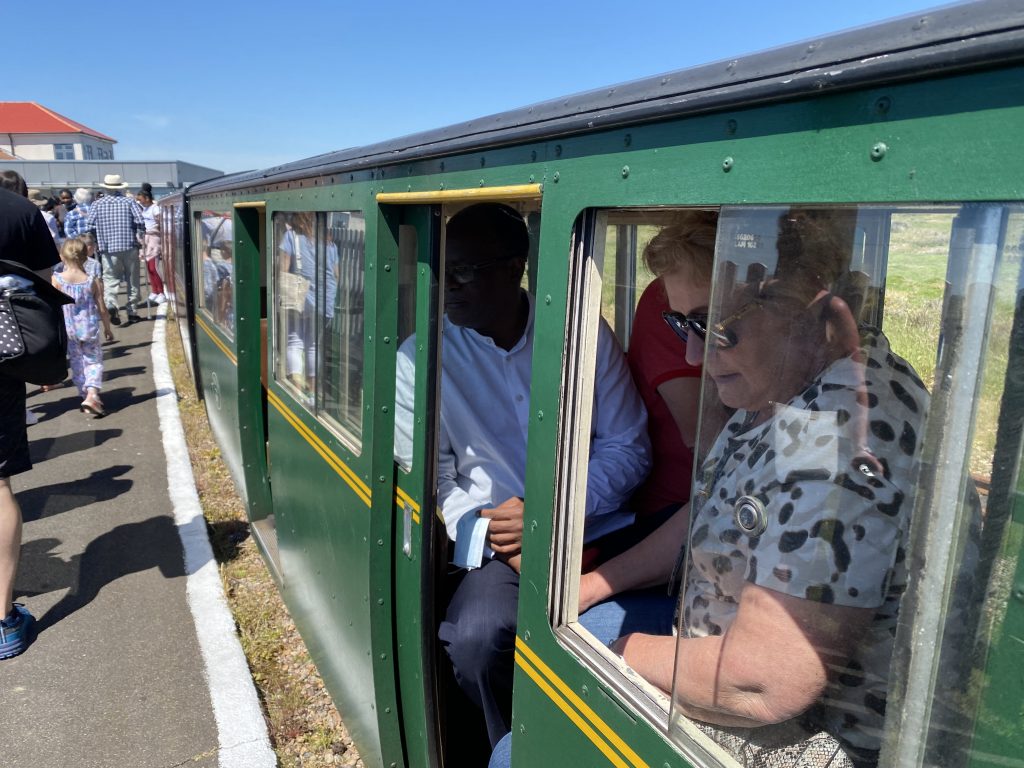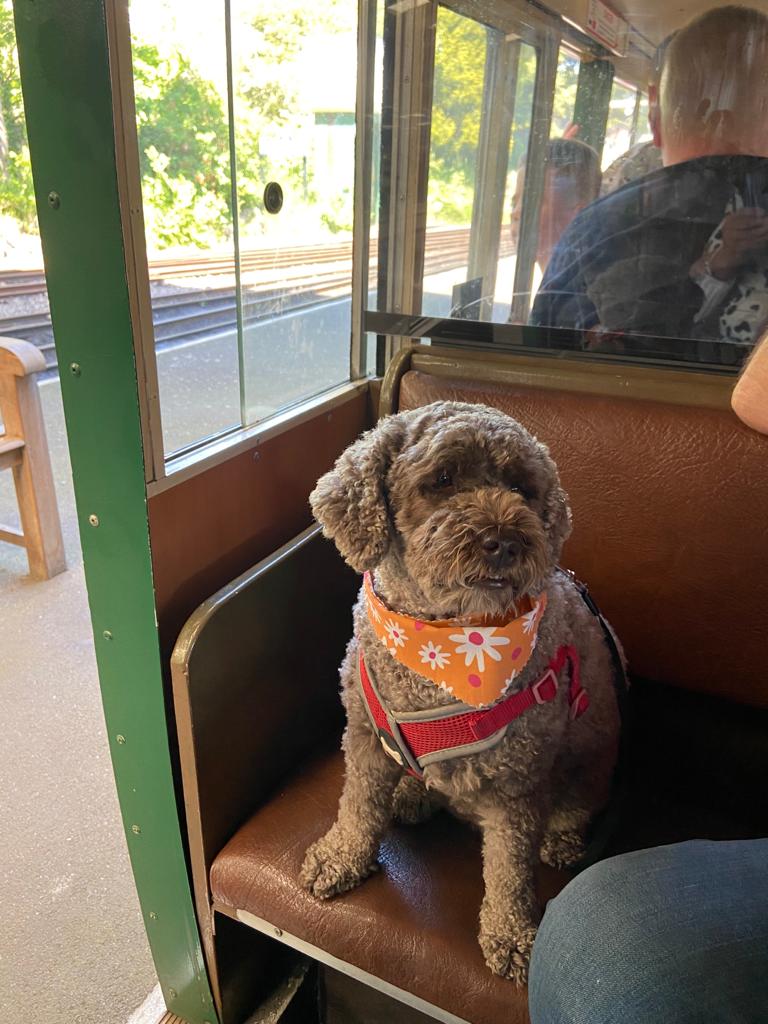 For those of you who are animal lovers, pets are allowed on board this train.  So are children, parents and grandparents of course!
Whilst the trains are dog friendly, dogs are not allowed in the restaurants or museums at train stations. 
Dungeness is a traditional seaside town with a desert-like scenery of what is considered the largest expanse of shingle beach in Europe. The shingles beach seemed to go on and on and on- as far as the eyes can see. It felt like we were in a desert. The sun was blazing, the shingles were hot and there were no shaded areas – just miles and miles of dry landscape.
There are a number of foot paths you can follow from the miniature railway station and Old LightHouse to various key points in the area.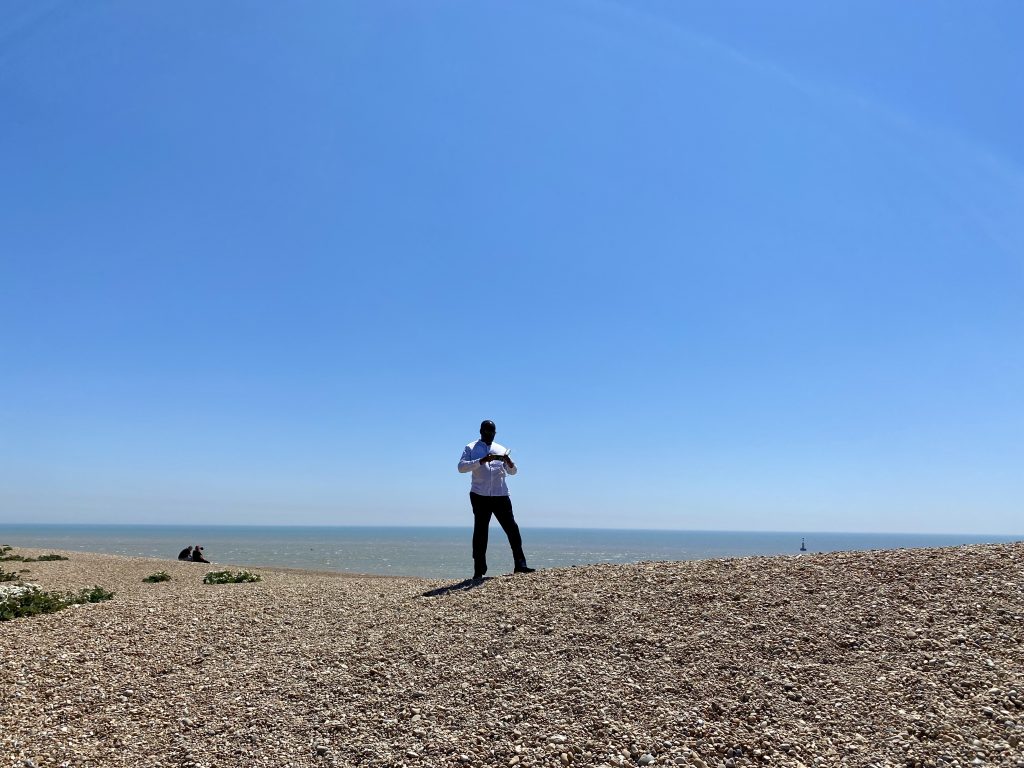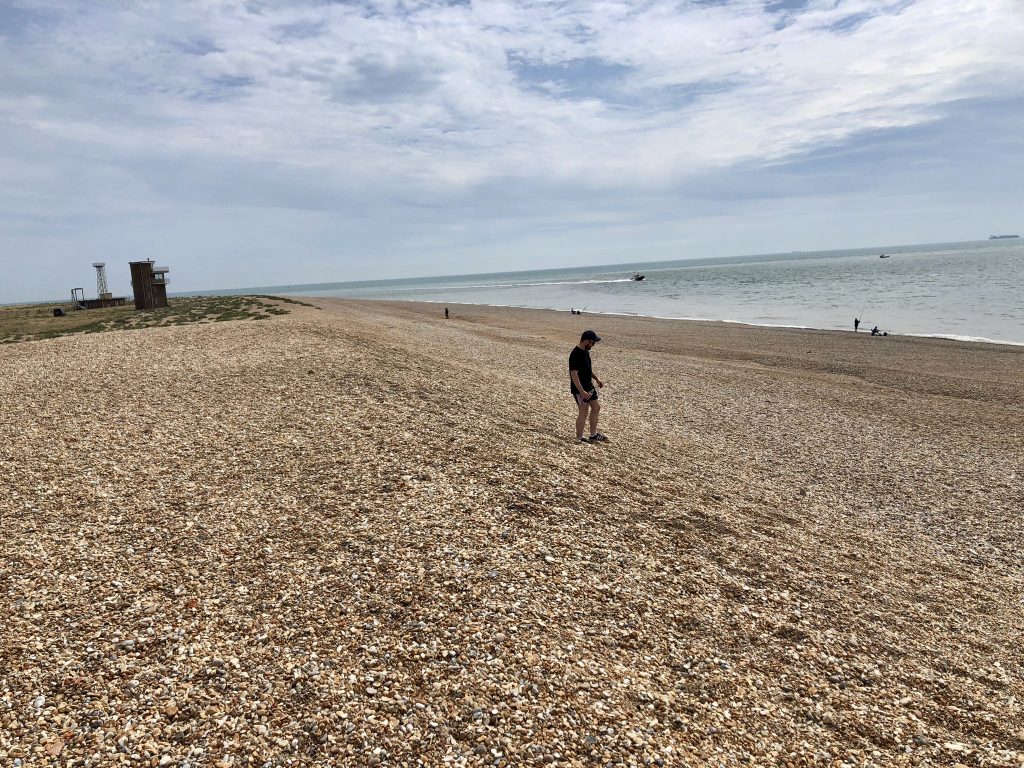 I was in awe of the Dungeness Nuclear Power station. I had heard a lot about it as my late husband's dad worked in Power B as an Electrical Engineer, and he had talked about it. But I did not think that I would one day see it. This power station was the first advanced gas-cooled reactor to begin construction in the UK, unbelievable! Although it was decommissioned  and closed in September 2018, it is deemed safe.
It has a visitor centre and guided tours are offered if you are interested in finding out more about the nuclear power regeneration. 
I marvelled at the  historic Old Lighthouse, Grade II listed building which stood majestical in the fore ground, towering high.  The old lighthouse can be proud of itself. It  played a big part in the world wars. 
I had hoped I would have been able to stay long enough to see the sunset at Dungeness but alas we had to leave to catch the train back.
There is a designated Dungeness National Nature Reserve but we didn't check it out.