New Zealand- natural beauty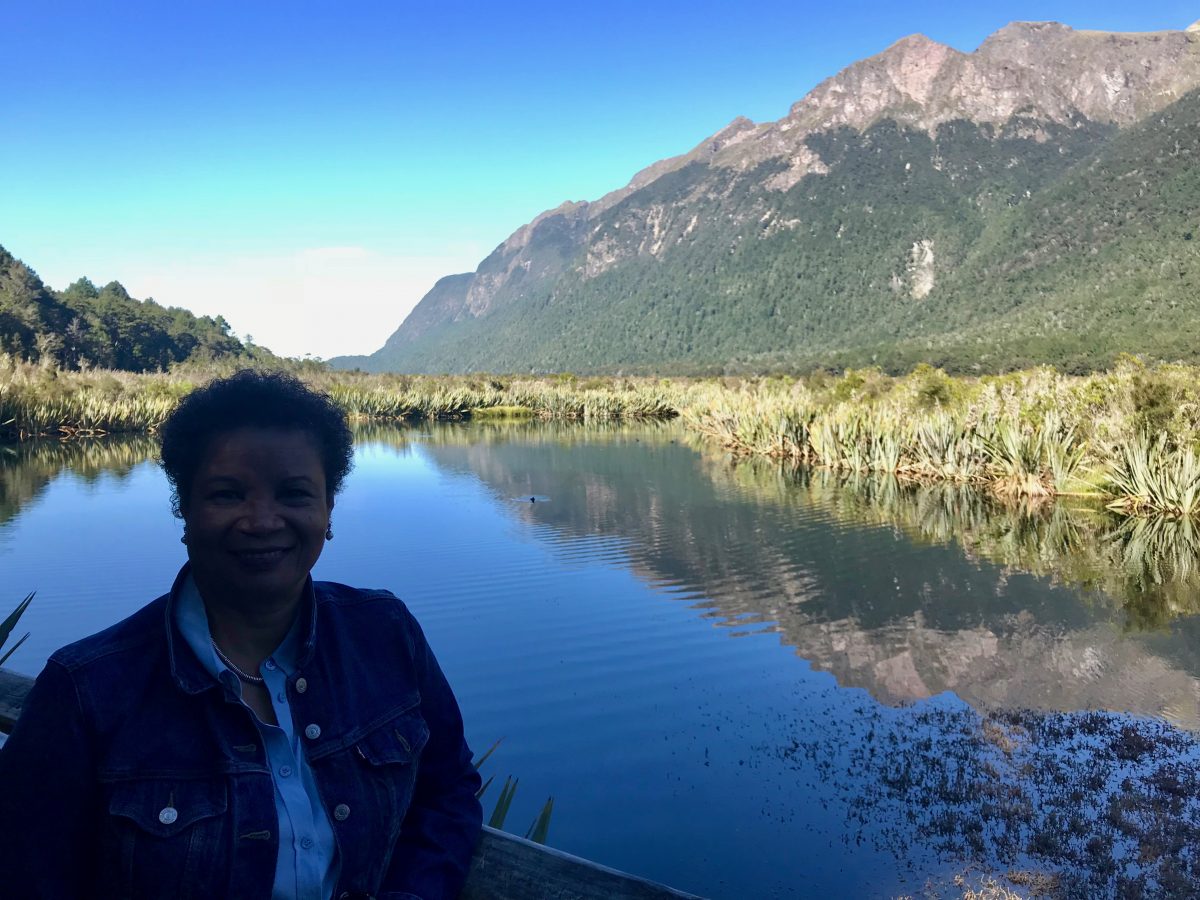 Stunning, natural beauty are the words I'll use to describe New Zealand. The country is made up of three islands – north, south and Stewart Island.  I visited the north and the south. No one goes to New Zealand without falling in love with the south island.  One of my top tips is to do your research and a good place to start is always the country's own official tourist website. There you will find all you need to know before you go. Every country wants to showcase their best,  and will give you information on what they consider the most interesting things to do and see.  
You will also learn and pick other interesting, sometimes useful, information along the way during your tour. I found that New Zealand was the first country to give women a vote in 1893! Kate Sheppard is New Zealand's most famous suffragette. I also learnt that NZ don't salt their roads but use snow plough and grit!. There you go!
You can't go to New Zealand without seeing their sheep. I mean sheep farming is one of the things that New Zealand is famous for, right? But what surprised me most was that I did not see lots and lots of sheep.   Don't get me wrong, I saw some sheep but not in the numbers I had expected.  I was probably not in the right places to see them.
South Island,  New Zealand
My tour of New Zealand  began in Christchurch in the south island. A city tour is always a good orientation on arrival in a new city. A short tour and we'd covered the whole city centre. Christchurch is known as the "Garden City" or the "English City", because it's the one New Zealand city, which is most similar to an English cathedral city. The famous cathedral is sadly no longer the imposing structure it once was, having partially collapsed in the February 2011 earthquake. 
However, what's left of it still stands in Cathedral Square, and it was worth a visit to see what a majestic building it once was, while also appreciating the power of Mother Nature. We didn't take the tram as we could walk its route within 5 minutes!!! Nevertheless, the tram served as a local form of interest and we embraced it.
I naturally tried the local seafood – the Blue Warehou fish, pronounced "worry fish".  It is a thick fillet, firm, mild and medium flake.
Christchurch was very low key and very little for tourists to see or do. There was a huge rebuilding programme in progress, which will hopefully create some focal points and interests for tourism. 
Unforgettable drive from
west to east – Christchurch to Franz Josef
One  of the most stunning drives in New Zealand was from Christchurch to Franz Josef. We travelled through Canterbury Plains, heading towards the imposing Southern Alps and across Arthur's Pass. The descent down the western side of the Southern Alps was spectacular.  Our route took us along striking wild screen-scarred terrain with forests of Crimson Rata and Kahikatea – and past Lakes Lanthe and Mapourika.
We passed Castle Hill; these were natural limestone formation that has been named as the centre of the universe by Dalai Lama in 2002. But we were unable to get closer to it as it is on private land.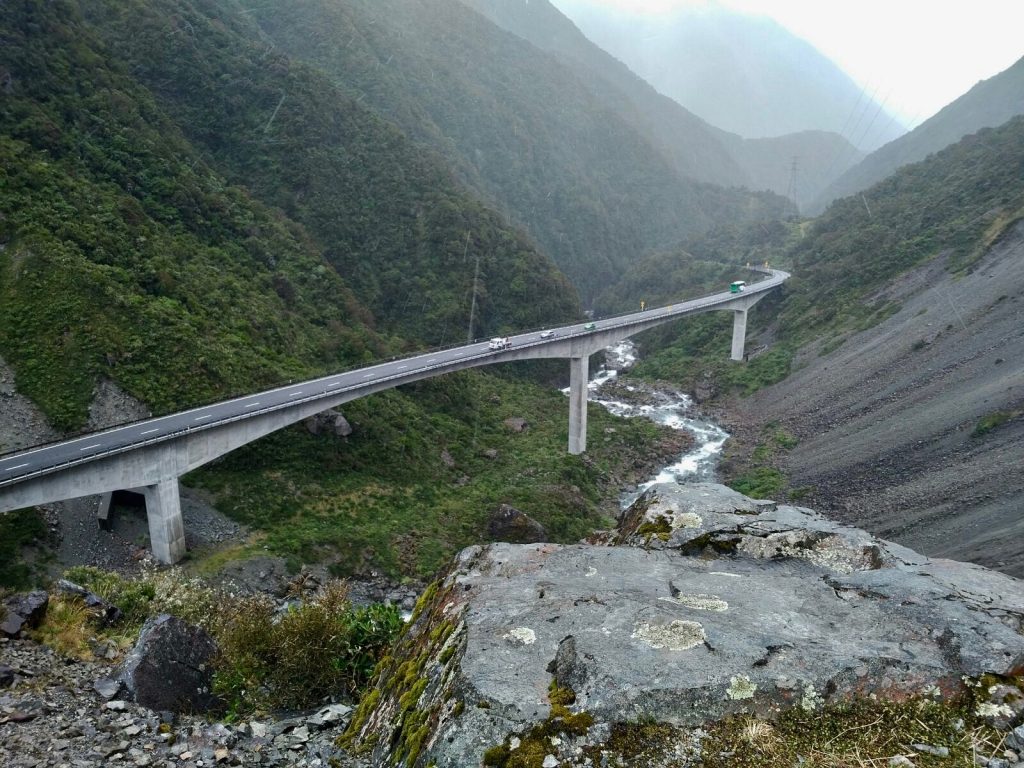 We passed the Otira tunnel, which runs under the Southern Alps from Arthur's Pass to Otira. The tunnel is over 5 miles long. We stopped at the lookout to look down on the Otira Viaduct (See picture above). It is dramatic and a feat of engineering for this part of the world and at the time it was constructed.Our tour guide was keen to tell us about New Zealand's well known native birds, one of which was the "Kea" in Arthur's Pass. The Kea is said to be the only truly alpine parrot in the world. As it is facing extinction, it is a protected bird. There was naturally a lot of excitement when we finally spotted one –a friendly bird!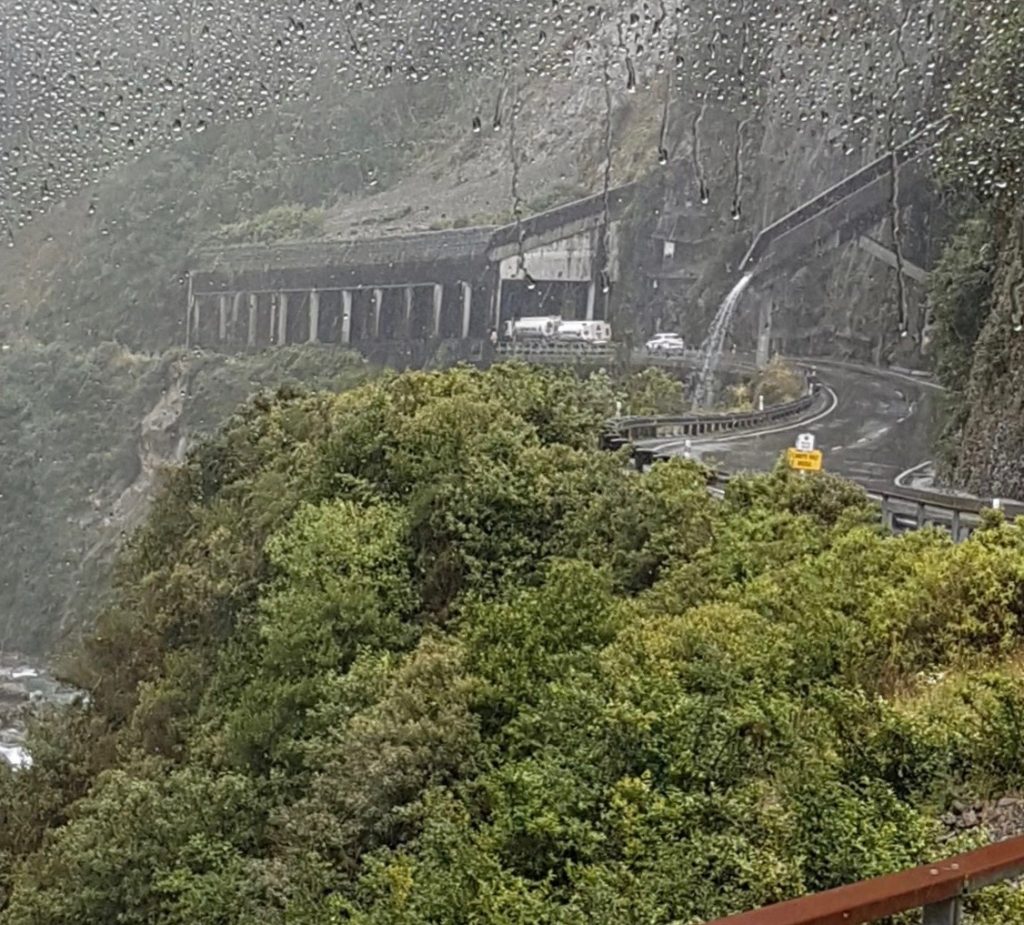 We were warned about the variable weather conditions in the south island and sure enough it would rain lightly and within a relatively short drive, the weather would change again – bright and sunny.
We saw the most beautiful rainbows across the hills, and we were able to capture them on camera, but alas photographs don't always do such things justice.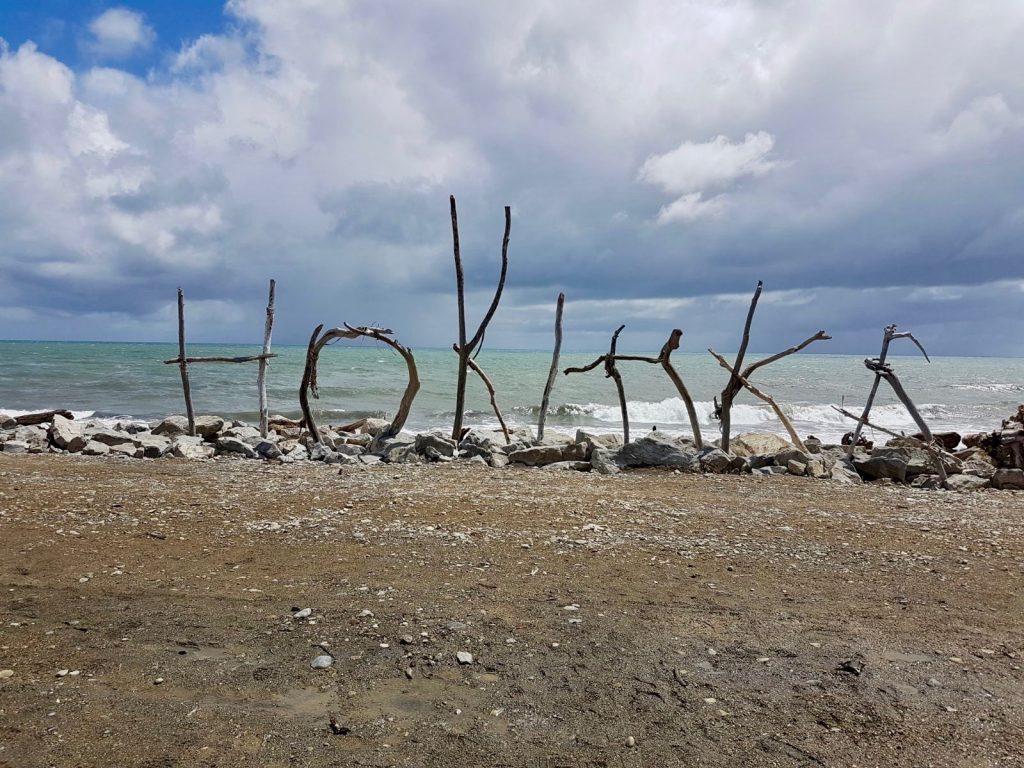 We stopped in a small town called Hokitika on our way to Franz Josef. Some of us headed for the beach while others made a beeline for the souvenir shops. There were plenty of souvenir shops specialising in jewellery made from greenstone, jade mined locally. We watched the carvers at work. I headed for the beach after eating the recommended local delicacy of "white bait omelette" for lunch. I was somewhat disappointed with both; the beach was gravel, grey and largely uninviting and the white bait were the smallest fish I've ever seen or eaten!
Franz Josef
After a long coach drive, admittedly through one of the most stunning landscapes in the world, we arrived in Franz Josef, all very excited about our next sightseeing. This time, there was no sight seeing tour of the town. As there were laundry facilities in the hotel, most people took advantage of this while others did orientation walk round the small town centre. I did the latter and also visited a small local catholic church.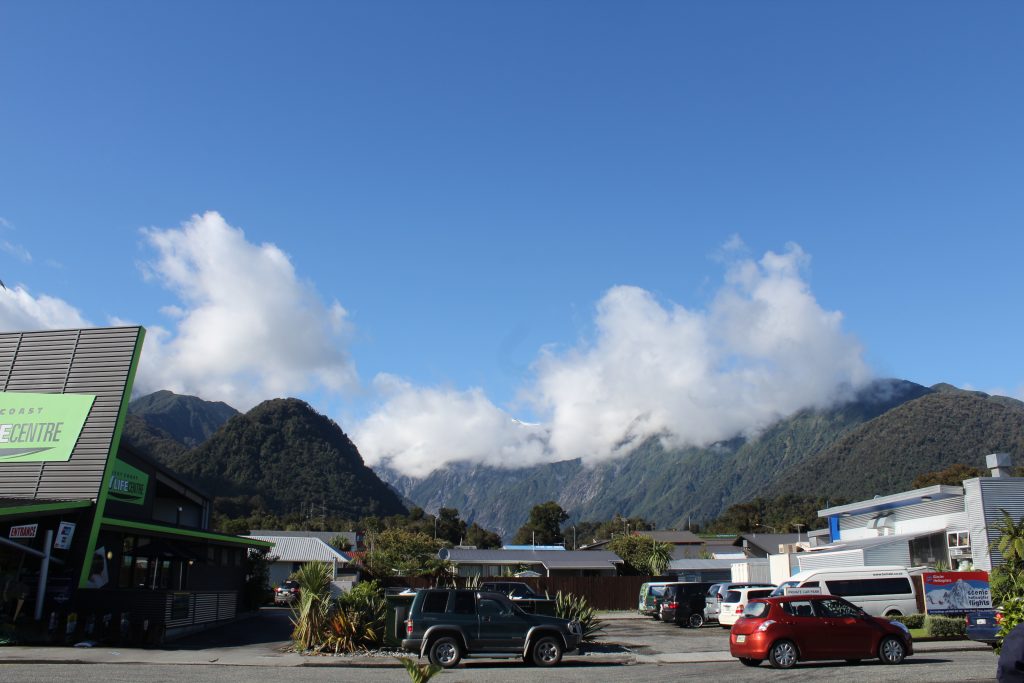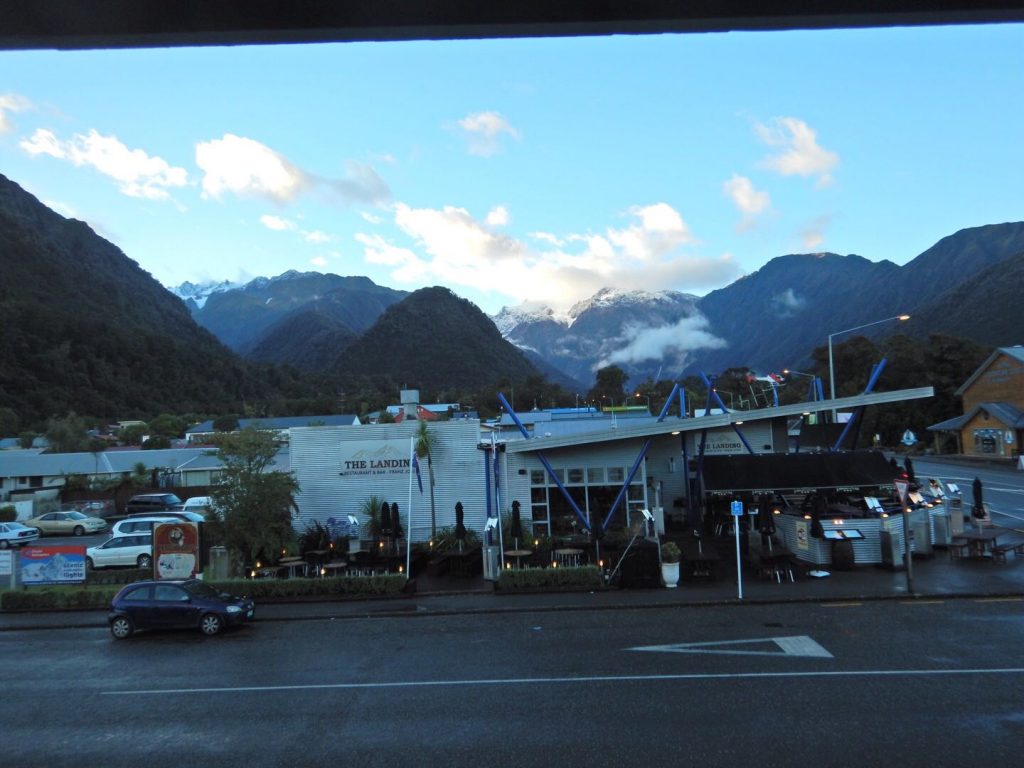 Franz Josef is a buzzing ski type resort, with lots activities such as skydiving; glacier helicopter rides and various walks around the area.  Skydiving around the glazier is a popular adventure activity in this part of New Zealand. There was a lot of promotion at the resort about it as a scenic way of seeing the glazier, and companies boasted about how they were the highest skydive in NZ at the height of at 19,000 ft.! I couldn't bring myself to do it even as a tandem skydive at 6,000 let alone 19,000 feet so I passed on this one! 
We set off early to drive to the spectacular Franz Josef Glacier that is one of New Zealand's 'must see' sights. Together with the Fox Glacier to the south, it is unique as it drops all the way from the peaks of the Southern Alps 
to just 300 metres above sea level, where it ends among the greenery and lushness of a temperate rainforest. We were able to take a guided walk to have a close up and to walk along sections of this huge icy monolith. I didn't take up the optional extra of a helicopter ride, as the weather was not brilliant during our visit.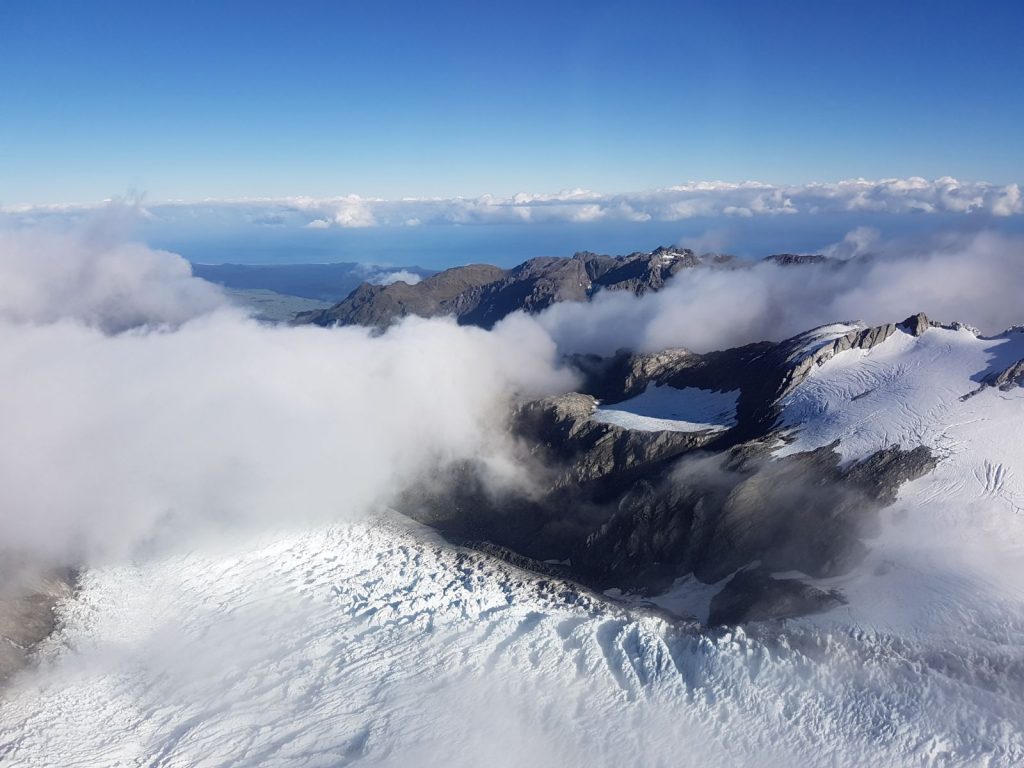 Franz Josef glazier is one of the 'must see' in New Zealand so I had to have a mollywozhere photo, naturally!
We drove from Franz Josef to Queenstown through fantastic scenery along the west coast and through Mount Aspiring National Park and across the Haast River Bridge on one of the most exciting scenic roads in the South Island of NZ. We journeyed along the shores of the beautiful Lake Hawea and Wanaka into the Otago region. 
We stopped at Lake Tekapo and visited the solitary Church of the Good Shepherd. This tiny church enjoys a magnificent view from its altar window over the lake to Mount Cook, New Zealand's highest peak.  
The Mirror Lake, Fiordland National Park
The Mirror Lake, in the Fiordland National Park, has become a  'must stop' en route from Te Anau to Milford Sound. It is a good opportunity to stretch your legs and of course admire the spectacular scenery. Everyone was excited to see the reflection of the mountain in the lake and we all jostled for our photo shot. And of course the mandatory mollywozhere photo was taken.   
We drove through the Homer Tunnel, 1.2km tunnel through solid rock, and operated on a one-way traffic with displayed and specific times for vehicles to pass through. It was pitch black and scary, and I didn't like it at all. I had my eyes shut throughout!!
Queenstown
We arrived in Queenstown early afternoon and we were immediately taken on a city tour, which took less than 15 minutes – small city! The city sits on the edge of the beautiful Lake Wakatipu and is surrounded by stunning scenery. As it was a very sunny and pleasant afternoon, we all headed for the beach and promenade that was right in the middle of the city centre, and the hub of all the action. You will love Queenstown, we all did, nice and  relaxing.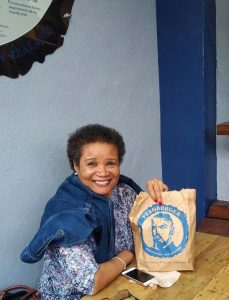 For lunch, I queued for half an hour for their famous local Fergie burger made with NZ's beef. My fellow travellers found difficult to understand my desire for this local food. I was not disappointed with the burger. It lived up to its reputation – it was yummy!   
One of our days in Queenstown was spent visiting the incredible Milford Sound. The Sound is part of Fiordland National Park and the scenic drive to it took us through a variety of landscapes – farmland, native tussock grasslands, lush beech forests and impressive glacial valleys.
We drove through the avenue of the disappearing mountains, beech forest and of course we saw lots of manuka trees! We stopped for a comfort break at "knob's flat" located between Te Anau and Milford Sound, Fiordland. 
Our guide tried to explain to us the meaning of the Knob's flat but none of us got it. And it wasn't even a joke! For me it was just a cabin for comfort break in a remote part of NZ but the scenery is wonderful. 
The tour guide also joked about it being a "Nike stop – just do it", to encourage travellers to use the facilities as there would not be another comfort break for a long while. We got this joke and dutifully complied! In any event, it was an opportunity for us to stretch our legs.  
The trip to Milford Sound was well worth it. At the Sound, we enjoyed a cruise on the waters to fully appreciate the dramatic scenery of the surroundings. We saw spectacular rainbow, sheer peaks rise all around and waterfalls cascade into the calm waters below. The cruise took in the impressive Mitre Peak and Bowen Falls, and we were fortunate to spot dolphins as well as seals and penguins. Visiting Milford Sound was one of my highlights of my tour of New Zealand. 
New Zealand's south island is very beautiful. If you are thinking about visiting New Zealand, don't hesitate – go for it. You will love the south island, I guarantee it!  Mollywozhere and she loved it.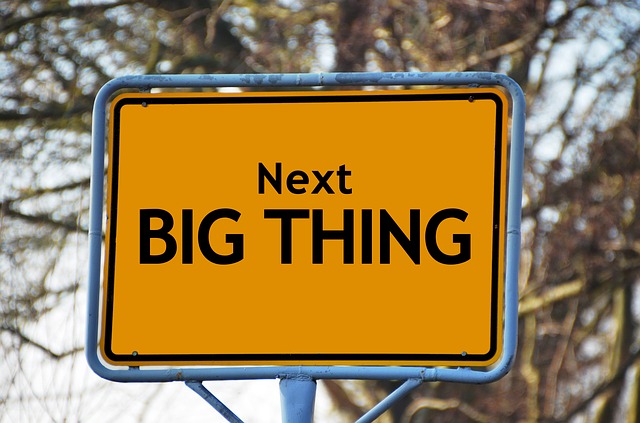 North Island, New Zealand.
Watch out for my next post on the rest of my tour of this amazing Country.