Hastings, East Sussex, England
On the move again... at last!
Hastings was my favourite staycation so far. There was so much to see and do. I felt the buzz,  the excitement and the experience of being in a seaside town. It was fun and relaxing. And the weather was good too. I couldn't ask for more than that!
As you would have guessed, I like my experiences so sharing these with you about Hastings. 
My experiences
Eating the freshest of seafood – fish and chips, whelks

 

Experiencing the steepest funicular railway in the UK
Learning a bit more about English history
Exploring Hastings country park nature reserve with spectacular views
Strolling around the Old Town
People watching on the beach
Taking a gentle stroll along the pier and promenade
So how did I decide on visiting Hastings you may wonder! Well, I was attracted by a number of things not least that it has history and things to do.
As an  English seaside town in East Sussex, Hastings is known for the battle of Hastings of 1066 and its connections to William the Conqueror  who came from Normandy  and defeated the English.
It is a fishing port and it is said to have UK's largest beach-based fishing fleet. How about that?  And it has the steepest funicular railway in the UK! These were enough to spark my interest in this town. 
I like to be right in the middle of the action; often this is right in the centre of a town or city that I visit on short breaks. So this was an important consideration when choosing where to stay in Hastings. The hotel was in a  good location, right opposite the seafront, and a few minutes walk to all the places I wanted to see.    An extra bonus was that the hotel had a small car park for guests so saved on parking charges in a busy town. There was no need to travel around in a car as all the places to visit were only a short stroll away from the hotel. 
I must start by sharing my experience of seafood. One cannot visit a seaside town without sampling the local fish and chips! I sampled quite a few!  Needless to say,  there was no shortage of fish and chips shops with  varying quality and price.
I wanted also to try the seafood.  I had researched the best places to eat the freshest seafood  and found the restaurant that was most popular with the locals. In fact the restaurant claimed that it has one of the shortest fresh seafood from the boats to their kitchens in its restaurant in the Old Town! That is not surprising as Hastings has UK's largest beach-based fishing fleet. Of course, I had to try some.
As the restaurant was very popular, getting a table was hit and miss. But I managed to book a table for lunch. I liked the look of  a particular  seafood meal on their website and I couldn't work out which one it was  so I showed the waiter the photo from their website of the seafood that I wanted. I was not disappointed. I enjoyed it very much.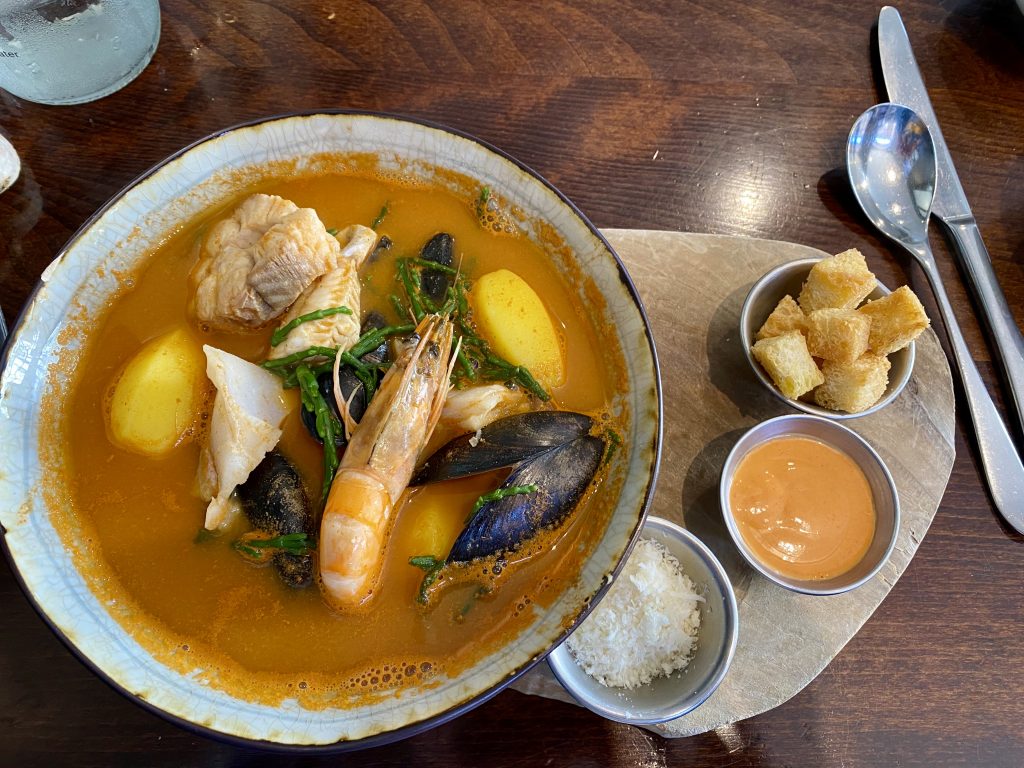 I liked the food from this restaurant so much so that I booked a meal at their only other restaurant in Rye.  There, I had my very first experience of eating whelks straight from their shells. I am used to ready made whelks and when I had ordered it as a starter from the menu, I had not realised that I had to 'do it myself". It was served with a couple of toothpicks. My attempt to use the toothpick to remove the whelk from the shelf was not successful so I asked the waitress how one removes the whelk from it shell with a toothpick! The waitress was not quite sure but she guessed it was possible as that was how it was normally served – with toothpicks.
I did not give up! After the first couple of failed attempts, I cracked it. I ate them all and I felt very pleased with myself. And put it down to another experience!!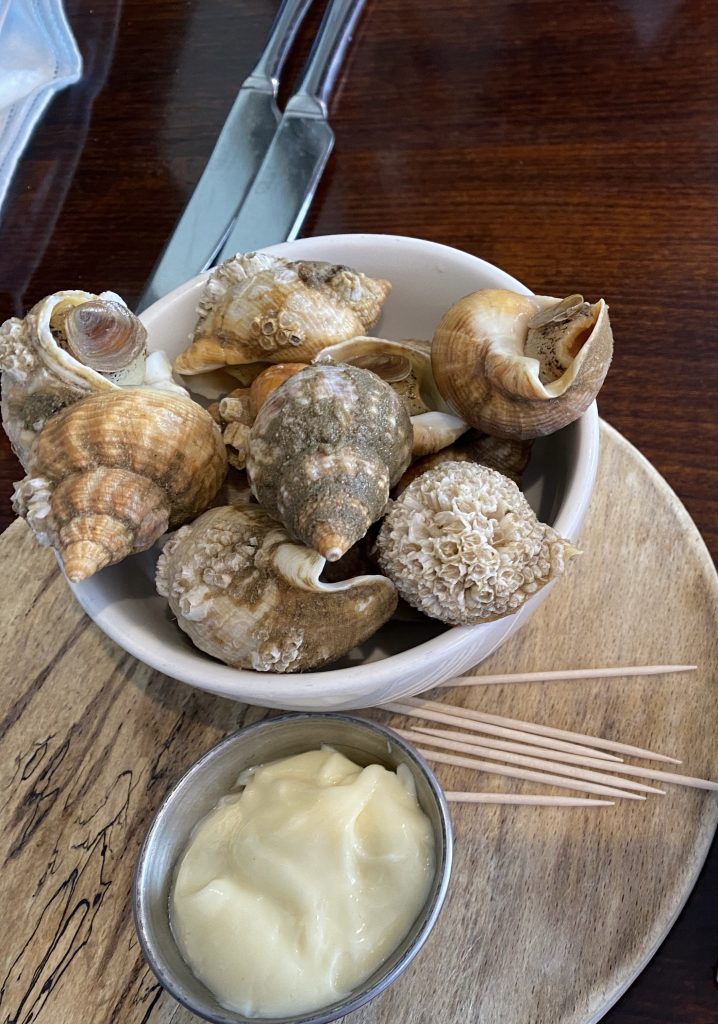 Talking a stroll along the promenade in early evening was very pleasant. It was very easy to lose track of time and to walk for miles and miles – in fact we walked up to the next town of St Leonard-on-sea without noticing we had done so!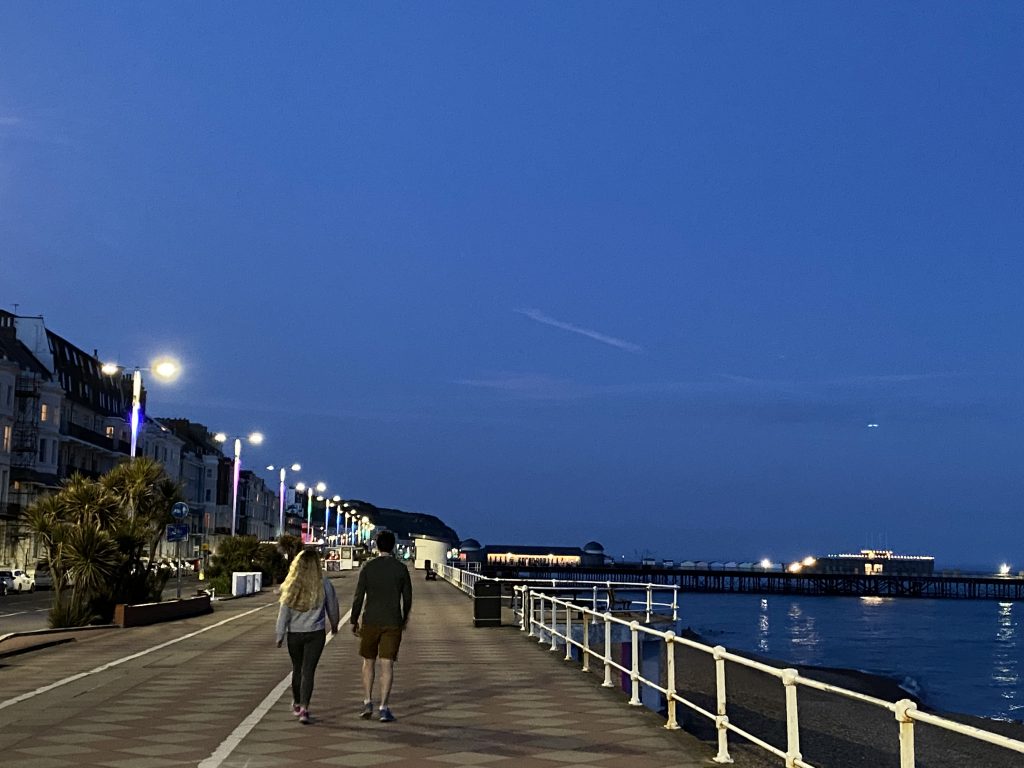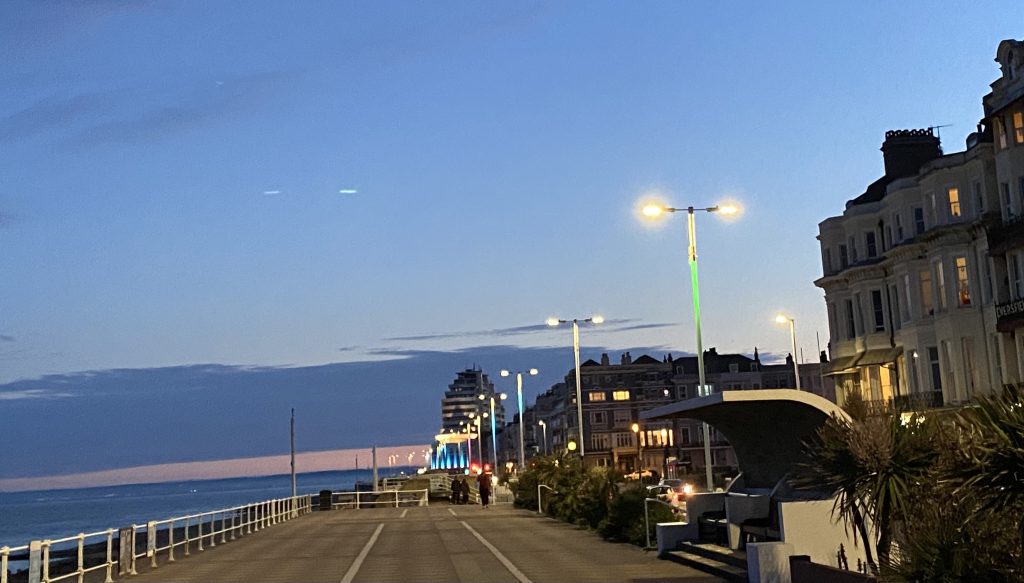 Taking the funicular railway was another experience that I enjoyed. It was kind of  exhilarating. There are two railways to the top – East and West. The East Hill funicular or lift takes you to Hastings Country Park which overlooks the Old Town and Rock-a-Nore.  The West Hill funicular or lift takes you to ruins of Hastings Castle from George Street in the Old Town and runs through a tunnel which is unusual for a funicular. 
We went on the East Hill lift as the West Hill  lift was closed at the time of our visit, not sure why.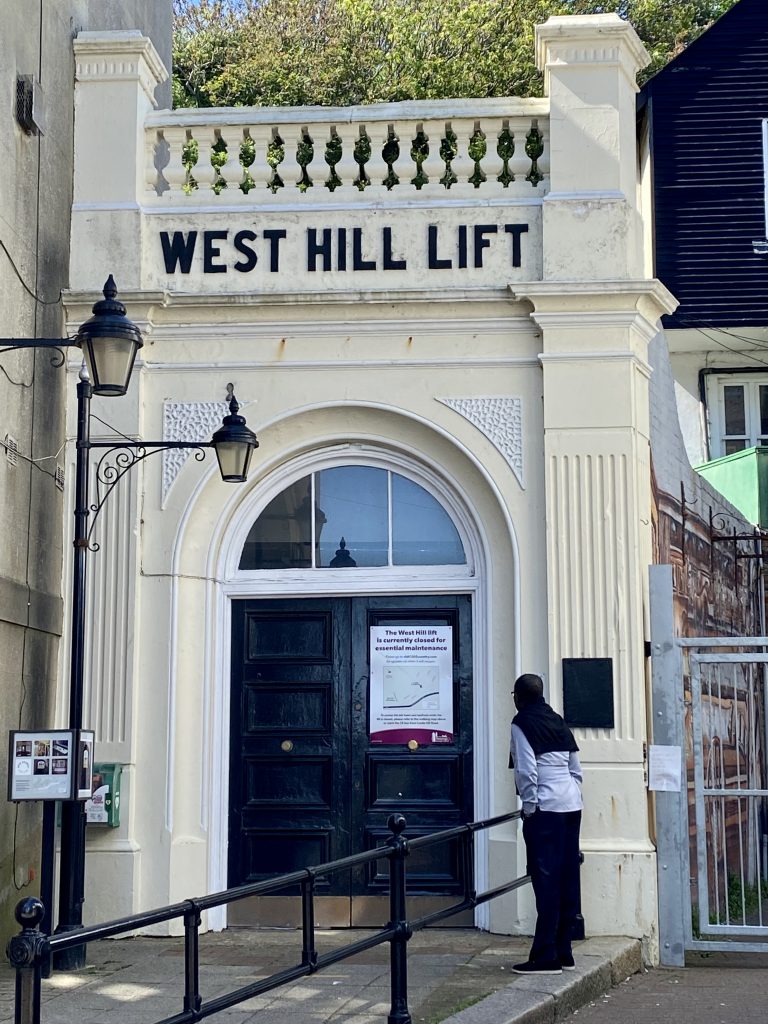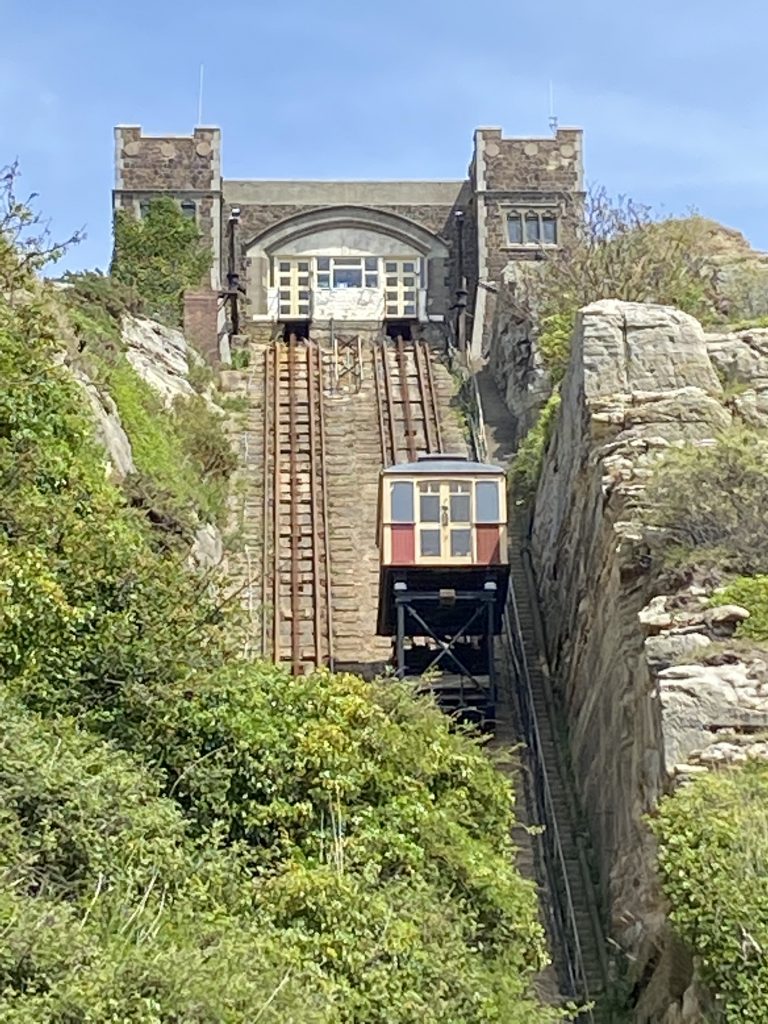 Hastings Country Park Nature Reserve was another interesting place to visit. Access to the Nature Reserve was via the East Hill Funicular. The views from the cliff top were stunning. We could see the Norman ruins of Hastings Castle in the distance. We could also see the Old Town and Rock-a-Nore below. 
We explored as much of this wonderful Park as we could. We feared we would get lost and would not be able to find our way back to the funicular.  It would have been helpful if we had armed ourselves with a map of the area, which would have helped us make the most of our visit.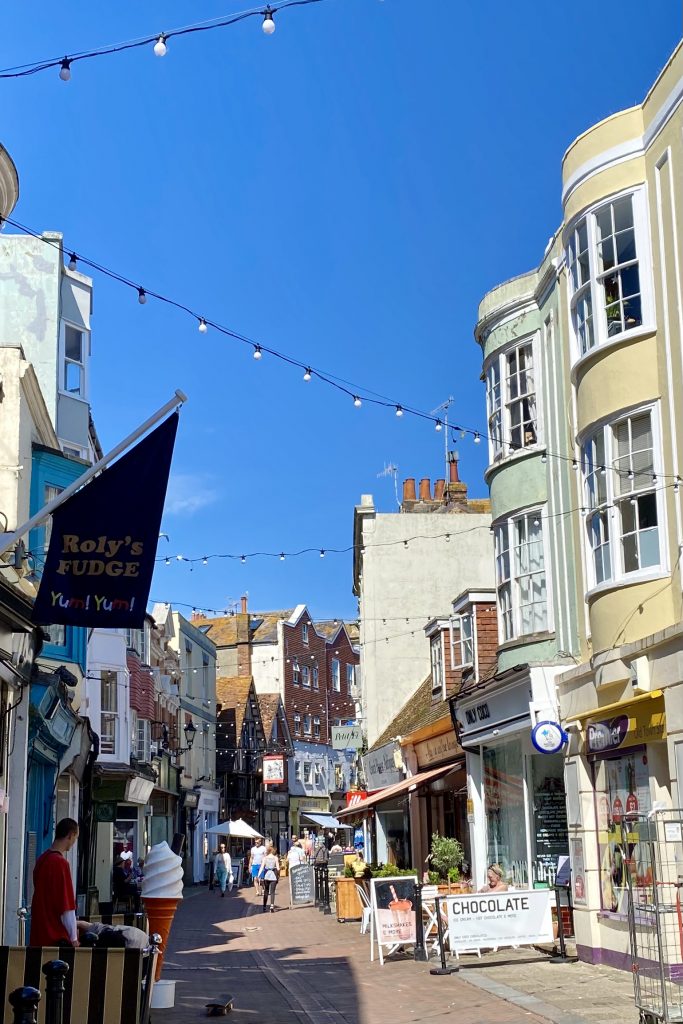 There are equally lots of things for children to do.  You can visit the Underwater World on Rock-a-Nore Road. On the Marine Parade, there is an amusement park, miniature railway and go-kart track.   
We enjoyed people watching along the promenade, by the harbour and by the lively small beach beneath the towering cliffs. I was amazed to see people sunbathing on the rocks  without a care in the world for fallen debris or rocks from the cliffs!
We enjoyed exploring the Old Town. We spent a few hours strolling around  and enjoying the sights. I particularly liked the narrow streets and passages, known locally as 'twitters' and the various small independent shops which offered variety and interest.   The two roads that I found most interesting were George Street and Rock-a- Nore Road.  The latter has quite a lot places and things to do.
You can visit the Museum of Contemporary Art, Hastings Fishermen's Museum, Shipwreck and Coastal Heritage Centre. All of these provide an insight into the community, fishing and seafaring history of Hastings.
There is naturally a fish market and stalls on Rock-a -Nore where you can buy the fresh Hastings fish and  seafood.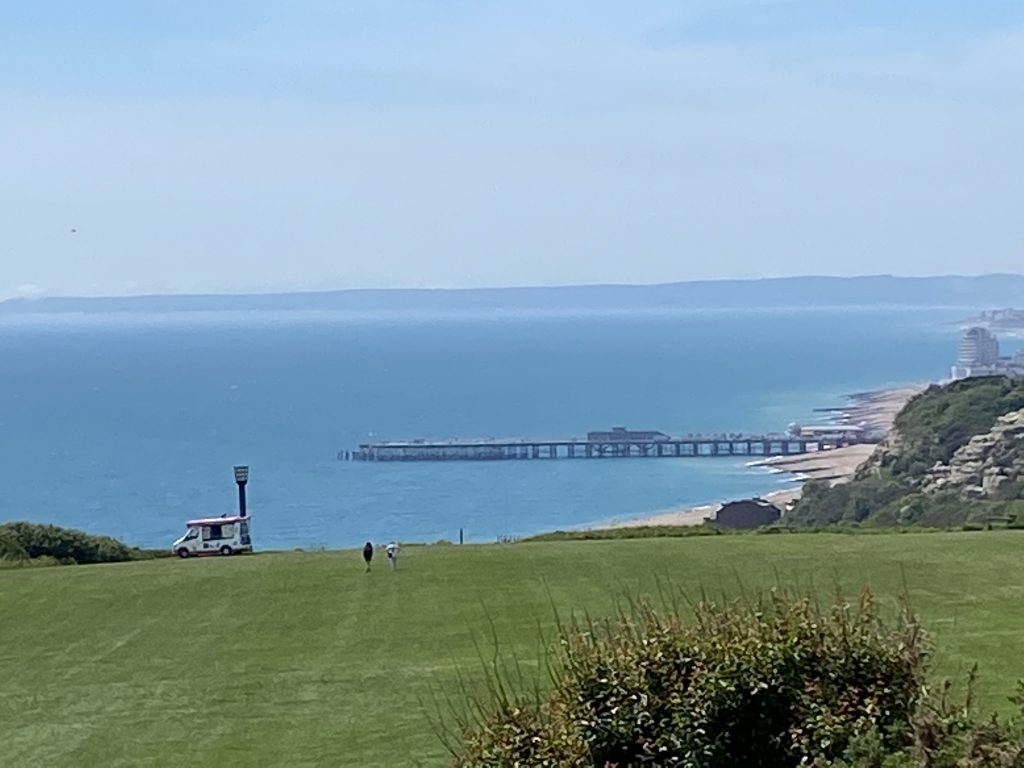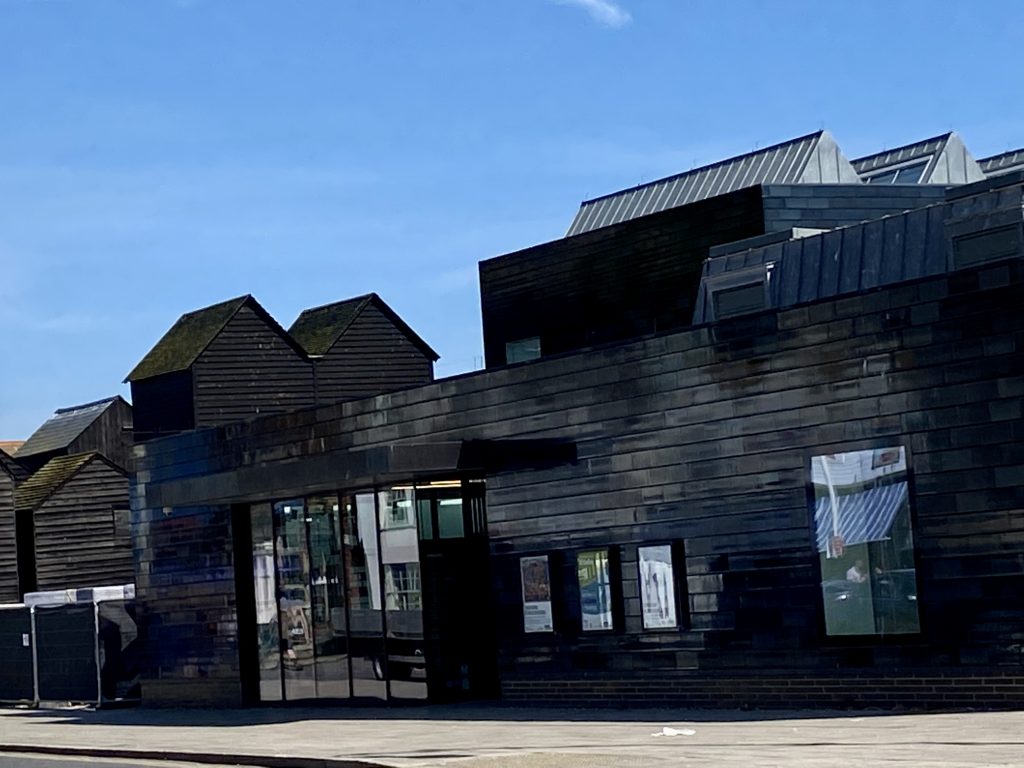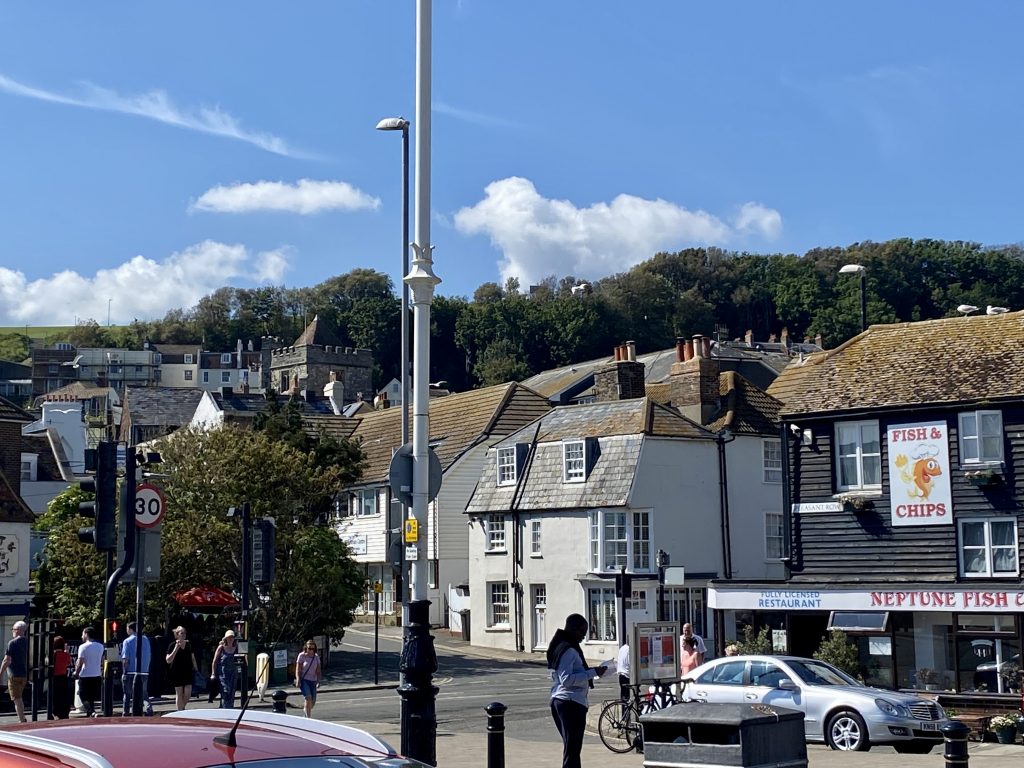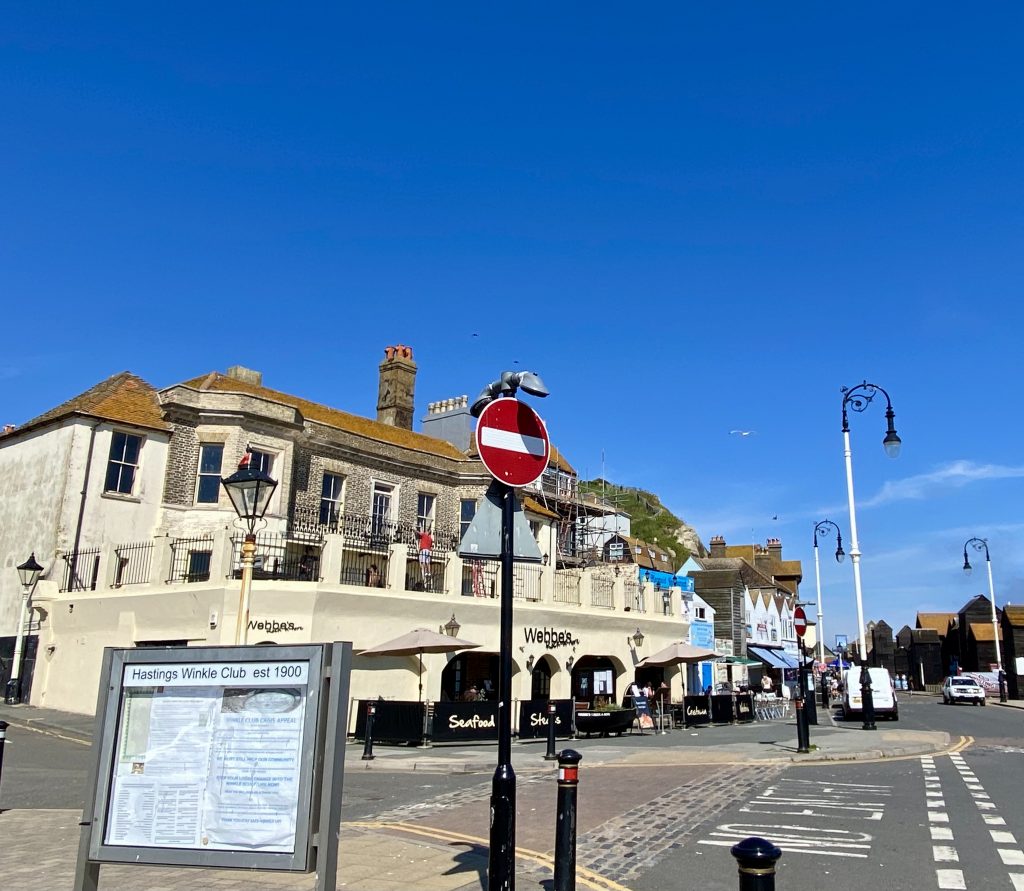 My short break in Hastings was most enjoyable with  lots of different experiences and pleasant memories. Hastings  was definitely my favourite staycation.  I am sure it will be yours too when you visit. 
We combined our trip to Hastings with neighbouring towns of Rye and Camber Sands.  We stayed in a hotel in Hastings and travelled by car to visit Rye and Camber Sands. So if you are on a short break – say  three or four days, you can easily do this, no problem at all.