Petra – truly a wonder
Visiting Petra fulfilled one of my life long ambitions to see all the seven wonders of the world. Petra was truly a wonder.   It should be on everyone's bucket list of places to see at least once in one's lifetime. Petra exceeded my expectations. It was an experience that I will never forget. 
Petra was the capital of an ancient city located in Wadi Musa, a town in southern Jordan, that was built by the Nabataeans around 2,000 years ago, making it one of the oldest cities in the world. It was 'lost' for thousands of years before it was rediscovered in the 19th century.    It was part of a vital trading route at the time for such products as frankincense  and myrrh.
This ancient city is a UNESCO World Heritage site for its cultural heritage and it was voted second place as a wonder of the world in 2007, after the Great Wall of China.
Petra means 'rocks' and you will understand why when you read on and see the photos. It is Jordan's most visited tourist landmark, attracting around 7,000 tourist a year.  It has been put on world map by its appearance in Indiana Jones film as well as The Last Crusade.
Petra is famous for its beautifully crafted facade on the rose-red sandstones, tombs, temples and water systems. I must admit seeing is believing this true wonder.
When people talk about Petra, they usually refer to The Treasury, which is the most famous attraction. But Petra is more than just The Treasury.  I was very surprised about the size of this ancient city. It is a huge place and only 25% of it has been discovered! The Nabataeans were very smart people – this place is well hidden. It was so well hidden that it was "lost' for thousands of years!
Although there are other antiquities in Petra that are worthy of mention like Petra Church with its beautiful mosaics or the  tombs for the rich, royal and commoners. My most memorable experience of  Petra is in three key areas, namely:- The Siq, The Treasury and The Monastery. These three areas blew my mind!
I visited Petra in a small group in a guided tour. I will always recommend using the services of a local guide. They are much more knowledgeable and experienced. You will get value for money. Everyone in my group got on very well together.  They were fantastic and great fun. 
I hope my photos of this amazing places bring them to life for you more than just my words.
The  Siq is the main entrance to Petra. There were religious stations along the route to the Treasury. The Siq seemed to be nothing more than a religious entrance to this ancient city. Nevertheless less, nothing prepares you for it.  
Walking through the gorge was the part of the trip that I had dreaded most. It took a while to walk through the gorge, narrow in places and flanked by about (plus or minus)  80 metres high cliffs. It was a very hot day, in fact most days are hot in this part of the world! I didn't take any chances and ensured that I was well covered and protected with plenty of suntan lotion, long trousers, long sleeves top and wide brim hat. Yes, I do need lots of sun tan lotion as I get sun burn very easily! I also had plenty of water, remembering that we were in the desert, though I needn't have worried as there were plenty of stalls on the way selling water along the route at exorbitant tourist prices as well as selling all kinds of souvenirs that you don't really want to buy or need. Our guide had warned us about this so we were well prepared on that front and didn't fall for any of the hard sales. In fact, he had asked us not to promise to buy anything on our way back – they will remember and will hassle you to keep your promise. It was better to say no and move on.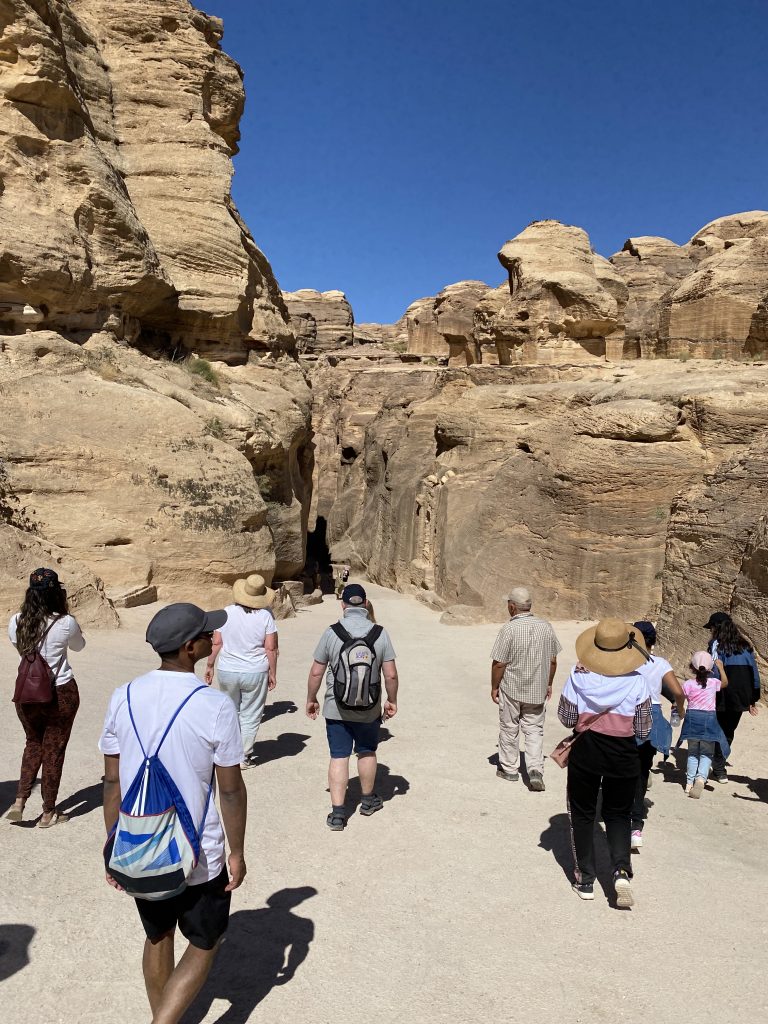 You can hire a 'golf' car to take you to the city. I won't advise it if you dont need it as you will miss most of the interesting things along the way. And what is the fun in that?
There was time to have a quick mollywozhere photo opportunities, naturally!!
As we found our way through this mind-blowing gorge, you cannot help but stop to admire the rock formation.  The reflection of the sun on the surface of these cliffs were stunning.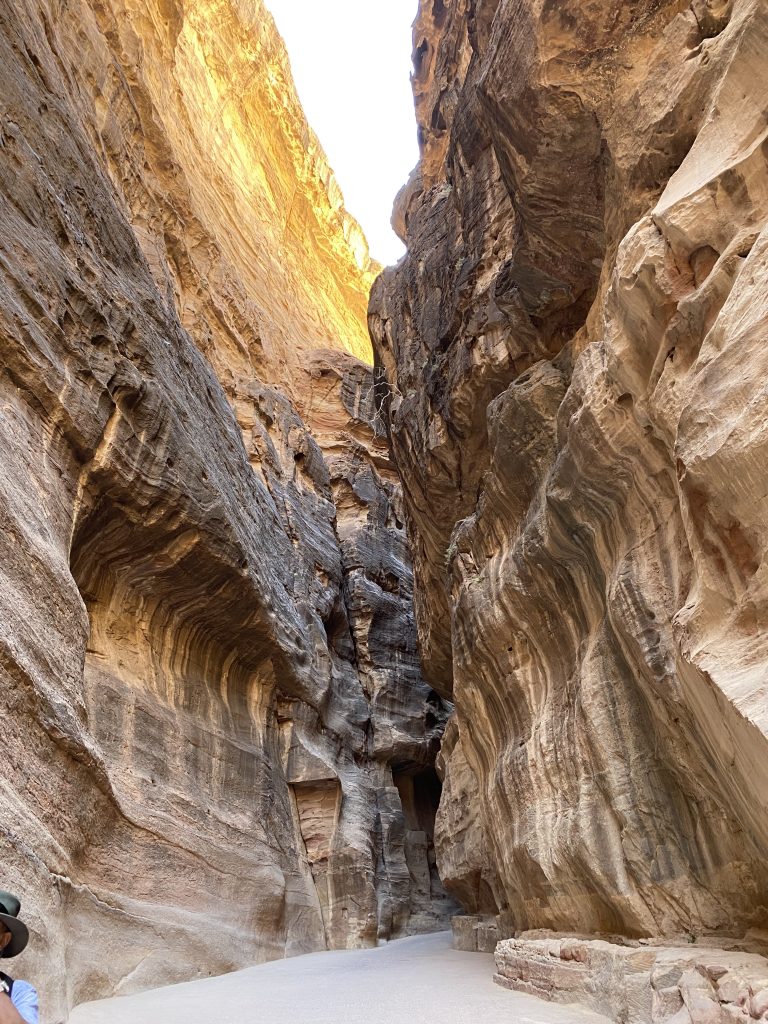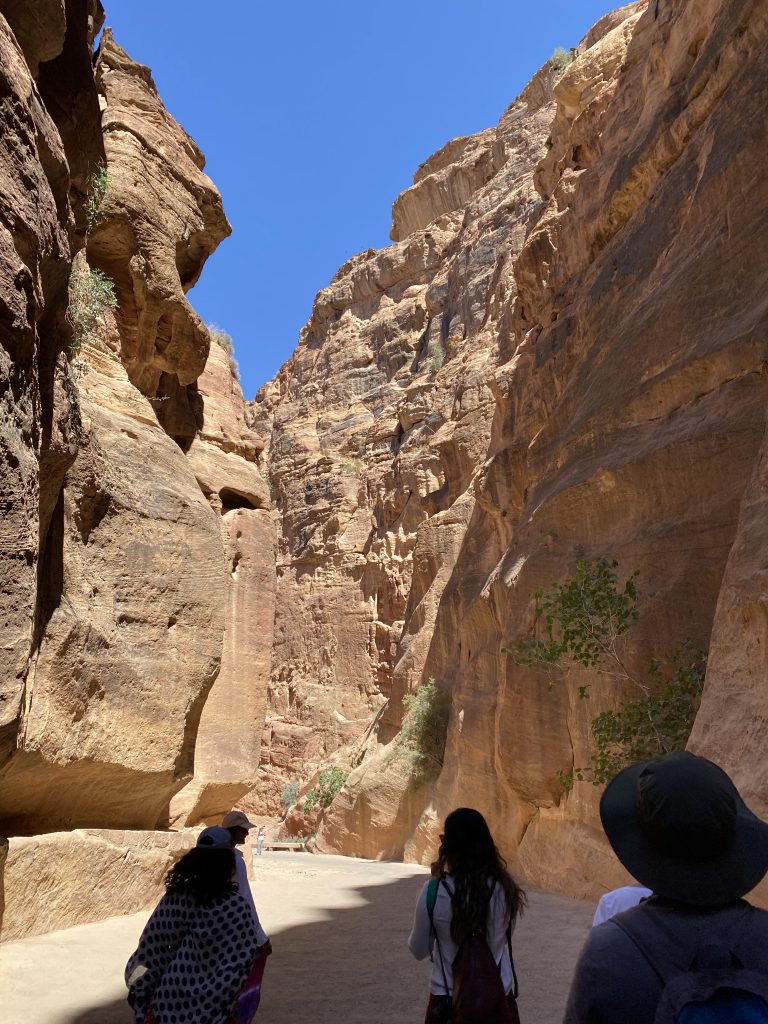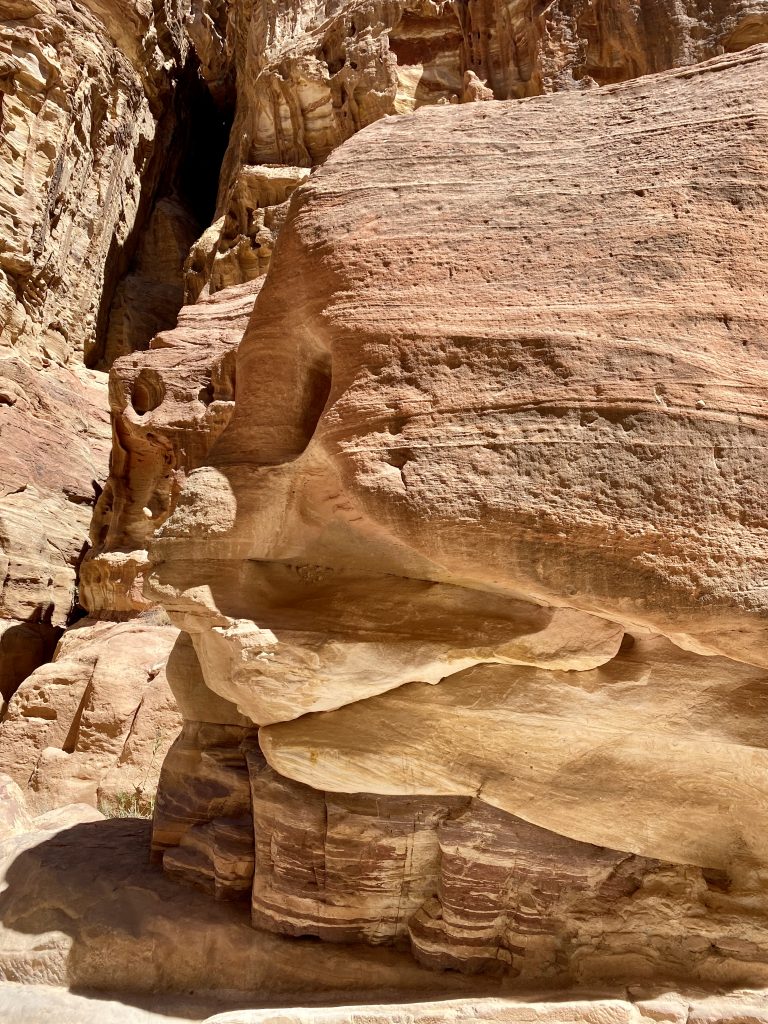 This was an interesting sight – if you look at the rock formation from one side – you will see a fish but from the other side, you will see an elephant. Mother nature is so clever!!
There were no shaded areas except in places where the cliffs provided them. It was a long hike though on flat and even surface, Our guide stopped at various key points to talk about either trees that grow in the the cracks of the cliffs or the water systems. As you can imagine, water was a very valuable asset and needed to be preserved and protected.
A fellow tourist asked at one point – "Aren't we there yet?" And no, we were not. Our guide told us we were not even at the gate to the actual city yet. And that we were still in the Siq which was the entrance. 
The hike continued through these naturally formed gorges which sometimes flooded. Walls were built to act as a barrier and stop the gorge from flooding.
The Treasury (Al Khazneh in Arabic) - Petra
After what seemed to us as  a long hike and with great anticipation, we arrived at our destination – The Treasury- known as Al Khazneh in Arabic.
Our guide was very clever in the way he introduced us to it. He had asked us to stop and admire a tree growing out the rock facade and after a few minutes, asked us to turn round – and voila! There it was, our first glimpse of the The Treasury.  I was in awe of this captivating sight. Everyone was blown away by it. And one of my fellow tourists was moved to tears!  This was it and all you could hear was a lot of people talking, and hawkers trying to grab the attention of the new arrivals. At this moment, all you want is some peace and quiet – time to just simply absorb the moment – close your eyes and feel, smell and experience this magnificent wonder. But alas, that wasn't to be – you had no option but to share the space and time with lots of people and animals!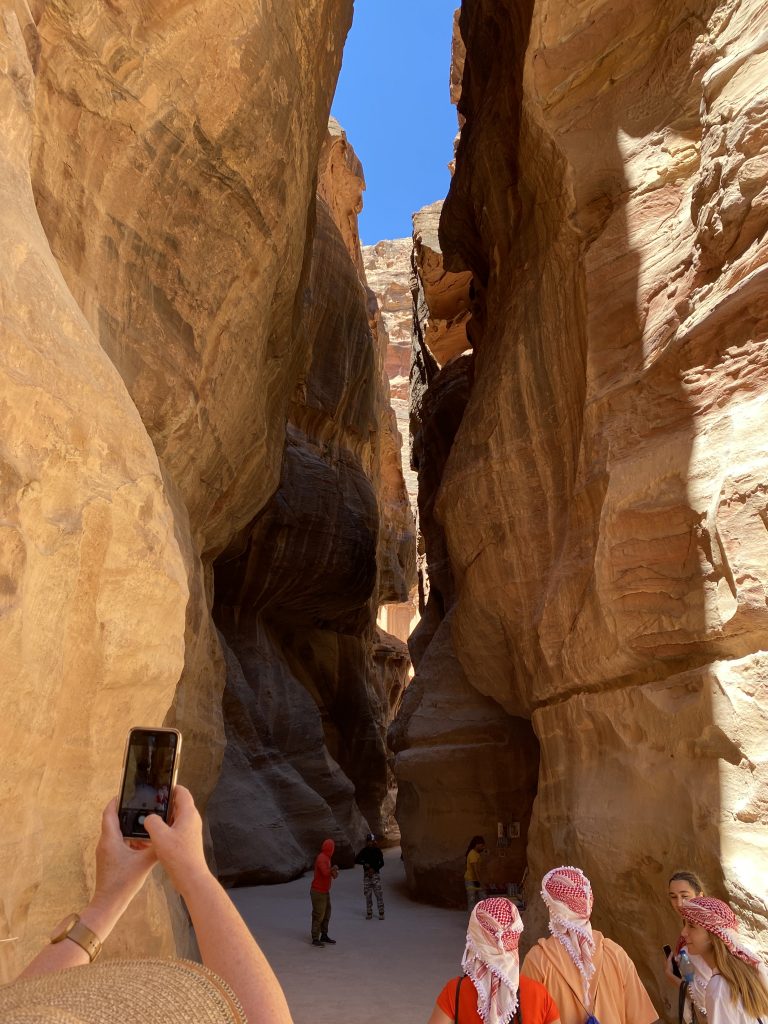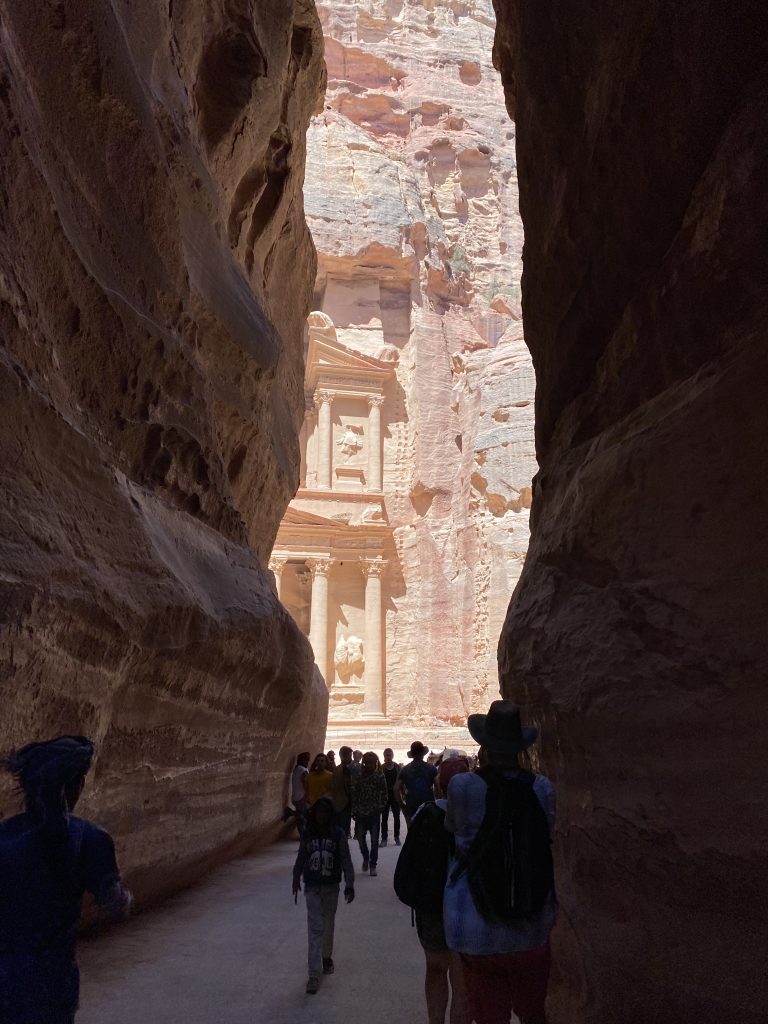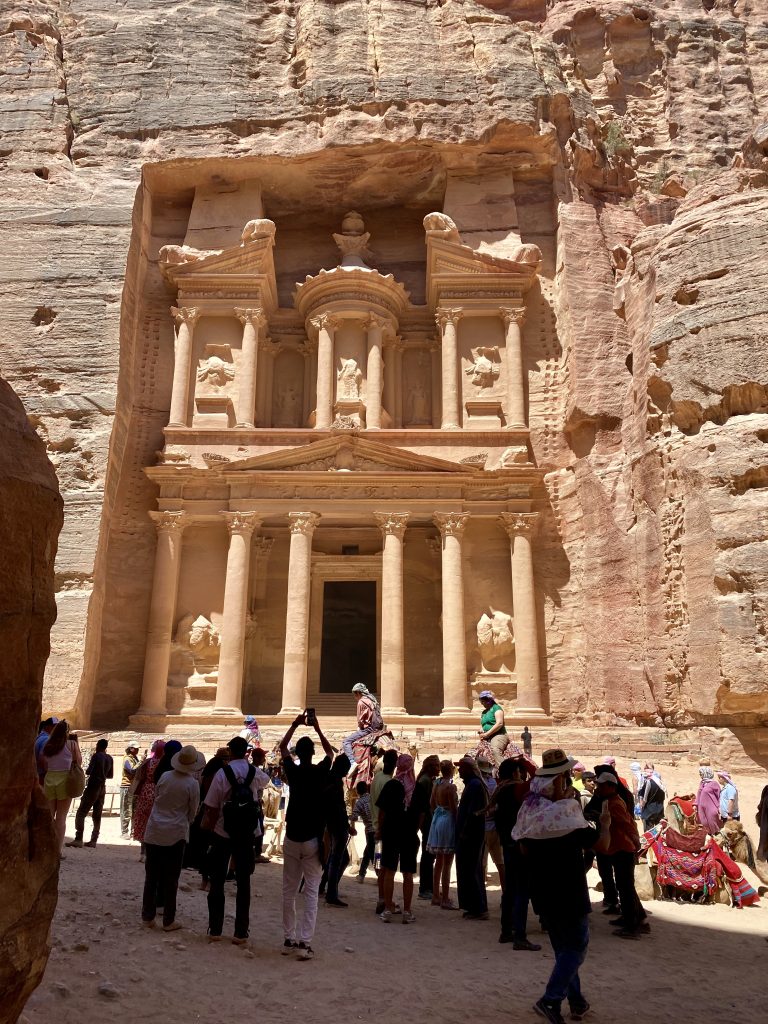 Was The Treasury good in real life?
Most definitely yes. It is a work of art. The rose colour of the sandstone added to its beauty. The build up to this moment – the hike the through the Siq – heightened the excitement and the experience. 
The Treasury was carved out of the sandstone rock face – inside the cliff (The Monastery is carved outside the cliff face) and it was designed to impress.  And indeed it does. The structure itself is said to be about 39 metres high, equivalent to a 13 storey high rise building! The carvings were quite elaborate, each with meaning and still beautifully intact even with the long passage of time.  Medusa, the Greek mythology's face still remains.
The Treasury is empty so nothing to see in its chamber. It is called 'The Treasury' because it was believed to house the treasures of the Egyptian pharaoh ruler of the time but apparently it doesn't. The local Bedouins were said to have shot at the urn at the top in their attempts to get at the treasure but nothing was found. 
Was the hike to The Treasury, Petra, worth it?
I will say most definitely yes. It was an experience of a lifetime for me. And it will be for you too.  If you are able to do this visit, don't hesitate, go for it. you will not regret it. 
Tip    You will see photos of tourists seating at the edge of a cliff facing the Treasury. And you will most certainly be asked by the local young boys to escort you to this spot for a fee of course. It is not advisable to do so. There are signs put up by the authority advising tourists not to climb to the 'alleged viewing point'. My advice is don't do it. You will be taking a huge risk if you fall for this scam, and worse still, if you fall!
My adventures did not end at the Treasury – no, no, no! Our guide had informed us  that there was much more to Petra than just the Treasury. He was right. Petra is a huge place. This was a city that contained almost 30,000 inhabitants.
Most people end their visit at The Treasury. This is understandable as this is the most famous structure. But there is more to Petra than The Treasury. Our guide,  Adna, encouraged us to do the hike to the Monastery and he warned that the hike was around 900 steps of uneven paths through the gorge up to the Monastery. 

Before we set off for the hike to the Monastery, we stopped for lunch and rested.  Our guide talked through a few interesting places to see on our way back from our hike to the Monastery and showed us some amazing rock formation both inside and outside of some caves – very vivid colours. 
I was lucky that I visited with a group of very lovely and friendly people. They motivated and helped me navigate the steps. I don't think there was anyone (some more than others) in the group who did not hold my hand and helped me up steep and  difficult steps.
My biggest concern and fear when climbing these steps was having to share the space with those riding the camels or donkeys. It was hard enough to navigate these narrow paths to then find suddenly there was a donkey or camel behind you wanting to pass by. I can tell you these animals knew the paths well. They knew the safer side which was against the cliff side as there was a sheer drop into the gorge if you miss your step! These animals were ridden or guided by very young boys. The animals had no break or insurance! So you are taking a huge risk by riding on one of these. 
There was always time for a quick mollywozhere photo. It was invariably a welcome break to catch my breath!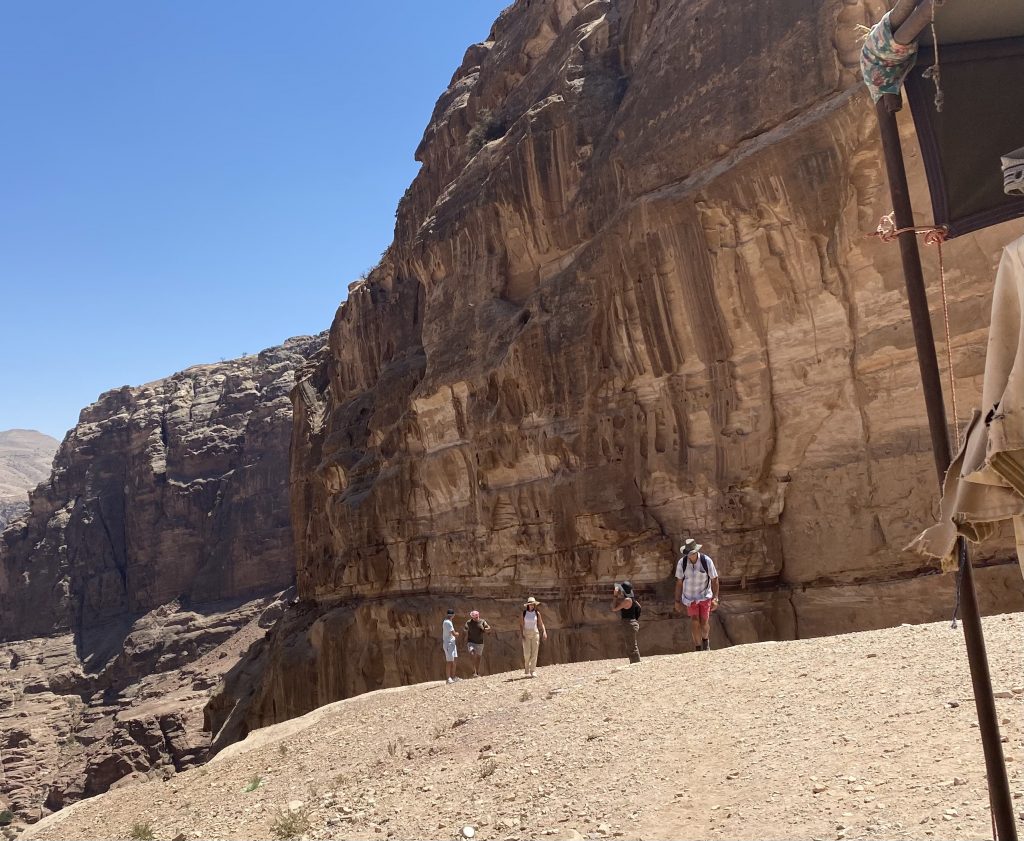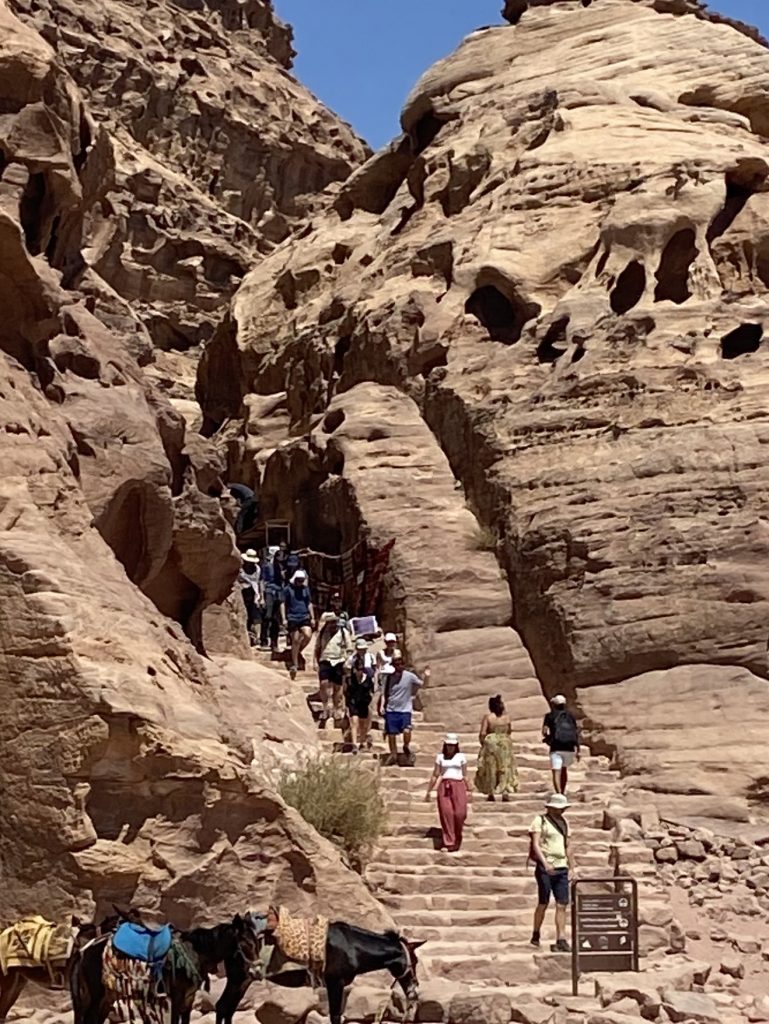 The entrance to the Monastery wasn't as dramatic as that of the Treasury. But equally beautiful. I am not quite sure why it was called the Monastery. Similar to the Treasury, it was carved into the sandstone but outside it, if you know what I mean. As you can see from the photos, there was no one there! Quiet and peaceful. 
As you can see from the photos, I celebrated! It was a huge achievement for me – 900 steps on a very hot day, climbing up to the top of the cliffs! It was well worth it. If you can do it, I will say go for it. You need good and comfortable walking shoes and be reasonably physically fit.
We rested for a short while before setting off to return to base.  
We found our way back to base via a different route so as to have a closer look at the royal tombs carved on the sandstone facade but not as elaborate as the Treasury or the Monastery. And to see Petra Church with its old mosaic.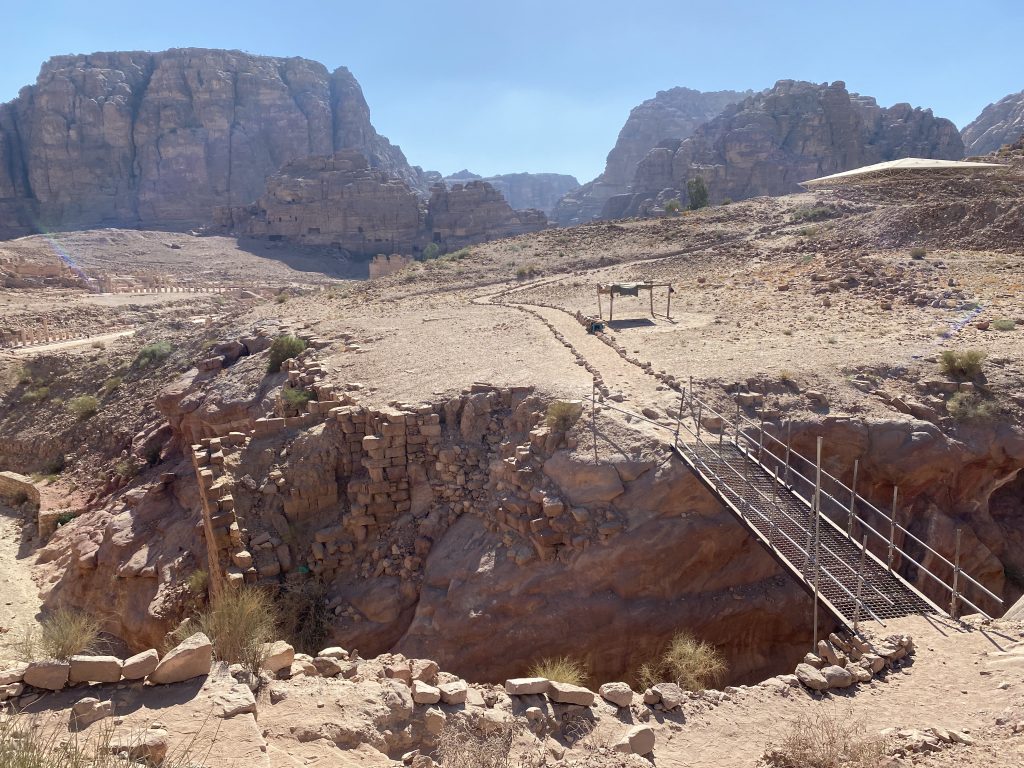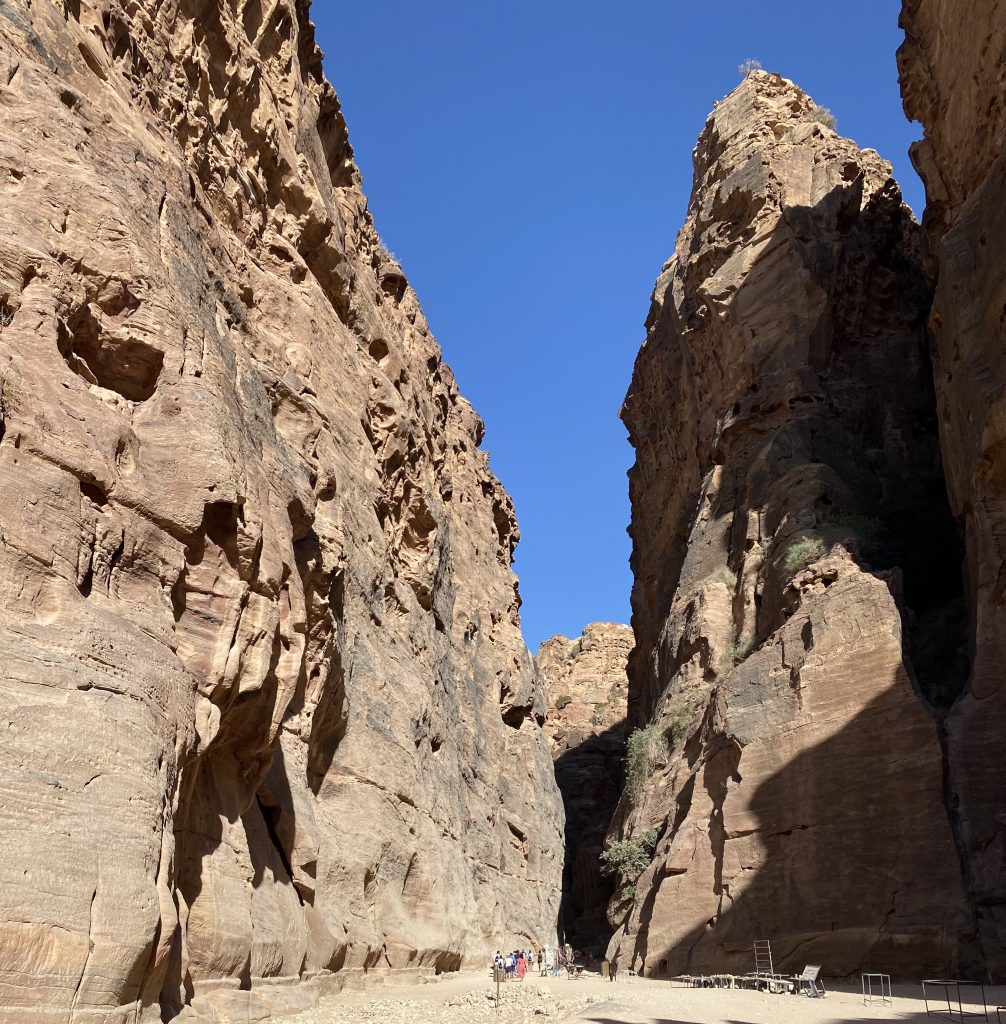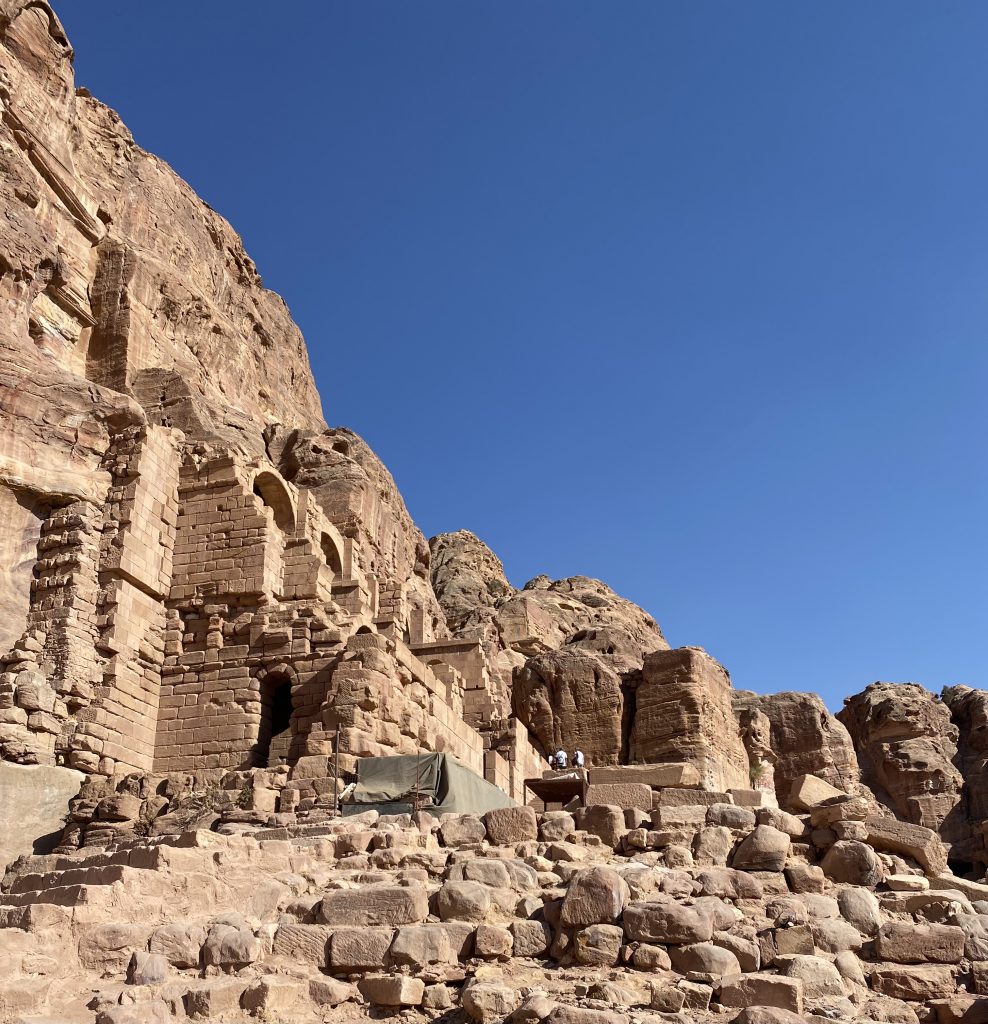 By the time we reached the Treasury, I was knackered. Having spent all day hiking through this beautiful city, I just wanted a very large, cold glass of beer, a hot bath, lovely meal and bed! I decided to take the golf car from the Treasury through the Siq to the main gate. I was not the only one if you must know!