First ever cruise: My stateroom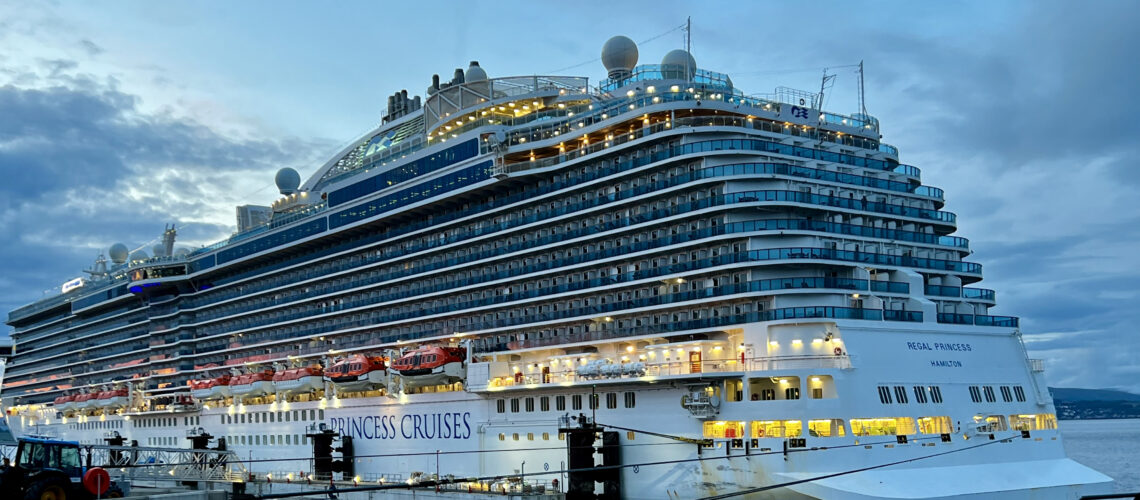 One of my initial concerns of going on a cruise was the type accommodation on a ship given my fear of water. I need not have been concerned. The cruise line offered a variety of cabin options for passengers to choose from, with something to suit all budgets and preferences. The most common types of cabins include interior cabins, oceanview cabins, balcony cabins, junior suites and suites.
Interior cabins provide an affordable option  but there is no window to the outside, Oceanview cabins offer a window or porthole for those who want to gaze out at the sea. Balcony cabins are a popular choice as they offer a private outdoor space to relax and soak up the scenery. Suites are larger and often come with additional amenities, such as a separate living area, priority embarkation and disembarkation, and access to exclusive onboard facilities. Passengers can also choose between cabins located on different decks and in different areas of the ship to cater to individual preferences. 
If you are like me you are fussy about location or noise, it is worth paying a little extra to choose your stateroom.
I did not fancy an interior cabin and I had little choice of location of the cabin as I had booked the cruise late. I opted for the option of choosing my own cabin and deck for an extra fee. There was the option for cruise line to allocate you a cabin but there was no guarantee of location though the type is assured. I paid for a deluxe cabin on deck 8.mid ship. I had read that to avoid sea sickness, the best place on a ship was middle deck on the ship and mid ship.
Immediately on arrival, I went straight to check my stateroom.  My two suitcases were already outside my door. I thought that was very quick and efficient. 
I had chosen a deluxe balcony stateroom on Deck 8 so it was a little larger than the standard balcony cabin. The stateroom was just like a hotel room except that everything was screwed down including the bedside lamps! 
My cabin included a flat-screen TV, air conditioning/central, a mini-fridge, a safe with combination lock, and ample storage space for my belongings. My deluxe stateroom also features a private balcony with floor to ceiling doors, a table and two chairs, to allow me to relish in the fresh sea air while sipping a refreshing cocktail or two
Similar to staying in a hotel, unless you prefer to use your own favourite toiletries, you won't need to bring your own or  towels.  You also do not need to bring your own dressing gown as this will be provided on request. You will find your stateroom assistant (housekeeping) waiting in the hallway to assist passengers in any way.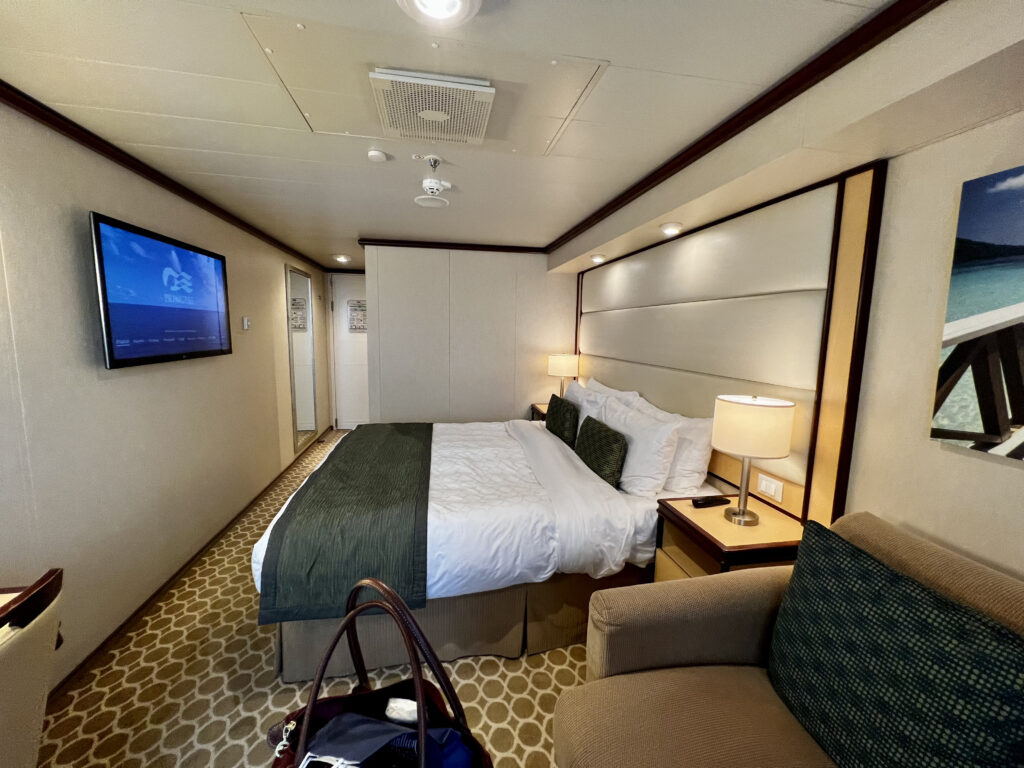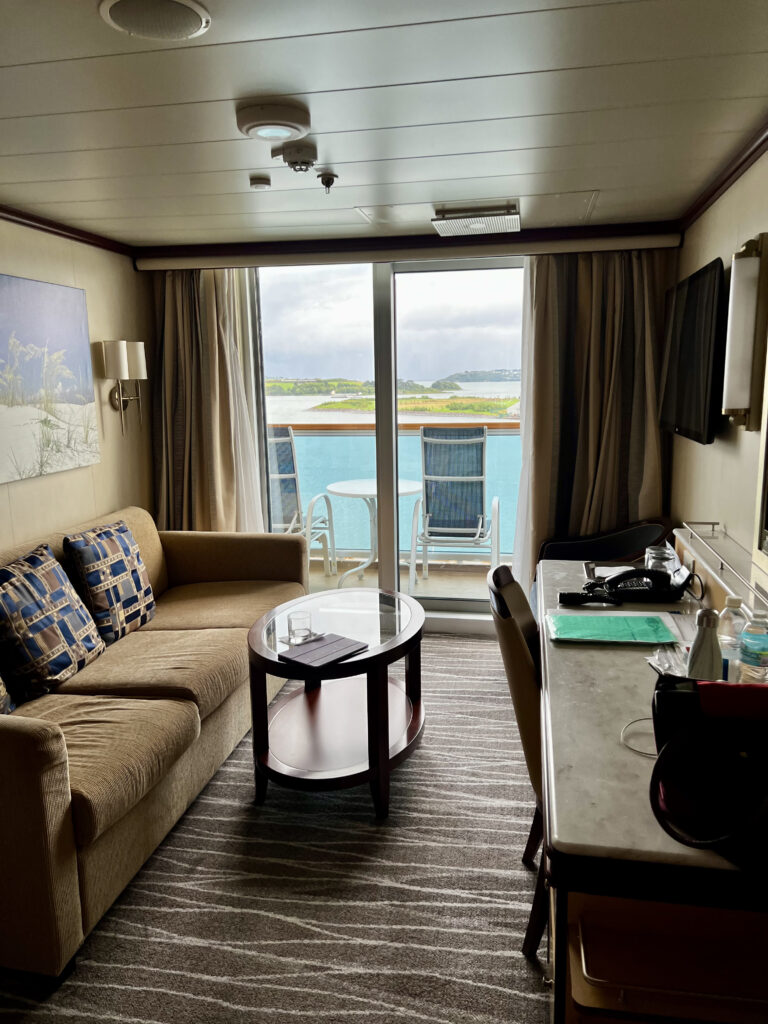 Whilst my stateroom itself was comfortable, light and airy as I wanted, there was a buzzing noise that I had not noticed when I first arrived and checked my room.  I am one of those people who cannot sleep with noise and light so asked the staff in Guest Services for a change of stateroom. As it was late in the night, there were unable to deal with my concern and assured me that it would be dealt with by the day time staff. And it was resolved the following morning. I was moved to a mini suite at no extra charge as that was what was available. The mini suite was on deck 14, much larger than the deluxe stateroom and had a 3 seater sofa, larger desk and coffee table. It was much more quieter and I was happy though I was a little worried about being high up on the deck 14. But you can't have it all.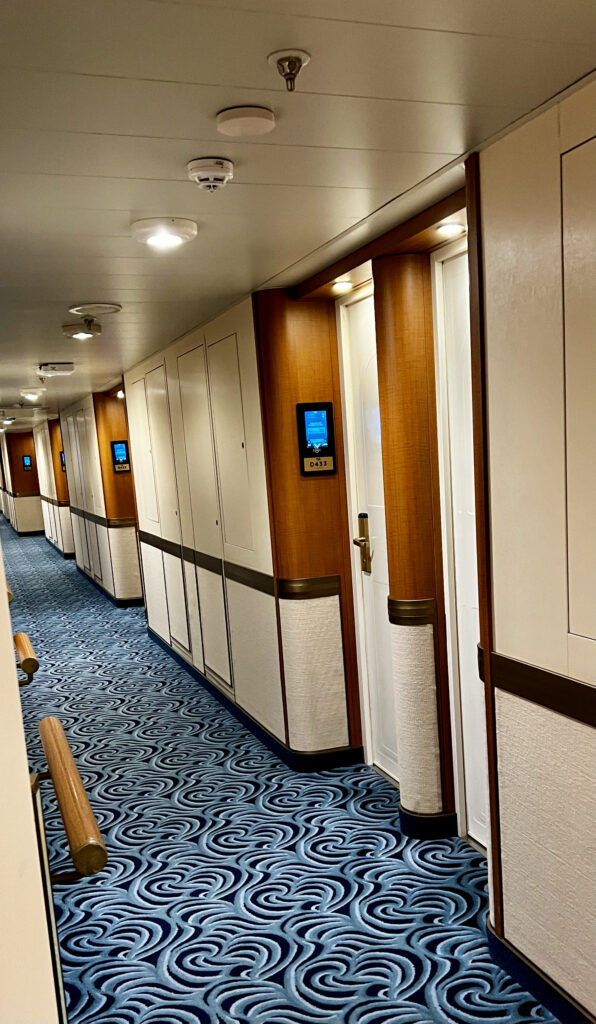 I bet you are curious as to why I included a photo of my wardrobe here. Well, I will tell you. 
There was a storm across the British Isles on our first night at sea. I had never experienced this before so I was terrified. I  tried to ignore it and go to sleep but I just couldn't. The ship was swaying from left to right. Now I understood why the table lamps were screwed down! But the hangers in my wardrobe were not screwed down so they moved from side to side. I could hear the "swissssh" sound as all the hangers moved from one side of the rail to the other. And back again. How quickly  the hangers moved indicated how far down the ship was swaying and vice-versa!
I listened to the sound of the hangers which was kind of reassuring once I worked out the sound system!
 I needed to use the bathroom but I was too terrified to get out of bed in the middle of the night. And no- there was no accident! I did sum up the courage  to run to the bathroom and damn the consequences. As it happened, I needn't worry, I got to the bathroom in time and I didn't fall down as I had feared. I breathed a sigh of relief when the storm subsided and I was able to drop off to sleep,  so all good. Phew!!!
Tip: I was told by one of my fellow guests that  if you take the dressing gown or any toiletries from your stateroom, you will be charged!  I didn't do it in case you are wondering!! Lol.