First ever cruise: My on board dining experience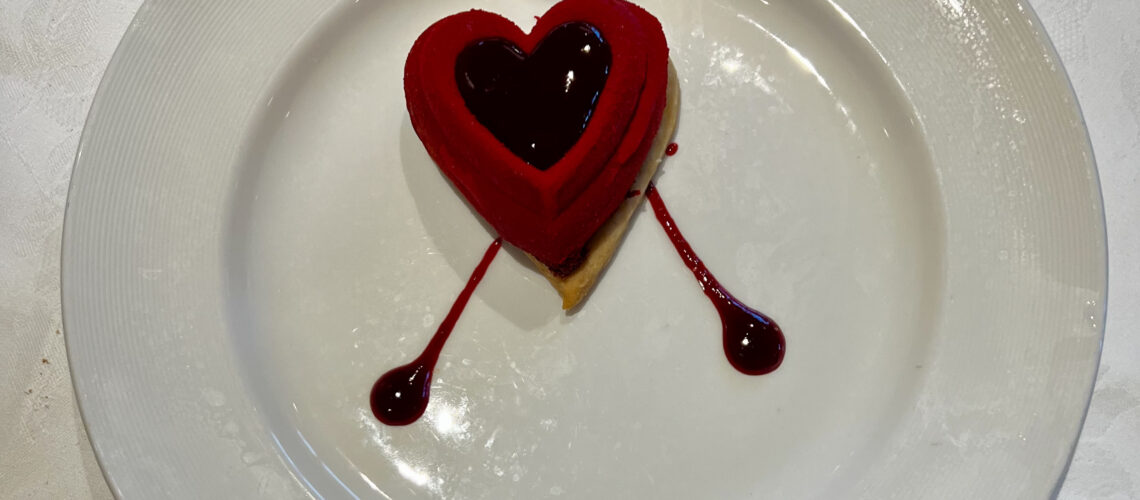 I am a foodie and I had looked forward to enjoying delicious and quality meals on board the ship. I must say that I was not disappointed. The meals I had were excellent except for one, which I will tell you about later on. 
There were a variety of restaurants serving cuisines from all over the world, as well as speciality restaurants so  there was something for everyone. The two main dining rooms on the ship – Concerto and Allegro restaurants served A la Carte  meals in a formal setting, while the specialty restaurants – Sabatini (Italian) and Crown Grill (Steakhouse) offered a more intimate and unique dining experience at an additional charge. Alfredo's Pizzeria was included in the all inclusive package and served one of the most delicious pizzas I have had in a long time.
 Plus Package
The cruise line also offered Plus or Premium beverage packages.  I bought their  Plus package – see details.  The non alcoholic drinks are unlimited but alcoholic drinks are limited to 15 a day (up to the value of $15 each) You can pay the difference if you really want one of the more expensive drinks. I did not need to do so as the drinks were perfectly ok for me.   Every time you order a drink, the waiter either already knows who you are and your stateroom number or will ask you to tap with your Medallion and their tablets keep a tab on number of drinks.
I  actually struggled to drink up to 15 alcoholic drinks a day! Is the drinks package worth it? Yes, I think so. If nothing else it removed the worry from me as a first timer of having to worry how much tab I had run up.
The packages must be purchased for the entirety of the cruise and for all guests in the stateroom. I think Princess have learned something from experience !!Lol
The Wi-Fi was excellent and you can switch your Wi-Fi between two devices – say iPhone ad iPad which I did as and when I needed to do so.
Included in my  Plus package: :
Plus Beverage Package with drinks (up to $15 USD each) like cocktails, beer and wine, speciality coffees and fountain sodas!
MedallionNet® Wi-Fi (one device per guest)
Crew appreciation (tips)
Premium desserts (2 per day)
Fitness classes (2 per cruise)
The packages change regularly and either  the cruise line add more or different  benefits or remove an item so check to see if it meets your needs. 
That brings me to the question of crew appreciation that is included. I personally think this is a good thing and I don't have to worry about about carrying cash around and ow much tip to give. And everyone gets a share of it even if they were back room staff like in the kitchens. However, I did give my stateroom assistant an extra  tip. Your call to make.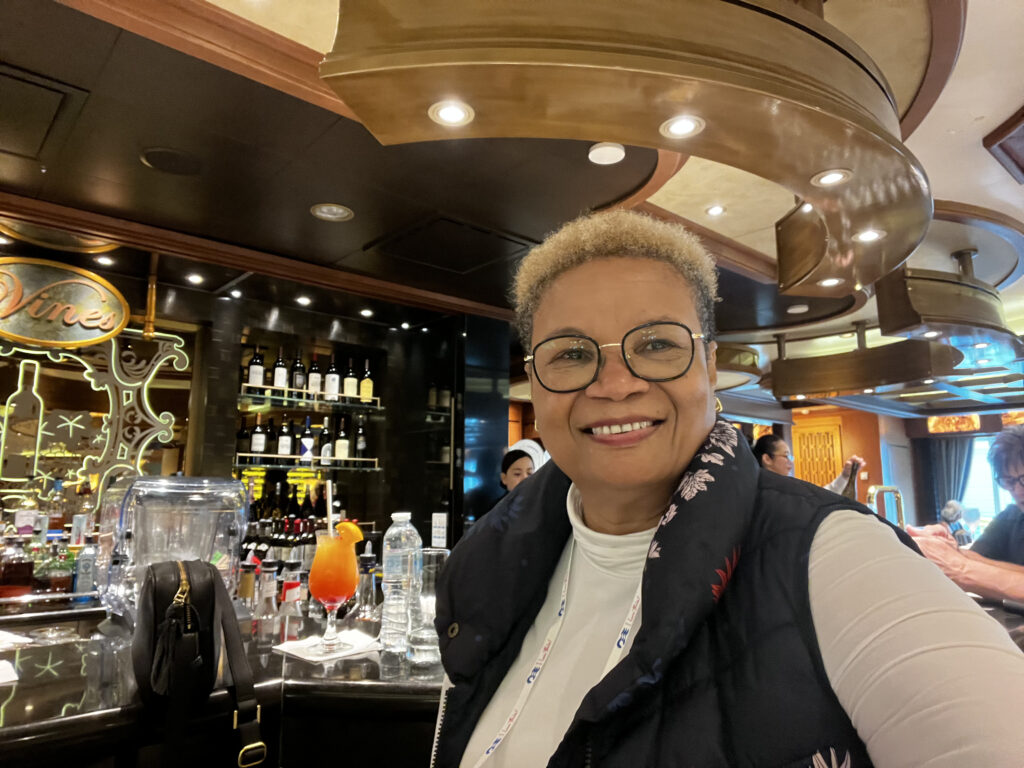 I loved the International Cafe. It served the best coffee on the ship. It served light bites and coffee, while the Horizon Court buffet serves up a wide range of dishes for breakfast, lunch, and dinner. Those looking for healthier options can visit the Lotus Spa Cafe for light and healthy meals.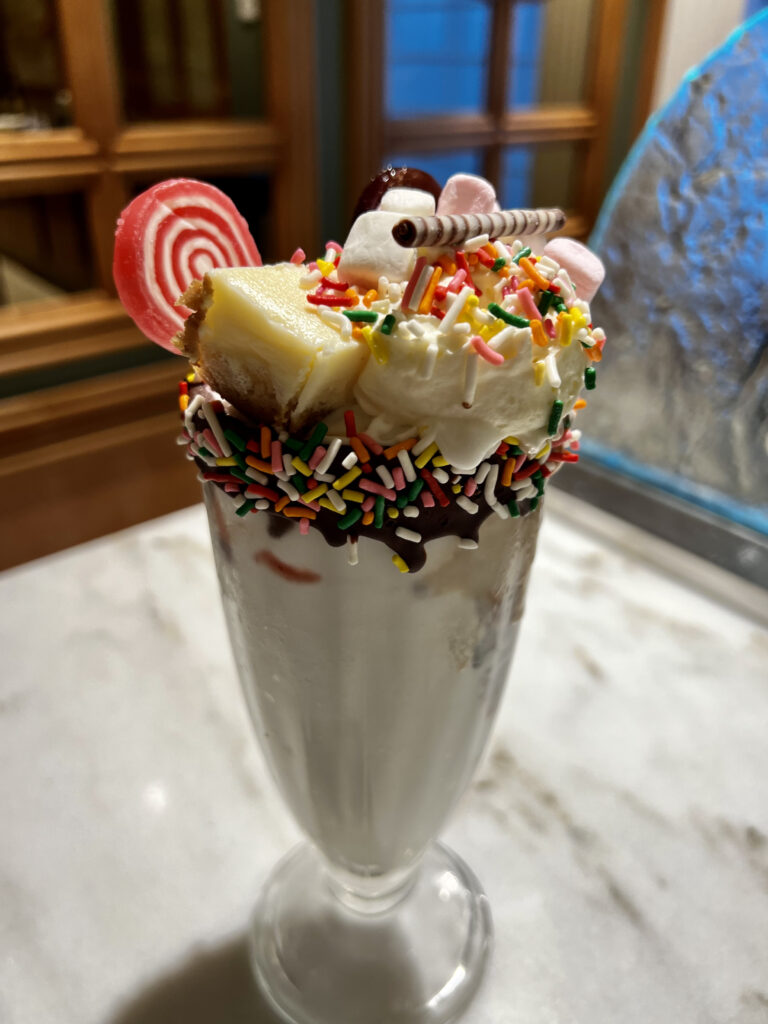 Now this is my kind of evening meal in a nice setting, in a restaurant with white linen (well maybe cotton) table cloth and being waited on! Don't laugh ok. But there are times when we all deserve such treatment and where better than on a cruise!! Here is one of my favourite dinners on the cruise ship.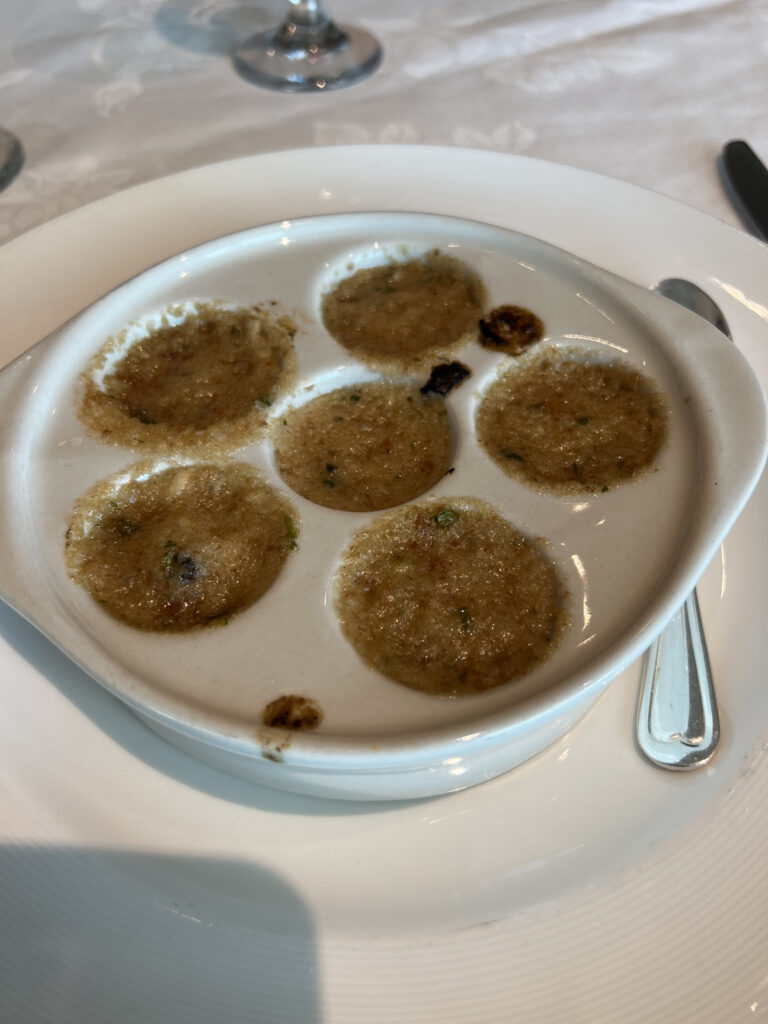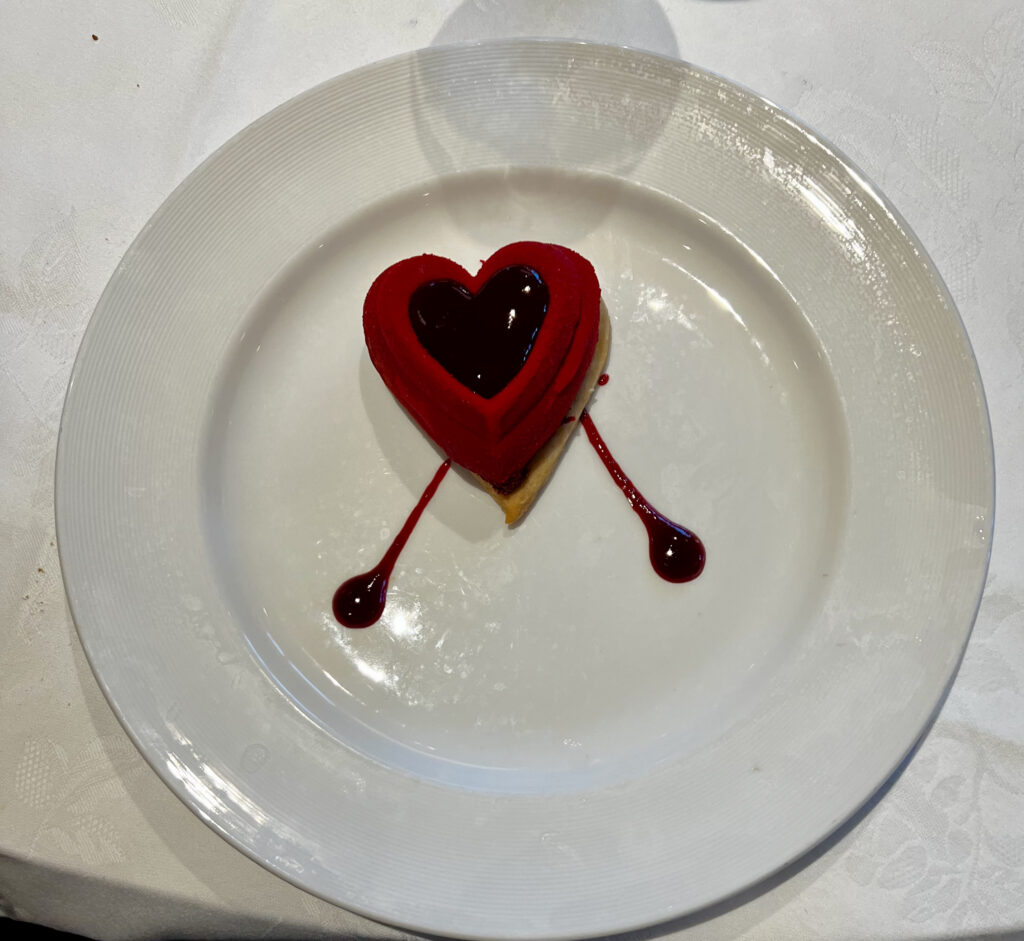 I also dined at the speciality restaurant – Sabatini which specialised in Italian food. This was my five course meal and it was amazing! I finished  them all!!
 I opted for breakfast everyday in either Allegro or Concerto and they were delicious.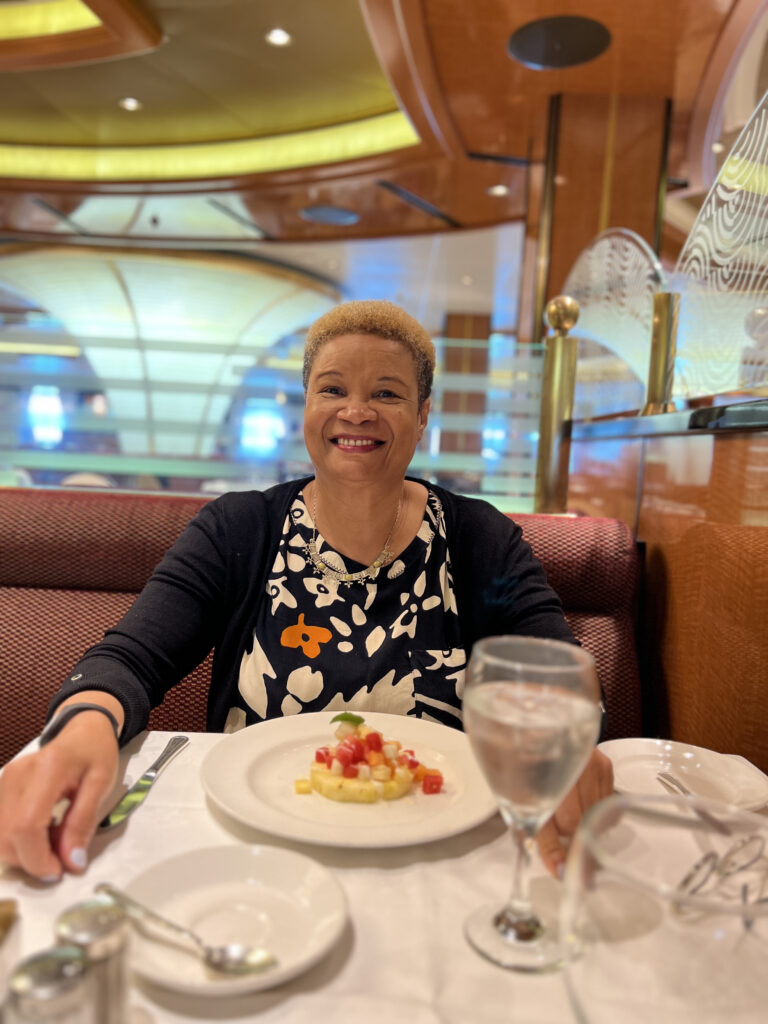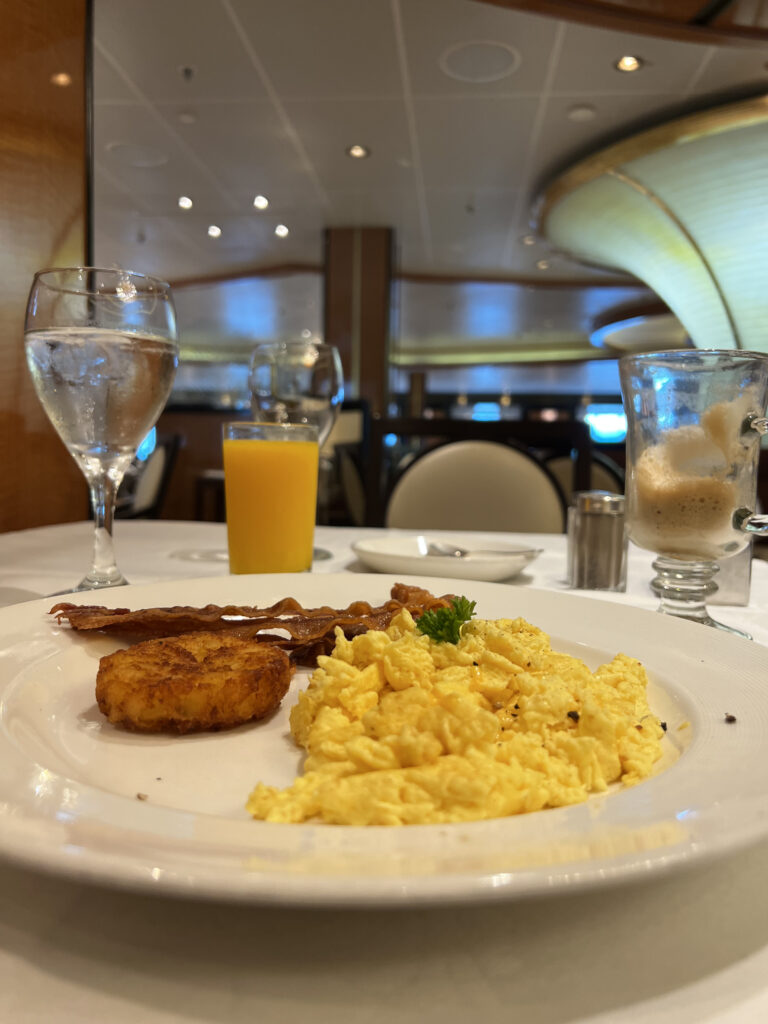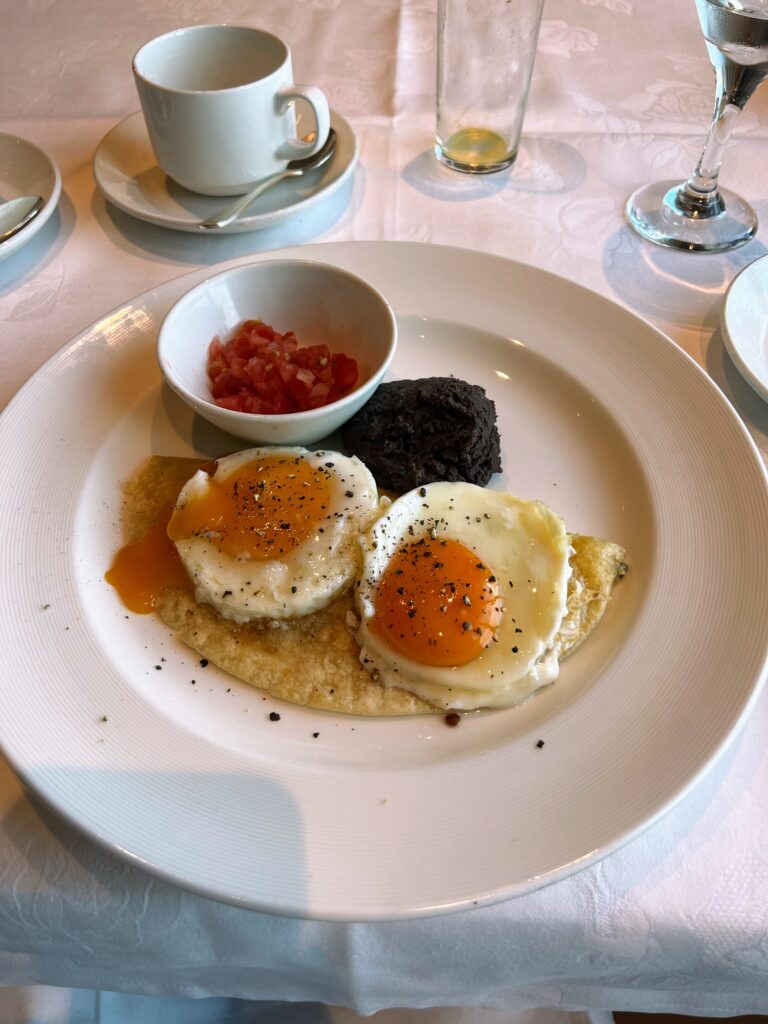 Guests have the option of reserving a table in either of the two main restaurants or the speciality restaurants via the Medallion Class App, or walk-in.
 I dressed up for dinner everyday and dined in one of the two restaurants called Allegro and Concerto either for breakfast or dinner. Both served the same A la Carte but the ambiance was different.  I had 3 course meals every evening and they were excellent. I had a choice of dining alone or join a shared table. I opted for the latter and did not regret it. People were very sociable and couples too going the shared table of 8 guests. It was great fun. Of course, I can t remember names after the meals but it was great while it lasted.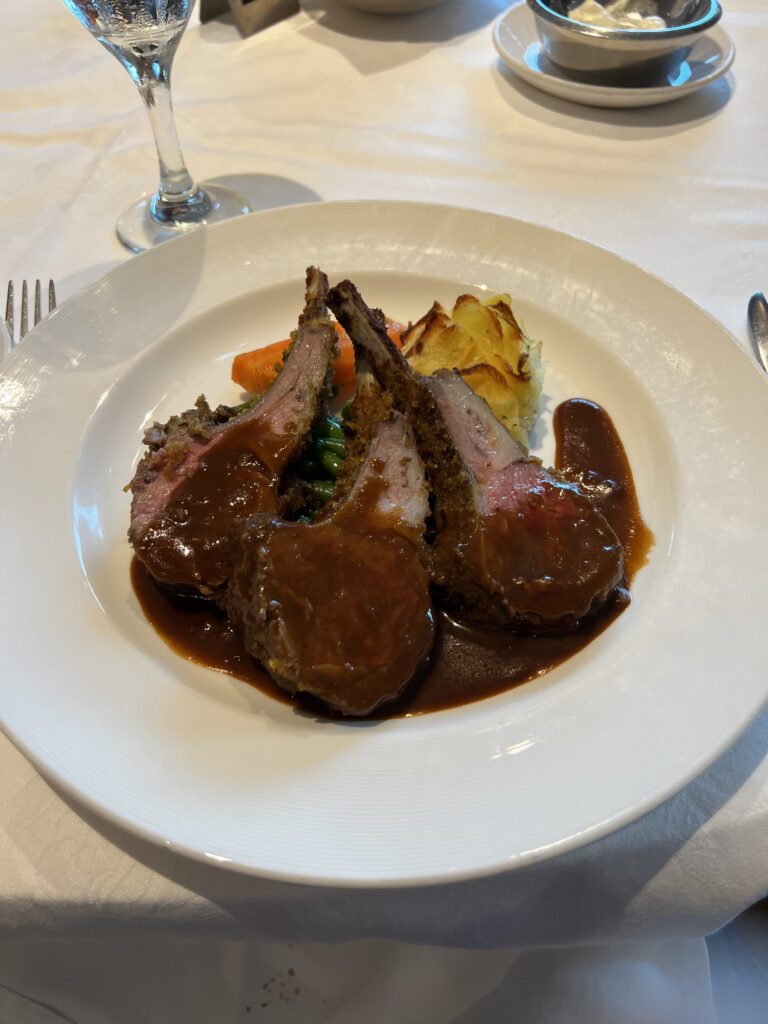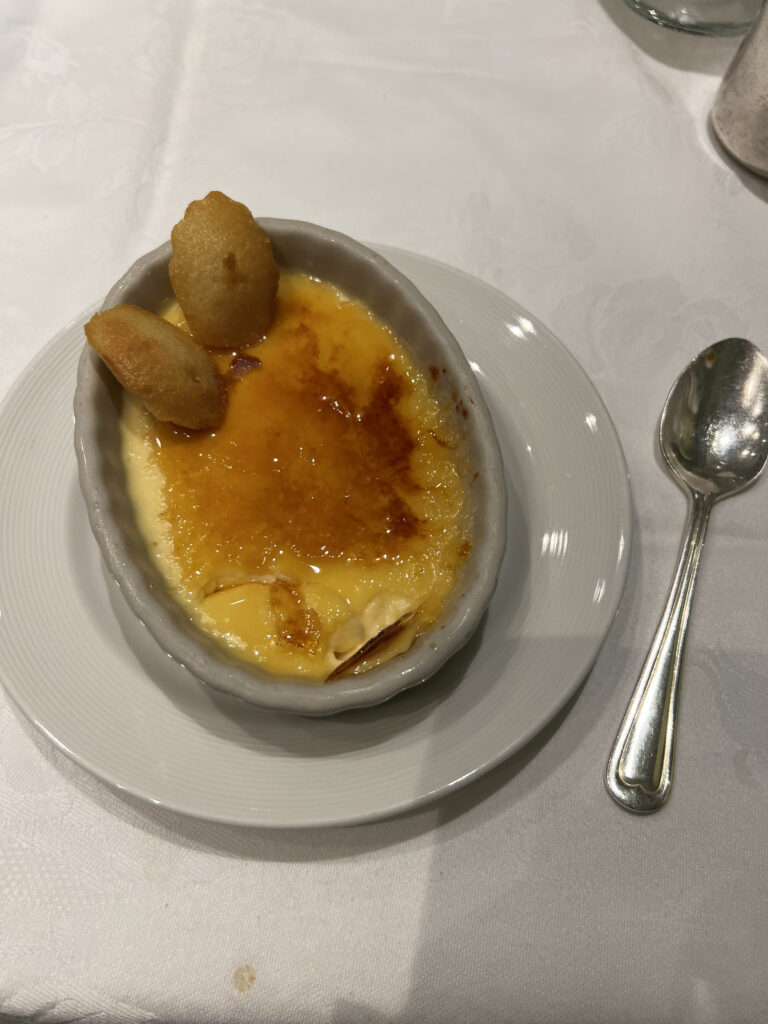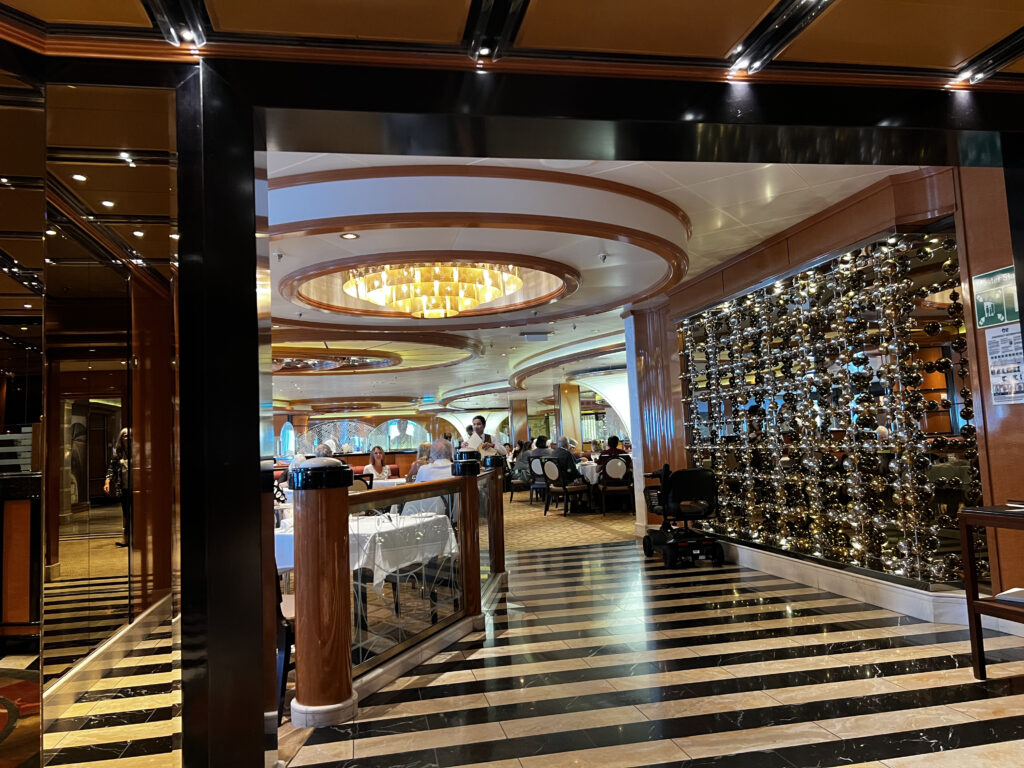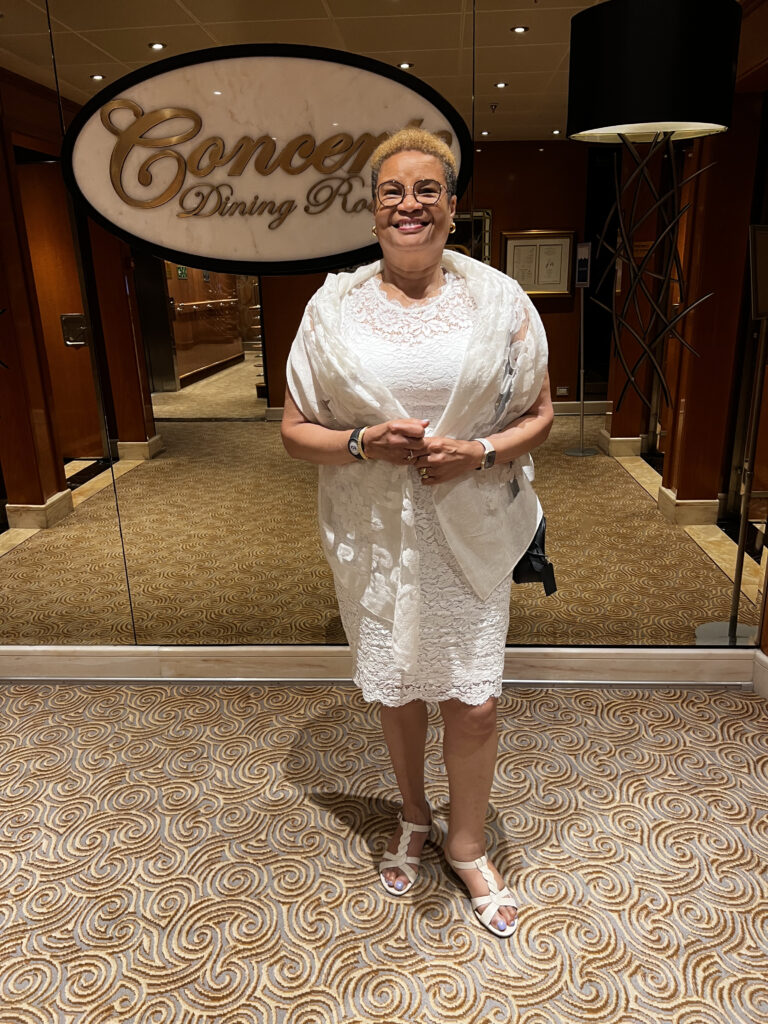 The buffet was served all day in the Horizon Court on deck 16. It served a wide range of food, fruits and has its own dedicated pastry section. It is a huge place and as you can imagine what it would be like in a buffet style meal and "eat as much as you like" style of meal, it was busy. But strangely enough, there were no queues !! I personally did not feel comfortable to eat dinner there – too rushed for me. I like to take my time to savour the dishes – quality and not quantity or "eat as much as you like" style.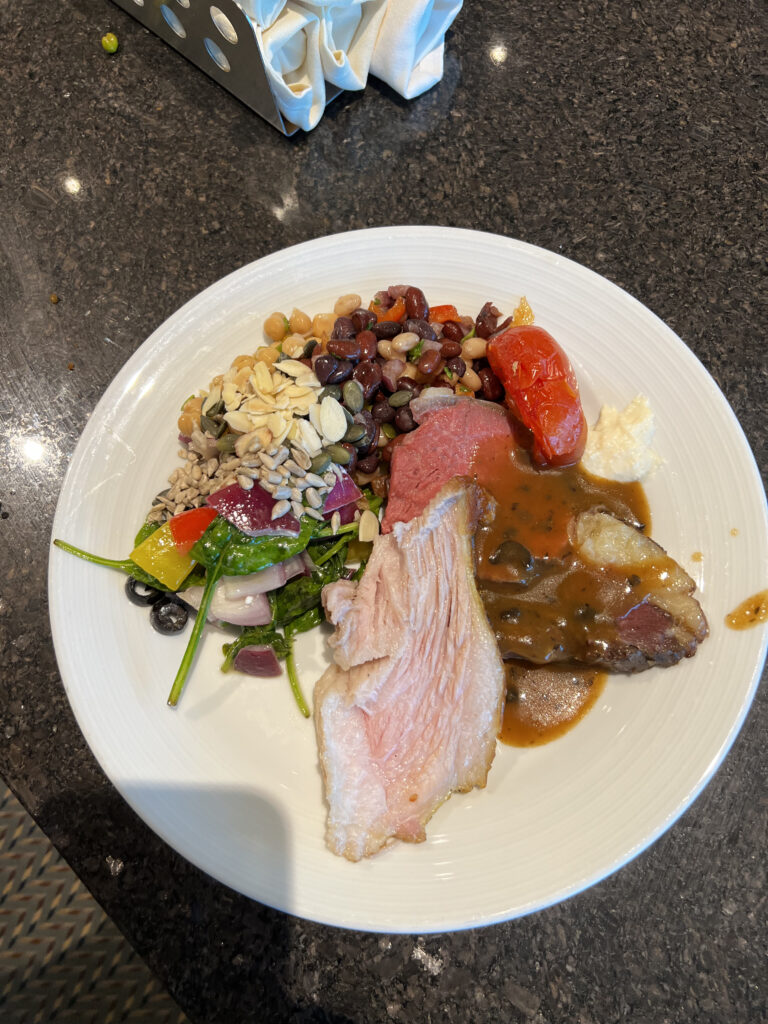 Afternoon tea
If you are like me and enjoy afternoon tea then you will be disappointed. The  afternoon tea served on the ship was not good. First of all , it was not served in the usual 3 tier serving plates but waiters came round with a tray of food items from which they served each guest. They moved round in no particular order and so you may get the desert first and the sandwiches last.  I left after 20 minutes as I couldn't not stand it any longer. 
Tip: If you want access to the ship's on board wi-fi, it works out cheaper to purchase the either of the two  packages on offer and buy online before the cruise to save money and to manage your money effectively.  The Medallion Class App is used to buy any of the drinks and can be charged to your account to be settled at the end of your trip. 
If you have been able to read by blog up to this point then you too are a foodie like me. Please carry on and read this story which I'd say  was my lesson learned!   
I ordered french onion soup at dinner in Concerto Restaurant. I dug in and found it to be heavy, sloppy, basically a very unappetising soup. I had expected  the french soup to be somehow a clear consume type of soup made with onion. The waiter looked at me perplexed but I insisted that I did not want it, sent it back and ordered tomato soup instead. No one at the shared table said anything and I forgot all about it. 
A few days later, on another sharing table – you rarely get to share a table with the same people. There is so much choice of places to eat and people eat at different times.
The woman sitting next to me ordered the french onion soup. I leaned over and said "You don't want to eat mate, not very nice". She replied that she loved the french onion soup and she had eaten it every dinner for the last 7 days. My mouth fell open! What !!
 Looking across the table, I then clocked that three other women had ordered the same thing and that they all loved it.  She brought my attention to the fat that it was listed under guests favourites so it is on every menu. And indeed it was! The Americans loved the Princess french soup. I decided to do a video recording of it simply for my own amusement or shame!! Lol.