First ever cruise: Embarkment & dis-embarkment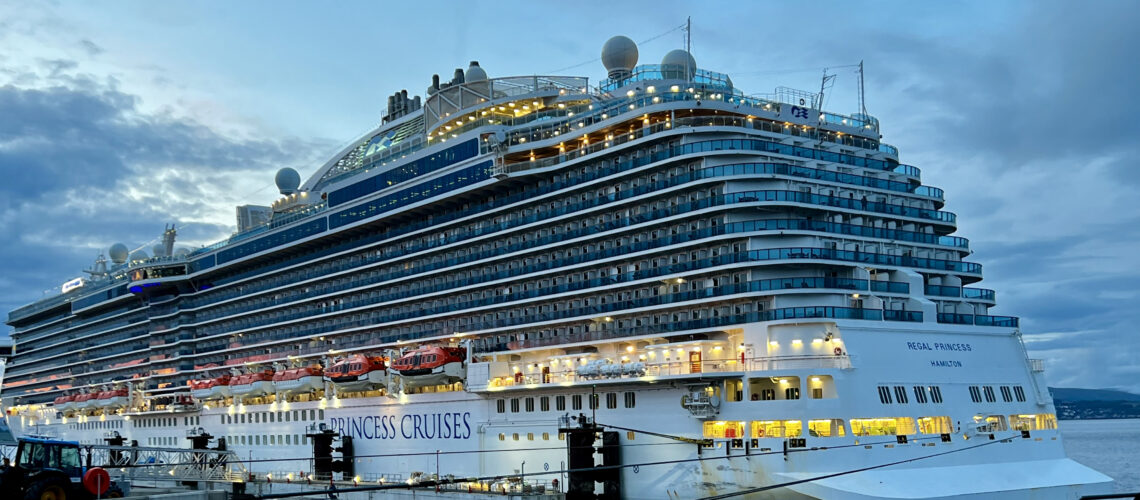 Getting to Southampton was easy and straightforward for me. I took a train from London Waterloo station directly to Southampton Central station. I bought an advance open return ticket for £15 ($18).  And I took a taxi from the station to the port which cost £8.60 (approx $10). There were plenty of taxis as they knew the cruise days so there were plenty of taxis waiting at the station.
The cruise line offer transfers from airports to the port at an additional charge so worth exploring that option if you are coming from abroad.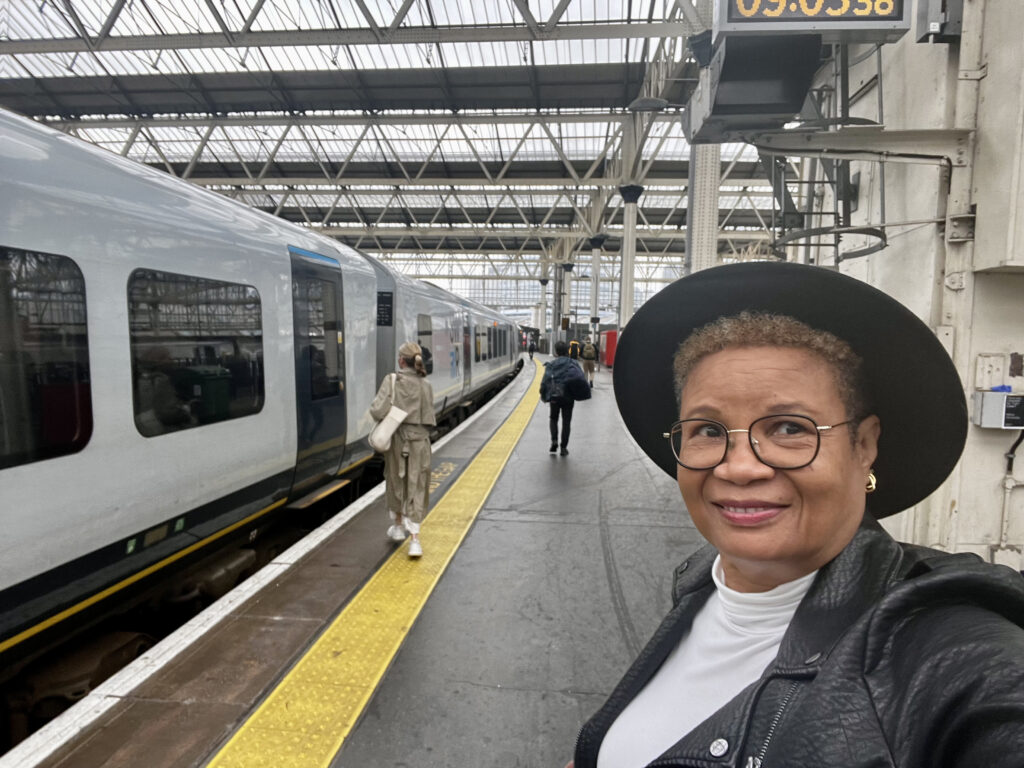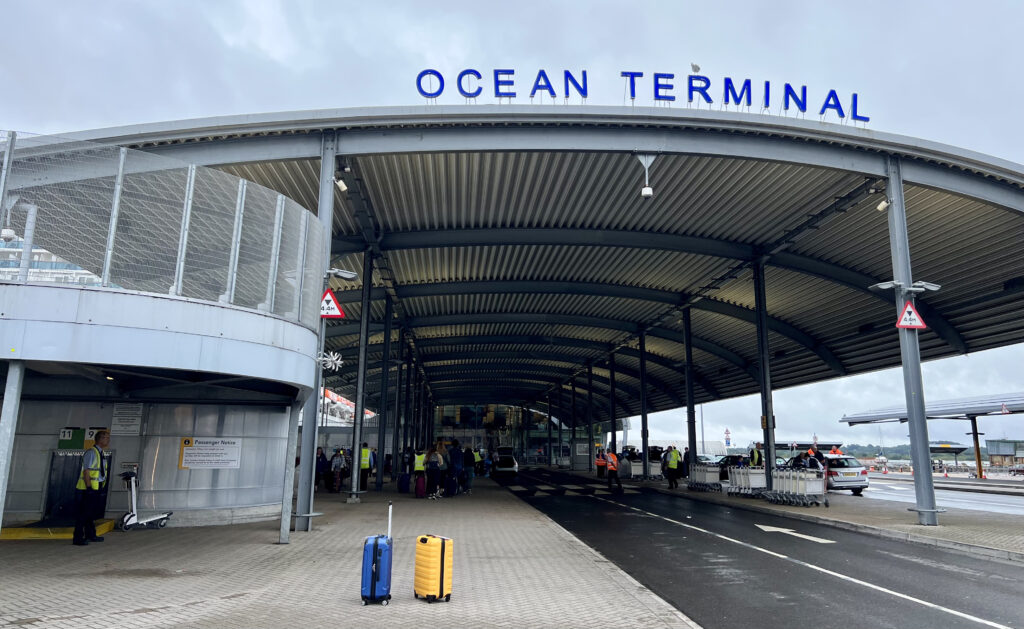 You are  expected to print your own luggage tag at home. Now, this was new to me and I'd wondered how it would work. It was actually a simple concept and it worked well.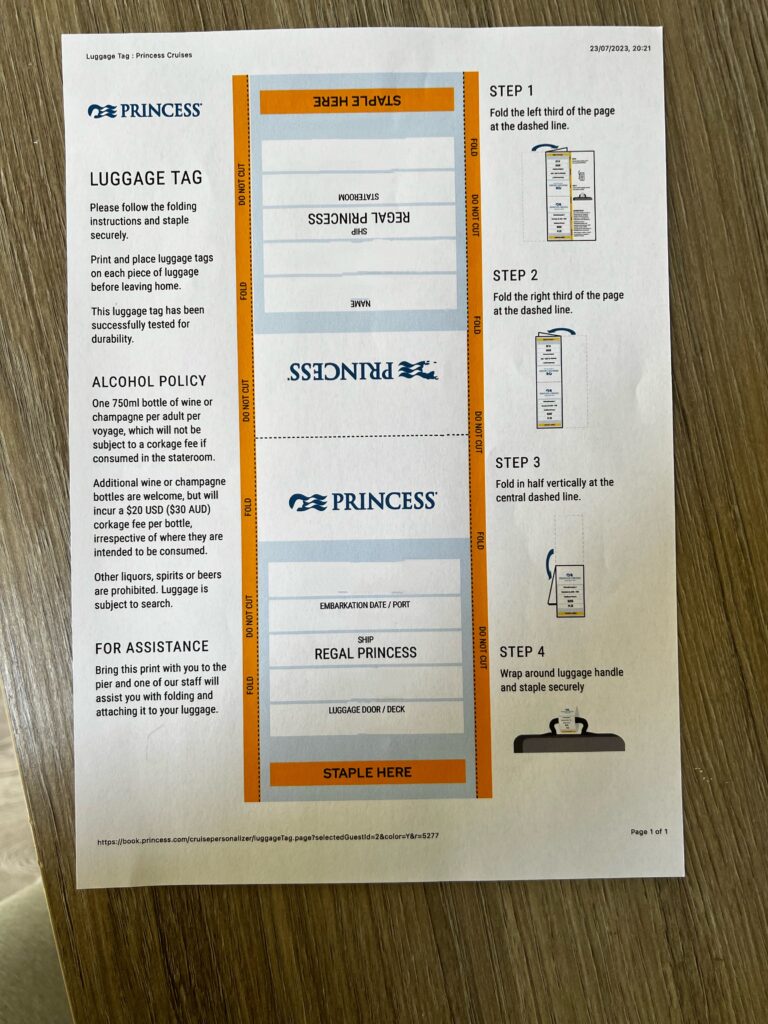 In case you are wondering, there is no luggage weight limit on the ship but it is advised that you take no more than 2 suitcases per passenger plus your travelling essentials and valuables in your carry on bag. There were, of course, people who took more than two suitcases!
The luggage drop off was located at the entrance of the port where you are dropped off by car or taxi. If your luggage is already tagged, they are taken from you and loaded onto the conveyer belt to be scanned and taken straight on to the ship where they are delivered directly to outside your stateroom door. There were a few people who had not printed or tagged their luggage tags. Not a problem, there were lots of people available and ready to help and to direct you to the right place.
Tip: For peace of mind, it is worth buying  a pack of transparent plastic luggage tags on the internet. These  are easy to find on the web and they are specially made for cruises. I bought a pack for £4.49 (about $5) online for additional measure.
Embarkment at Southampton Port, England
Prior to my arrival at the port I had wondered how almost 5,000 people would be organised, managed and embarked successfully. Both the Port Authorities and Princess had the whole process down to a T. Firstly, you check in online via the Medallion Class App and you are placed in the Green Lane if all the required information is uploaded. Secondly, you are allocated arrival time at the port which  I guessed was for crowd control, easier and smoother boarding. I was pleasantly surprised that  that there were no long queues.
Video clip of queue to check in at Southampton Cruise Terminal. Well organised and queques moved quickly
Video clip after security check and making my way through the walk through tunnel into the ship. 
Disembarking by tender at a destination port
There were a couple of ports where passengers have to disembark by tender.  Disembarking by tender is a common practice for large cruise ships that cannot dock directly at the port. A tender is a smaller boat that can transport passengers from the ship to the shore. When a ship is anchored away from the port, passengers who wish to go ashore will be required to board a tender. The process begins with passengers gathering in designated areas on the ship to receive a numbered ticket or card. The card had a name like Sea lion, Lobster and so on. Once the name on your slip of paper  is called, you make your way to the tender boarding area and queue in line for the next available boat.
Once on the tender, passengers will be taken to the shore. It is important to follow the instructions of the crew and be mindful of safety procedures when disembarking by tender.
 This was a new experience for me and I must say that I felt somewhat apprehensive about disembarking by tender not least because the boat moved up and down against the side of the ship because of the waves. So the crew will help you time your stepping off and hold your hand if necessary to guide you. 
I was surprised and somewhat relieved that I did not feel sea sick either on the tender or on the ship. I had come prepared with seas sickness tablets and patches which I did not have cause to use!
SECURITY CHECKS
All guests must go through security checks (bags/body  scanned) before boarding the ship at every port, and checked in using your Medallion. Apart from the usual security checks, the cruise line also checked that guests were not sneaking in alcohol!
I found it interesting when I heard a specific announcement before disembarking in Le Havre in Normandy, France that no Ww2 normandy relics would be allowed to be taken on board the ship! Do people actually go out looking to buy such things for real?
Final disembarkment at Southampton Cruise terminal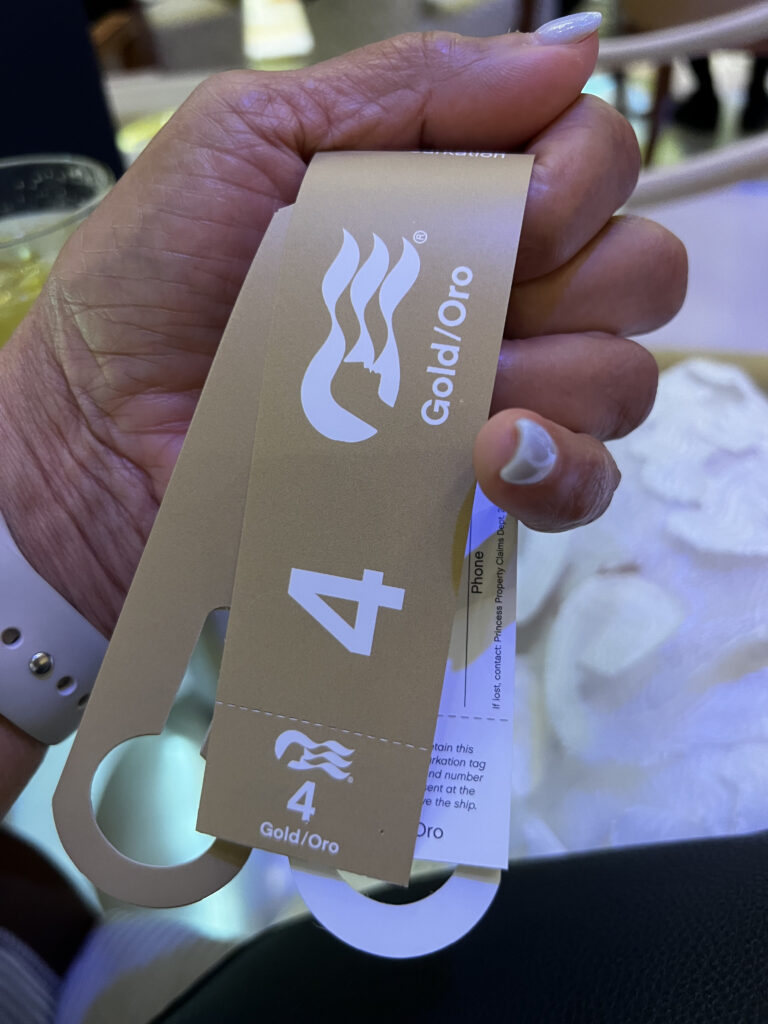 Tip: Needless to say that if you lose your disembarkment tag or you dont remember  your allocated colour or group code, you will have to wait until everyone has collected their luggage and I guess yours will be the ones left at the end! There will be almost 5,000 pieces of luggage to be collected!